Collective Genius
: The Art and Practice of Leading Innovation
Linda A. Hill, Greg Brandeau, Emily Truelove, and Kent L. Lineback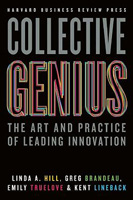 Format:
Hardcover, 320pp.
ISBN:
9781422130025
Publisher:
Harvard Business Review Press
Pub. Date:
June 10, 2014
Average Customer Review:

For Bulk Orders Call: 626-441-2024

Description and Reviews
From
The Publisher:
Why can some organizations innovate time and again, while most cannot?
You might think the key to innovation is attracting exceptional creative talent. Or making the right investments. Or breaking down organizational silos. All of these things may help—but there's only one way to ensure sustained innovation: you need to lead it—and with a special kind of leadership. Collective Genius shows you how.
Preeminent leadership scholar Linda Hill, along with former Pixar tech wizard Greg Brandeau, MIT researcher Emily Truelove, and Being the Boss coauthor Kent Lineback, found among leaders a widely shared, and mistaken, assumption: that a "good" leader in all other respects would also be an effective leader of innovation. The truth is, leading innovation takes a distinctive kind of leadership, one that unleashes and harnesses the "collective genius" of the people in the organization.
Using vivid stories of individual leaders at companies like Volkswagen, Google, eBay, and Pfizer, as well as nonprofits and international government agencies, the authors show how successful leaders of innovation don't create a vision and try to make innovation happen themselves. Rather, they create and sustain a culture where innovation is allowed to happen again and again—an environment where people are both willing and able to do the hard work that innovative problem solving requires.
Collective Genius
will not only inspire you; it will give you the concrete, practical guidance you need to build innovation into the fabric of your business.

Reviews
"The leadership of innovative teams and organizations is perhaps the most confounding mystery in business today . . . Collective Genius reveals the principles by which we can unlock the collective potential of our colleagues and release the creative potential of our organizations."
—Tim Brown, President and CEO, IDEO
"An interesting and instructive look at how leaders can create flexible corporate ecosystems to unleash individual talent in ways that lead to greater organizational innovation."
—Reid Hoffman, cofounder and Chairman, LinkedIn; coauthor, The Alliance
"Collective Genius offers real-world insights that will help today's business leaders challenge the status quo, drive new ideas, and create an environment where change and innovation are the norm."
—Kenneth I. Chenault, CEO and Chairman, American Express
"Linda Hill and her coauthors argue that innovation requires a different kind of leader—someone who can create and sustain a culture that brings out the 'collective genius' of all their diverse and talented people. A great read for anyone leading a team, organization, or community."
—Tony Hsieh, CEO, Zappos; New York Times bestselling author, Delivering Happiness
" . . . Collective Genius is one of the few books that truly captures innovation in action and the important role—and qualities—of leaders who make it happen."
—Terri Kelly, President and CEO, W. L. Gore & Associates
"A great read, full of important insights for anyone involved in high-impact innovation . . . I look forward to sharing it with my colleagues."
—Mark M. Little, Senior Vice President, Director of Global Research, and Chief Technology Officer, General Electric
". . . A must-read for any manager or participant in an organization that requires innovation—in other words, any organization that wants to be successful in the new world of continuous massive disruptions."
—Joi Ito, Director, MIT Media Lab
"Innovation. Leadership. Motivation. Execution. What we need to do is quite obvious. And thanks to this book, we now have a guide to teach us how."
—Clayton M. Christensen, Kim B. Clark Professor of Business Administration, Harvard Business School; author, The Innovator's Dilemma

About the Authors
Linda A. Hill
is the Wallace Brett Donham Professor of Business Administration at Harvard Business School and faculty chair of the Leadership Initiative. She is the author of Becoming a Manager and coauthor, with Kent Lineback, of Being the Boss. She was named by Thinkers50 as one of the top ten management thinkers in the world.
Greg Brandeau
, long-time head of technology at Pixar Animation Studios, is a former EVP and CTO for The Walt Disney Studios.
Emily Truelove
is a researcher and PhD candidate at the MIT Sloan School of Management.
Kent Lineback
has spent more than twenty-five years as a manager and executive and, before that, several years as a consultant and a creator of management development programs. He has collaborated on several books, including Being the Boss.