Wiser
: Getting Beyond Groupthink to Make Groups Smarter
Cass R. Sunstein and Reid Hastie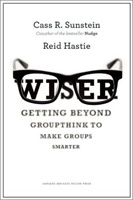 Format:
Hardcover, 176pp.
ISBN:
9781422122990
Publisher:
Harvard Business Review Press
Pub. Date:
December 23, 2014
Average Customer Review:

For Bulk Orders Call: 626-441-2024

Description and Reviews
From
The Publisher:
Why are group decisions so hard?
Since the beginning of human history, people have made decisions in groups—first in families and villages, and now as part of companies, governments, school boards, religious organizations, or any one of countless other groups. And having more than one person to help decide is good because the group benefits from the collective knowledge of all of its members, and this results in better decisions. Right?
Back to reality. We've all been involved in group decisions—and they're hard. And they often turn out badly. Why? Many blame bad decisions on "groupthink" without a clear idea of what that term really means.
Now,
Nudge
coauthor Cass Sunstein and leading decision-making scholar Reid Hastie shed light on the specifics of why and how group decisions go wrong—and offer tactics and lessons to help leaders avoid the pitfalls and reach better outcomes. In the first part of the book, they explain in clear and fascinating detail the distinct problems groups run into:
• They often amplify, rather than correct, individual errors in judgment
• They fall victim to cascade effects, as members follow what others say or do
• They become polarized, adopting more extreme positions than the ones they began with
• They emphasize what everybody knows instead of focusing on critical information that only a few people know
In the second part of the book, the authors turn to straightforward methods and advice for making groups smarter. These approaches include silencing the leader so that the views of other group members can surface, rethinking rewards and incentives to encourage people to reveal their own knowledge, thoughtfully assigning roles that are aligned with people's unique strengths, and more.
With examples from a broad range of organizations—from Google to the CIA—and written in an engaging and witty style,
Wiser
will not only enlighten you; it will help your team and your organization make better decisions—decisions that lead to greater success.

Reviews
"No man is an island, and all important decisions are made collectively. This important book shows how they can be made better and so will make groups, crowds, and our society wiser and better. Anyone involved in making decisions that matter should read this book."
—Lawrence Summers, Secretary of the Treasury under President Clinton; Director of the National Economic Council under President Obama
"Drawing on academic research, real-world examples, and, in Sunstein's case, White House experience, the authors identify the most common mistakes groups fall victim to and offer sensible ways to avoid those often-expensive errors. In Sunstein and Hastie's recommendations, CEOs and managers alike will find much that leaves them, in a word, wiser."
—John Engler, President, Business Roundtable
"More minds aren't always better, according to Cass Sunstein and Reid Hastie. In Wiser, they deftly lay out the unexpected perils of group decision making and provide smart, straightforward, and often surprising fixes. Utterly fascinating and counterintuitive, this book is an essential read for executives and managers—for anybody, actually, hoping to make an enterprise successful."
—Claire Shipman, Correspondent, ABC's Good Morning America; Author, The Confidence Code
"There have been lots of books written on why and how individuals make bad decisions. But many of the most important decisions are made by committee, where normal problems get magnified. Finally, Sunstein and Hastie have provided crucial insights and lessons to help groups and teams avoid pitfalls and make effective decisions. Leaders everywhere should take these lessons to heart."
—Austan Goolsbee, Professor, University of Chicago Booth School of Business; former Chairman of the Council of Economic Advisers under President Obama
"This gem of a book is full of penetrating insight, sensible advice, and fascinating stories drawn from practical experience. Written with clarity and grace, it provides an invaluable road map for leaders and managers in both public and private life. I can think of dozens of historical decisions that might have been better made had our leaders followed these precepts."
—Doris Kearns Goodwin, Pulitzer Prize-winning presidential historian, Author, Team of Rivals and The Bully Pulpit

About the Authors
Cass R. Sunstein
is a US legal scholar and served as Administrator of the White House Office of Information and Regulatory Affairs in the Obama administration. He is currently the Robert Walmsley University Professor at Harvard Law School and coauthor, with Richard H. Thaler, of Nudge: Improving Decisions About Health, Wealth, and Happiness.
Reid Hastie
is an expert on the psychology of decision making, especially by groups. He has authored or coauthored several academic books, including Rational Choice in an Uncertain World. He is currently the Ralph and Dorothy Keller Distinguished Service Professor of Behavioral Science at the University of Chicago Booth School of Business.