Immunity to Change
: How to Overcome It and Unlock the Potential in Yourself and Your Organization
Robert Kegan and Lisa Laskow Lahey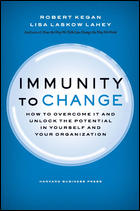 Format:
Hardcover, 272pp.
ISBN:
9781422117361
Publisher:
Harvard Business School Press
Pub. Date:
February 15, 2009
Average Customer Review:

For Bulk Orders Call: 626-441-2024

Description and Reviews
From
The Publisher:
A recent study showed that when doctors tell heart patients they will die if they don't change their habits, only one in seven will be able to follow through successfully. Desire and motivation aren't enough: even when it's literally a matter of life or death, the ability to change remains maddeningly elusive.
Given that the status quo is so potent, how can we change ourselves and our organizations?
In Immunity to Change, authors Robert Kegan and Lisa Lahey show how our individual beliefs--along with the collective mind-sets in our organizations--combine to create a natural but powerful immunity to change. By revealing how this mechanism holds us back, Kegan and Lahey give us the keys to unlock our potential and finally move forward. And by pinpointing and uprooting our own immunities to change, we can bring our organizations forward with us.
This persuasive and practical book, filled with hands-on diagnostics and compelling case studies, delivers the tools you need to overcome the forces of inertia and transform your life and your work.
When it comes to change, desire and motivation aren t enough. Kegan and Lahey examine why change is so hard and offer innovative, practical insight to overcome the internal and external obstacles and to meet the challenge of change. Anne Sweeney, Co-Chair, Disney Media Networks; President, Disney-ABC Television Group

Reviews
...brilliant insights into the mysteries of the change process at the heart of personal and organizational success...Any leader seriously interested in developing new strengths in others-and in oneself-needs to read this book.
—Daniel Goleman, author, Emotional Intelligence
Immunity to Change is a wonderfully original approach to a familiar problem: why many crucial change efforts fail. It shows how the core problems of resistance to change stem from the critical gaps between what is required and a leader's own level of development. I know of no book that does a better job of helping leaders understand the commitment to change and how to put it into practice.
—Peter Senge, author, The Fifth Discipline, and coauthor, The Necessary Revolution
The authors have cracked the code of how to overcome resistance to change. In a brilliant tour de force, they demonstrate how people can further grow and develop.
—Manfred Kets de Vries, the Raoul de Vitry d Avaucourt Chaired Professor of Leadership Development, and Director, Global Leadership Centre, INSEAD

About the Authors
Robert Kegan
and
Lisa Lahey
, coauthors of
How the Way We Talk Can Change the Way We Work
, have been research and practice collaborators for twenty-five years. Kegan is the William and Miriam Meehan Professor in Adult Learning and Professional Development at Harvard University's Graduate School of Education. Lahey is the Associate Director of Harvard's Change Leadership Group and a founding principal of Minds at Work, a leadership-learning professional services firm.

Table of Contents
| | | |
| --- | --- | --- |
| | | |
| | Introduction | |
| | | |
| | Part One: Uncovering a Hidden Dynamic in the Challenge of Change | |
| 1 | Re-conceiving the Challenge of Change | |
| 2 | Uncovering the Immunity to Change | |
| 3 | "We Never Had a Language For It": Engaging the Emotional Life of the Organization | |
| | | |
| | Part Two: Overcoming the Immunity to Change in Organizations, Individuals, and Teams | |
| 4 | Overcoming the Group-Wide Immunity to Change | |
| 5 | Overcoming an Individual?s Immunity to Change: David Doesn?t Delegate | |
| 6 | Overcoming an Individual?s Immunity to Change: Cathy Can?t Contain Herself | |
| 7 | Overcoming Individual Immunities to Help a Team Succeed: The Case of Nascent Pharmaceuticals | |
| | | |
| | Part Three: Over to You: Diagnosing and Overturning Immunities in Yourself and Your Organization | |
| 8 | Unlocking Potential: The Necessary Ingredients | |
| 9 | Diagnosing Your Own Immunity to Change | |
| 10 | Overcoming Your Immunity to Change | |
| 11 | Surfacing Your Collective Immunity to Change | |
| | Conclusion: Growing Your Own: How to Lead So People Develop | |

Find Items On Similar Subjects

Change

Change or Die
: The Three Keys to Change at Work and in Life