Iconoclast
: A Neuroscientist Reveals How to Think Differently
Gregory Berns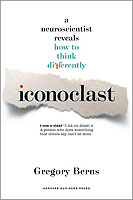 Format:
Hardcover, 224pp.
ISBN:
9781422115015
Publisher:
Harvard Business School Press
Pub. Date:
September 29, 2008
Average Customer Review:

For Bulk Orders Call: 626-441-2024

Description and Reviews
From
The Publisher:
No organization can survive without iconoclasts -- innovators who single-handedly upturn conventional wisdom and manage to achieve what so many others deem impossible.
Though indispensable, true iconoclasts are few and far between. In Iconoclast, neuroscientist Gregory Berns explains why. He explores the constraints the human brain places on innovative thinking, including fear of failure, the urge to conform, and the tendency to interpret sensory information in familiar ways.
Through vivid accounts of successful innovators ranging from glass artist Dale Chihuly to physicist Richard Feynman to country/rock trio the Dixie Chicks, Berns reveals the inner workings of the iconoclast's mind with remarkable clarity. Each engaging chapter goes on to describe practical actions we can each take to understand and unleash our own potential to think differently -- such as seeking out new environments, novel experiences, and first-time acquaintances.
Packed with engaging stories, science-based insights, potent practices, and examples from a startling array of disciplines, this engaging book will help you understand how iconoclasts think and equip you to begin thinking more like an iconoclast yourself.

About the Author
Gregory Berns, MD, PhD
, is professor of psychiatry and behavioral sciences at Emory University. He has written for numerous science publications and has been interviewed on National Public Radio, CNN, and ABC's Primetime. He has been profiled frequently in the Wall Street Journal, New York Times, and other media.

Table of Contents
Introduction Doing What Can't Be Done
Howard Armstrong
1
1
Through the Eye of an Iconoclast
Dale Chihuly, Paul Lauierbur, Nolan Bushnell
13
2
From Perception to Imagination
Walt Disney, Florence Nightingale, Branch Rickey, Kary Mullis
35
3
Fear - The Inhibitor of Action
Jackie Robinson, Dixie Chicks, Computer Associates, Rite-Solutions
59
4
How Fear Distorts Perception NASA
Richard Feynman, Solomon Asch, Martin Luther King Jr.
83
5
Why the Fear of Failure Makes People Risk Averse
David Dreman, Bill Miller, Henry Ford
107
6
Brain Circuits for Social Networking
Pablo Picasso, Vincent van Gogh, Stanley Milgram, Ray Kroc, Arnold Schwarzenegger, Linus Torvalds, Warren Buffett
129
7
Private Spaceflight - A Case Study of Iconoclasts Working Together
Burt Rutan, Richard Branson, Peter Diamandis, Rick Homans
155
8
When Iconoclast Becomes Icon
Arthur Jones, Jonas Salk, Steve Jobs
179
Appendix The Iconoclast's Pharmacopeia
201
Notes
223
Index
233

Find Items On Similar Subjects

Predictably Irrational
: The Hidden Forces That Shape Our Decisions