Uncommon
: Finding Your Path to Significance
Tony Dungy with Nathan Whitaker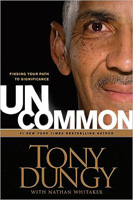 Format:
Paperback, 304pp.
ISBN:
9781414326825
Publisher:
Tyndale House Publishers
Pub. Date:
March 1, 2011
Average Customer Review:

For Bulk Orders Call: 626-441-2024

Description and Reviews
From
The Publisher:
Super Bowl–winning coach and #1 New York Times best selling author Tony Dungy has had an unusual opportunity to reflect on what it takes to achieve significance. He is looked to by many as the epitome of the success and significance that is highly valued in our culture. He also works every day with young men who are trying to achieve significance through football and all that goes with a professional athletic career—such as money, power, and celebrity. Coach Dungy has had all that, but he passionately believes that there is a different path to significance, a path characterized by attitudes, ambitions, and allegiances that are all too rare but uncommonly rewarding. Uncommon reveals lessons on achieving significance that the coach has learned from his remarkable parents, his athletic and coaching career, his mentors, and his journey with God. A particular focus of the book: what it means to be a man of significance in a culture that is offering young men few positive role models.

About the Author
Tony Dungy
is the #1 New York Times best-selling author of Quiet Strength: The Principles, Practices, & Priorities of a Winning Life, New York Times best-seller Uncommon: Finding Your Path to Significance. He led the Indianapolis Colts to Super Bowl victory in 2007, the first such win for an African American head coach. Dungy joined the Colts in 2002 after serving as the most successful coach in Tampa Bay Buccaneers history. He and his wife, Lauren, are the parents of six children. They live in Tampa, Florida.

Table of Contents
| | | |
| --- | --- | --- |
| | | |
| | Acknowledgments | ix |
| | Introduction | xi |
| | | |
| | Part I Develop Your Core | 1 |
| 1 | Character | 3 |
| 2 | Honesty and Integrity | 9 |
| 3 | Humility and Stewardship | 17 |
| 4 | Courage | 29 |
| | Part II Love Your Family | 37 |
| 5 | How to Treat a Woman | 39 |
| 5 | Fatherhood | 51 |
| 6 | Respect Authority | 65 |
| | Part III Lift Your Friends and Others | 75 |
| 8 | Friendship | 77 |
| 9 | Taking Counsel | 83 |
| 10 | The Power of Positive Influence | 89 |
| 11 | Mentoring | 95 |
| | Part IV Your Full Potential | 101 |
| 12 | Powerful Thoughts | 103 |
| 13 | Education and Athletics | 111 |
| 14 | Career, Work, and Money | 117 |
| 15 | Goals and Risk | 125 |
| 16 | Alcohol and Drugs | 131 |
| 17 | Failure | 137 |
| | Part V Establish A Mission that Matters | 143 |
| 18 | Style versus Substance | 145 |
| 19 | Priorities | 151 |
| 20 | Being versus Doing | 157 |
| 21 | Following Your Dreams | 161 |
| 22 | Creating Balance | 167 |
| | Part VI Choose Influence over Image | 173 |
| 23 | Respect for Yourself and Others | 175 |
| 24 | Sexual Integrity | 179 |
| 25 | Platforms | 187 |
| 26 | Role Model | 191 |
| | Part VII Live Your Faith | 197 |
| 27 | Eternal Self-Esteem | 199 |
| 28 | Relationship with Christ | 203 |
| 29 | Faith | 207 |
| 30 | Purpose | 211 |
| 31 | Significance | 215 |
| | | |
| | Epilogue | 221 |
| | Q&A With Coach Dungy | 225 |
| | About the Authors | 259 |

Find Items On Similar Subjects

The Mentor Leader
: Secrets to Building People and Teams That Win Consistently

Quiet Strength
: The Principles, Practices, and Priorities of a Winning Life