Together We Cannot Fail
: FDR and the American Presidency in Years of Crisis with CD
Terry Golway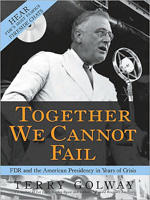 Format:
Hardcover, 320pp.
ISBN:
9781402217166
Publisher:
Sourcebooks MediaFusion
Pub. Date:
October 1, 2009
Average Customer Review:

For Bulk Orders Call: 626-441-2024

Description and Reviews
From
The Publisher:
A biography like no other: hear the voice that led the nation out of darkness and into victory
How FDR Led the Nation from Darkness to Victory through Hope, Courage, and an Unwavering Trust in the American People
This vivid portrait shows a nation at its best and at its worst through the lens of the first American presidency truly impacted by the media age. An FDR biography unlike any other,
Together We Cannot Fail
offers a new view of how Roosevelt transformed an insular America into the world's most revered and feared superpower. An exclusive accompanying CD uses FDR's own stirring words to illustrate how he led the nation through the Great Depression and World War II to its "rendezvous with destiny."
Historian Terry Golway brings alive how Roosevelt saved America from its worst fears and forever changed how Americans live and view themselves. This unique biography shows how FDR invented and established the practice of the media presidency with his famous fireside chats—the first presidential speeches broadcast nationally from the White House.

Reviews
The United States economy is failing, a war overseas threatens global security, and a president who tells the country "I still believe in ideals" manages to keep hope alive. That president was Franklin Delano Roosevelt. Golway (Let Every Nation Know) describes Roosevelt's use of radio airwaves to become not merely a political figure but a beloved and trusted friend, almost "a guest in the homes of everyday Americans." This is examined with great attention to FDR's rhetorical prowess and illustrated by the accompanying CD, which includes audio clips from some of FDR's most famed speeches and fireside chats. We can hear him telling Americans that isolationism was impossible because the world had shrunk; that despite the Depression "we have nothing to fear but fear itself"; that sometimes we must sacrifice at home for liberty abroad. The book and CD will resonate deeply with those seeking a historical context for today's economic crisis, interested in WWII or merely fascinated by the spoken word's power to inspire hope. Photos. (Oct.)
—Publishers Weekly

About the Author
Terry Golway
is also the author of Ronald Reagan's America, Washington's General, and co-author with Robert Dallek of Let Every Nation Know. He writes for the New York Times, American Heritage, and the New York Observer. He lives in Maplewood, New Jersey.

Find Items On Similar Subjects

FDR

The Defining Moment
: FDR's Hundred Days and the Triumph of Hope