Mojo
: How to Get It, How to Keep It, How to Get It Back if You Lose It
Marshall Goldsmith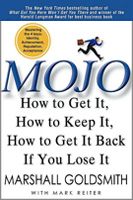 Format:
Hardcover, 224pp.
ISBN:
9781401323271
Publisher:
Hyperion
Pub. Date:
February 2, 2010
Average Customer Review:

For Bulk Orders Call: 626-441-2024

Description and Reviews
From
The Publisher:
Mojo is the moment when we do something that's purposeful, powerful, and positive and the rest of the world recognizes it. This book is about that moment--and how we can create it in our lives, maintain it, and recapture it when we need it.
In his follow-up to the
New York Times
bestseller
What Got You Here Won't Get You There
, #1 executive coach Marshall Goldsmith shares the ways in which to get--and keep--mojo to build a successful business and/or career. Having corporate or personal mojo means controlling four elements:
identity (Who do you think you are?)
achievement (What have you done lately?)
reputation (Who do other people think you are, what do other people think you've done lately?)
and acceptance (What can you change? When should you 'let go'?)
Goldsmith outlines the positive actions leaders must take, with their teams or themselves, to initiate winning streaks and keep them coming.
Mojo is: that positive spirit toward what we are doing now that starts from the inside and radiates to the outside. Mojo is at its peak when we are experiencing both happiness and meaning in what we are doing and communicating this experience to the world around us. The Mojo Toolkit provides fourteen practical tools to help you achieve both happiness and meaning - not only in business, but in life.
Organizations and people--from Apple to Harley-Davidson, from Richard Nixon to Robert Downey, Jr.--have shown that it can be done. Goldsmith teaches readers to gauge work in terms of mojo and shares insights that will benefit not only top executives and their companies but any one of us--bringing us to, and keeping us at, the top of our game.

Reviews
"Marshall Goldsmith is one of a kind: a unique and brilliant combination of getting inside our minds about those problems which keep us awake at night- and not only clarifying, but actually solving them! Lively and engaging. A damn good read, which every leader will not only enjoy, but profit from."
—Warren Bennis, bestselling author, Distinguished Professor at USC, and world authority on leadership
"Marshall's books are very much like Marshall- insightful, direct, focused, wise, clear, somewhat provocative, positive, lively, and energetic. For those who have not worked with Marshall and experienced these qualities, his latest book, Mojo, is a great substitute. Mojo is like him- a little crazy, yet very helpful!"
—Jonathan Klein, CEO, Getty Images; American Photo's "Most Important Person in Photography"
"Those of us who have been lucky enough to spend time in a classroom with Marshall Goldsmith know what a positive influence his teaching can have. In Mojo, Marshall shares his scholarship more broadly and teaches us all how to turn inertia in our professional or personal lives into meaning and happiness. There is no more important lesson in business or in life!"
—Tom Glocer, CEO, Thomson Reuters
"As soon as I started reading this book, I felt my Mojo rising. The next best thing to being coached by Marshall is reading his books. His writing always gets me revved up and focused on getting the most meaning and happiness out of my day. This book can elevate any reader's game."
—Mark Tercek, CEO, Nature Conservancy; former Managing Partner, Goldman Sachs

About the Author
Marshall Goldsmith
is America's preeminent executive coach. He is among a select few consultants who have been asked to work with more than sixty CEOs. His clients have included many of the world's leading corporations. Goldsmith has helped to implement leadership development processes that have impacted more than one million people around the world. He has a Ph.D. from UCLA and is on the faculty of the executive education programs for Dartmouth College and the University of Michigan. The American Management Association recently named him as one of fifty great thinkers and business leaders of the past eighty years.

Table of Contents
| | | |
| --- | --- | --- |
| | | |
| | Section I: You and Your Mojo | |
| 1 | Mojo, You, and Me | |
| 2 | Measuring Your Mojo | |
| 3 | The Mojo Paradox | |
| | | |
| | Section II: The Building Blocks of Mojo | |
| 4 | Identity: Who Do You Think You Are? | |
| 5 | Achievement: What Have You Done Lately? | |
| 6 | Reputation: Who Do People Think You Are? | |
| 7 | Acceptance: When Can You Let Go? | |
| 8 | Mojo Killers | |
| 9 | Four Pointless Arguments at Work | |
| 10 | That Job Is Gone! | |
| | | |
| | Section III: Your Mojo Tool Kit | |
| 11 | Change You or Change It | |
| 12 | Identity: Making Sense of Who You Are | |
| | • Tool #1: Establish Criteria That Matter to You | |
| | • Tool #2: Find Out Where You're Living | |
| | • Tool #3: Be the Optimist in the Room | |
| | • Tool #4: Take Away One Thing | |
| 13 | Achievement: Making It Easier to Get Things Done | |
| | • Tool #5: Rebuild One Brick at a Time | |
| | • Tool #6: Live Your Mission in the Small Moments Too | |
| | • Tool #7: Influence Up as Well as Down | |
| | • Tool #8: Swim in the Blue Water | |
| 14 | Reputation: Taking Control of Your "Story" | |
| | • Tool #9: When to Stay, When to Go | |
| | • Tool #10: Hello, Goodbye | |
| | • Tool #11: Adopt a Metrics System | |
| | • Tool #12: Reduce This Number | |
| 15 | Acceptance: Change What You Can; Let Go of What You Can't | |
| | • Tool #13: Give Your Friends a Lifetime Pass | |
| | • Tool #14: Name It, Frame It, Claim It | |
| | | |
| | Section IV: Connecting Inside to Outside | |
| 16 | Beyond Self Help | |
| 17 | Women and Mojo | |
| | | |
| | Coda: You Go First! | |
| | | |
| | Appendix 1: The Mojo Survey: Understanding Short-Term Satisfaction and Long-Term Benefit | |
| | Appendix 2: What the Mojo Survey Results Mean | |

Find Items On Similar Subjects

What Got You Here Won't Get You There
: How Successful People Become Even More Successful