Eisenhower in War and Peace
Jean Edward Smith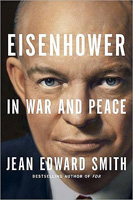 Format:
Paperback, 976pp.
ISBN:
9780812982886
Publisher:
Random House
Pub. Date:
May 7, 2013
Average Customer Review:


For Bulk Orders Call: 626-441-2024

Description and Reviews
From
The Publisher:
In this extraordinary volume, Jean Edward Smith presents a portrait of Dwight D. Eisenhower that is as full, rich, and revealing as anything ever written about America's thirty-fourth president. Here is Eisenhower the young dreamer, charting a course from Abilene, Kansas, to West Point and beyond. Drawing on a wealth of untapped primary sources, Smith provides new insight into Ike's maddening apprenticeship under Douglas MacArthur. Then the whole panorama of World War II unfolds, with Eisenhower's superlative generalship forging the Allied path to victory. Smith also gives us an intriguing examination of Ike's finances, details his wartime affair with Kay Summersby, and reveals the inside story of the 1952 Republican convention that catapulted him to the White House.
Smith's chronicle of Eisenhower's presidential years is as compelling as it is comprehensive. Derided by his detractors as a somnambulant caretaker, Eisenhower emerges in Smith's perceptive retelling as both a canny politician and a skillful, decisive leader. He managed not only to keep the peace, but also to enhance America's prestige in the Middle East and throughout the world.
Unmatched in insight,
Eisenhower in War and Peace
at last gives us an Eisenhower for our time—and for the ages.

Reviews
"Dwight Eisenhower, who was more cunning than he allowed his adversaries to know, understood the advantage of being underestimated. Jean Edward Smith refutes this durable misunderstanding. Smith, America's greatest living biographer, demonstrates why, now more than ever, Americans should like Ike."
—George F. Will
"Jean Smith, indubitably America's most distinguished biographer, has now produced the classic life of Dwight Eisenhower. Ike, who rose from an anti-military and non-elite background, resides in the ranks of the greatest war heroes of history, not to speak of his place as a leader of post–Second World War peace. Here he comes alive on every page—the beneficiary of the exhausting fresh research this handsomely written book is based upon. When the General died, Mamie, his lifelong wife, allowed that she never fully knew her famous husband. No reader of Smith's work will render the same complaint."
—Henry F. Graff, Professor Emeritus of History, Columbia University
"Always engrossing . . . Smith describes a man who commanded the largest coalition army in history without grandiloquent posturing . . . leaving office more popular than any successor. . . . Smith portrays a genuinely admirable Eisenhower: smart, congenial, unpretentious, and no ideologue. Despite competing biographies from Ambrose, Perret, and D'Este, this is the best."
—Publishers Weekly (starred review)

About the Author
Jean Edward Smith
is the author of the highly acclaimed FDR, winner of the 2008 Francis Parkman Prize; Grant, a 2002 Pulitzer Prize finalist; John Marshall: Definer of a Nation; and Lucius D. Clay: An American Life. A member of the faculty at the University of Toronto for thirty-five years, and at Marshall University for twelve, he is currently a senior scholar in the history department at Columbia.

Find Items On Similar Subjects

Eisenhower
: The White House Years