Open Source Leadership
: Reinventing Management When There's No More Business as Usual
Rajeev Peshawaria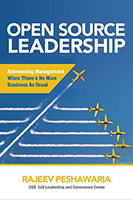 Format:
Hardcover, 320pp.
ISBN:
9781260108361
Publisher:
McGraw-Hill Education
Pub. Date:
October 24, 2017
Average Customer Review:


For Bulk Orders Call: 626-441-2024

Description and Reviews
From
The Publisher:
From taxi rides, hotel stays, car driving, to communicating and paying, everything we knew as normal has changed beyond recognition. To lead effectively in today's brave new world, you have to question EVERYTHING.
For the first time in human history, knowledge is free and almost every boundary to communication has been lifted. This open source world has permanently altered the business landscape. And you can count on the fact that the pace of change will only accelerate. Yet . . . companies still rely on management tools and practices that were, at best, mildly effective in their heyday.
In
Open Source Leadership
, Rajeev Peshawaria reveals the vision, insight, and practices he has used to help some of today's largest and most influential organizations meet the open source world head on. It all starts with asking the right questions:
• What's the most effective leadership style in a world of 24/7 connectivity?
• How has the very concept of leadership changed in the open source era?
• How do you inspire and reward performance in the "gig economy?"
• How do you measure engagement and effectively address the gaps?
• How can you lead innovation—quickly and continuously?
Peshawaria reveals the answers to these questions—and they will surprise you. Based on his company's groundbreaking research spanning 28 countries, he concludes that traditional industrial age thinking needs a massive upgrade to successfully navigating the brave new world of business.
Open Source Leadership
rewrites the rules of management, giving you a unique look at the most common misperceptions, illusions, and downright wrong information you've been getting about what works and what doesn't. It provides a new, counterintuitive model for seizing competitive edge in any industry. Among other issues the book argues convincingly that "positive autocracy" must replace democratic leadership; talent and innovation are abundant not scarce; early identification of high-potentials is counter-productive; and setting employees free to do as little as they want will increase productivity.

Reviews
"This book, by one of the most thoughtful thinkers today on leadership development, is full of ideas that are definitely contrarian, and may just turn out to be right."
—From the FOREWORD by Ben Casnocha, Former Chief of Staff to the Chairman of LinkedIn and coauthor of The Start-up of You
"Rajeev is both clairvoyant and pragmatic. He elegantly lays out a technology enabled changing future, then offers provocative and insightful ways for leaders and organizations to respond. The book offers a roadmap into unchartered management territory."
—Dave Ulrich, Rensis Likert Professor, Ross School of Business, Partner, The RBL Group
"Open Source Leadership overturns many conventional truths about leading and managing. From 'Emotional Integrity before emotional intelligence,' to the path breaking idea of minimum versus stretch goals, this book will surprise you on every turn. A must read for anyone who wants to understand how to navigate the current times of breakneck speed and total transparency."
—Arnold Dhanesar, Chief Talent Officer, Zurich Insurance Group
"For a variety of demographic, technological and cultural reasons, ordinary people are more empowered today than ever before. Under such conditions, it follows that the best way to maximize performance is to minimize supervision. In Open Source Leadership, based on a global study spanning 28 countries, Rajeev Peshawaria introduces and provides persuasive arguments on behalf of this and many other counter-intuitive insights. This is a must read for anyone that aspires to be a successful leader in the 21st Century."
—Steve Kerr, Former Vice President of Leadership Development at GE; Former Chief Learning Officer and Managing Director at Goldman Sachs; Author of Reward Systems
"Open Source Leadership is indeed an eye-opener. Peshawaria has, once again, astutely articulated the changing role of leadership in a world that is continuously connected, highly mobile, and has 24-7 access to knowledge. In this new order, innovation, motivation and the roles of leaders can indeed be counterintuitive and, frankly, contrary to what has been perceived to date. This is a must read book."
—Eddie Ahmed, Chairman, President & CEO, MassMutual International MassMutual Financial Group
"In Open Source Leadership, Rajeev Peshawaria has once again crafted provocative and yet powerful ideas on leadership. His claims on the Naked Autocrat and Leadership Energy will challenge whatever model of leadership you ascribe to at present. As you read this book, your mind might initially argue with Rajeev, but your intuition will tell you that there is something very, very important here that all aspirants to leadership in this digital age need to open up to."
—Hitendra Wadhwa, Professor, Columbia Business School & Founder, Institute for Personal Leadership
"Rajeev Peshawaria's counterintuitive new book details an 'open source' management system geared to today's unique pressures and opportunities. Unlike so many leadership books, which traffic in platitudes and obvious insights, Peshawaria provokes readers into seeing a big picture most might have missed. OPEN SOURCE LEADERSHIP will help anyone in any organization trying to surf the tumultuous waves of the 21st century business."
—Daniel H. Pink, author of Drive and To Sell is Human
In these ever-changing times, Peshawaria gives a counterintuitive--but convincing--call to recognize the new rules of engagement. He shows you how to balance what we know works with the changes we need to keep up.
—David Burkus, author of Under New Management
"In Open Source Leadership, Rajeev Peshawaria makes the sound assertion that 'leadership today needs to be characterized by the firm resolve to create a better future. Leadership is not a positional title, it is making the choice to continue to struggle and never give up.' He then lays out a compelling view of how the new era is disrupting traditional leadership thinking. Those in leadership roles should take time to contemplate his message."
—Ashley Stephenson, Partner, Egon Zehnder
Rajeev Peshawaria is a keen observer of people, organizations and social phenomena. His guided tours through the energized lives and minds of paradoxically humble and respectful autocrats will provide fresh perspectives to every reader and aspiring leader.
—Charles H. Fine, Chrysler LGO Professor of Management, MIT Sloan School and President and Dean, Asia School of Business
"Peshawaria challenges, provokes, and even makes you uncomfortable. But, that is the whole point. Whether you agree or disagree, he forces us to confront the meaning of trust--without which there is no right to lead - derived through establishing the right values and purpose."
—Salman Amin, S C Johnson & Son

About the Author
Rajeev Peshawaria
, CEO of the Iclif Leadership and Governance Center, is a business leadership and strategy consultant who works with Fortune 500 companies, government agencies and non-profit organizations globally. He served as Chief Learning Officer at Coca-Cola and Morgan Stanley and held senior positions at American Express, HSBC and Goldman Sachs, where he helped the firm found its leadership academy Pine Street.