Top of Mind
: Use Content to Unleash Your Influence and Engage Those Who Matter To You
John Hall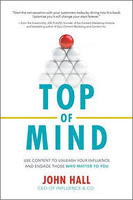 Format:
Hardcover, 208pp.
ISBN:
9781260011920
Publisher:
McGraw-Hill Education
Pub. Date:
April 28, 2017
Average Customer Review:

For Bulk Orders Call: 626-441-2024

Description and Reviews
From
The Publisher:
A game-changing framework for staying top of mind with your audience—from the No. 1 company dominating content marketing
What do many successful businesses and leaders have in common? They're the first names that come to mind when people think about their particular industries. How do you achieve this level of trust that influences people to think of you in the right way at the right time? By developing habits and strategies that focus on engaging your audience, creating meaningful relationships, and delivering value consistently, day in and day out.
It's the winning approach John Hall used to build Influence & Co. into one of "America's Most Promising Companies," according to Forbes. In this step-by-step guide, he shows you how to use content to keep your brand front and center in the minds of decision makers who matter. He reveals:
• how consumer needs and expectations have changed and what this shift means for you
• how to build a helpful, authentic, and consistent brand that serves others just as well as it serves you
• proven methods for using digital content to enrich your target audience's lives in ways that build real, lasting trust
Whether you're a marketing leader engaging an audience of potential customers, a business leader looking to humanize your company brand, or an industry up-and-comer seeking to build influence, maintaining a prominent spot in your audience's minds will increase the likelihood that the moment they need to make a choice, you'll be the first one they call. There's no better way to drive opportunities that result in increased revenue and growth.
Business is never "just" business. It's always about relationships. It's always about a human connection. When you're viewed as a valuable, trustworthy partner, the opportunities are endless. Position yourself for success by establishing and developing content-driven relationships that keep you and your brand Top of Mind.

Reviews
"John's got his finger on something here—something important. Anyone interested in communicating effectively through content would do well to embrace the audience-centric approach outlined in Top of Mind."
—Eric Hellweg, managing director at Harvard Business Review
"Top of Mind is a critical and powerful tool to catapult yourself into relevance in a noisy, competitive world. Get it now, and leverage your content like never before."
—Jeff Hoffman, cofounder of Priceline and ColorJar
"With Top of Mind, John breaks down the last barriers between executives and content marketing. We accept that business is about relationships, and it's time we embrace the fact that the right content at the right time can make those relationships (and your company) stronger."
—Evan Greene, CMO of The Recording Academy (The GRAMMYs)
"John Hall says that success ultimately comes down to creating meaningful relationships—in business and in life. I couldn't agree more. Buy this book to get his prescription for exactly how to do it."
—Ann Handley, chief content officer of MarketingProfs and author of Everybody Writes
"This is the playbook for how to make yourself memorable online. Top of Mind is useful, practical, and vital. Highly recommended!"
—Jay Baer, president of Convince & Convert and author of Hug Your Haters

About the Author
John Hall
is the cofounder and CEO of Influence & Co., a firm that helps brands and individuals leverage their expertise to create, publish, and distribute content to gain influence, visibility, and credibility with their key audiences. He has grown his company's revenue by more than 100 percent year-over-year since its founding in 2011; it is now the largest provider of expert content to online publications. In 2016, he won the EY Entrepreneur of the Year Award.