Personality at Work
: The Drivers and Derailers of Leadership
Ronald Warren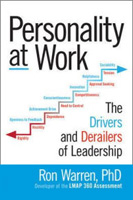 Format:
Hardcover, 320pp.
ISBN:
9781259860355
Publisher:
McGraw-Hill Education
Pub. Date:
February 24, 2017
Average Customer Review:

For Bulk Orders Call: 626-441-2024

Description and Reviews
From
The Publisher:
An Evidence-Based Approach to Personality and Leadership
A leader's bullying and constant dismissal of his team's concerns nearly take down an entire company—and the global financial system. The U.S. Government has to provide a $182 billion bailout. A new CEO transforms a near-bankrupt auto company and its infamously competitive culture becomes more collaborative and thrives—making it the only auto manufacturer to not take bailout funds.
These stories share a truth: Each leader's personality set the course of their company's future. We all know that IQ, education, knowledge, and technical skills are essential for professionals, but they alone are insufficient for effective leadership. Who you are as a person—your personality and character—drives leadership performance and determines who thrives and who fails.
In
Personality at Work
, psychologist Ron Warren lays out the key personality traits that drive high performance—and the common traits that derail it. Warren clusters closely related traits into four dimensions of behavior:
• Teamwork/Social Intelligence
• Deference
• Dominance
• Grit/Task Mastery.
Each cluster is broken down into personality traits—13 in all.
Personality at Work
draws from research using the renowned LMAP 360 with 20,000 leaders and 250,000 360-feedback raters. An assessment used at organizations around the world, LMAP 360 is used at Harvard Business School, Yale School of Management, Underwriter Laboratories, BearingPoint, Deloitte, Teach for America, Clayton Homes, and more than 35 hospital systems throughout the United States.
Personality at Work
integrates research on personality and performance, teamwork, communications, judgment, and decision-making. You will learn how to …
• Recognize your own personality patterns and those of colleagues
• Understand the links between personality, leadership, and organizational effectiveness
• Turn insights into action, leading with Grit and EQ to drive individual and team performance

Reviews
"Personality at Work is an essential read for those of us who develop leaders using evidence-based principles and techniques. Personality at Work represents a shift in the quality and sophistication of using personality in the development of leaders. I wish I had this book in the early stages of my work in leader development, but I also treasure it now?the relevance of Personality at Work can't be overstated. As leaders are developed, the significance of personality can't be overlooked, and Ron Warren's Personality at Work is best-in-genre, it is entirely readable and pricelessly pragmatic. Warren's work helps any leader craft a data driven, tailored strategy for self-understanding and better leadership. I respect and admire Ron Warren's energy and intellect, and both shine through the pages of Personality at Work. Tap into the incredible potential between the pages of Personality at Work?I learned so much about myself reading it and I'm a better leader developer because of it!"
—Tom Kolditz, PhD Brigadier General, US Army (ret), Professor Emeritus, US Military Academy, Founding Director, West Point Leadership Center; Founding Director, Ann and John Doerr Institute for New Leaders
"Using compelling stories and data to back them up, Warren brings to life the critical importance of personality to effectiveness as a leader. That, combined with his unparalleled skill in translating the academic world of personality theory into something practical make this a must read for anyone looking to drive real organizational change. The LMAP 360 has been one of the cornerstones of our Ignite! Leadership Development program, which has fundamentally changed the way we work at Clayton Homes. Thank you for a powerful tool based on rigorous science and presented in a way that everyone can identify with."
—Kevin Clayton, President and CEO, Clayton Homes, Inc.
"Want the truth on how to lead? Read this highly intelligent book. It draws on original research and high-drama real world business cases aptly and deftly. Ron Warren has mastered leadership."
—Robert Kaplan, PhD, Co-founder, Kaplan Devries, Author of Fear Your Strengths, The Versatile Leader, and Beyond Ambition
"Want to know how personality plays into success? Look no further than Dr. Warren's terrific book. His decades of research into employee assessment provide practical insights for leaders at all levels."
—Marshall Goldsmith, executive coach, business educator and New York Times-bestselling author, ranked the number one leadership thinker in the world by Thinkers50
"Though I should be used to it by now, I am constantly astonished by Ron Warren's breadth of perspective, depth of insight, and ability to blend scholarly wisdom with practical application. I just cannot believe how Ron has combined such classic knowledge with cutting-edged research to draw such immediately applicable recommendations in Personality at Work. Without dumbing down a single element or overstating the implications of various studies, Ron accurately captures the subtle nuances of various schools of thought, in refreshingly plain English without all the academic jargon. Since I know personally many of the leaders cited in the book (Alan Mulally, Mark Fields, Doug Conant, etc.), I think Ron Warren has masterfully captured key truths in their sagas. Personality at Work is very useful throughout and thoroughly fun to read."
—Jeffrey A. Sonnenfeld, Senior Associate Dean for Leadership Studies, Lester Crown Professor of Leadership, Yale School of Management
"Personality at Work by Ron Warren provides a thoughtful framework to analyze one's own personality and strengths, but succeeds on the basis of its storytelling alone. I enjoyed having a seat at the table in the executive meetings of a number of the world's iconic companies. Mix in some science and the data that rolls out from it, informed by Ronald Warren's perceptive analyses and you have a thoughtful contribution to the leadership literature."
—Whitney Johnson, Thinkers50, World's Most Influential Management Thinkers, author of acclaimed Disrupt Yourself: Putting the Power of Disruptive Innovation to Work
"Ronald Warren does an excellent job of showing the importance of personality and behavioral skills at work in Personality at Work. With rich examples and relevant research he strongly makes the case that these are factors we can measure and change. These changes can lead directly to increased productivity and success. There's a lot to learn here for leaders and organizations everywhere."
—Steven Stein, Ph.D., co-author of The EQ Edge: Emotional Intelligence and Your Success, CEO of Multi-Health Systems – EY Entrepreneur of the Year, 2015

About the Author
Ronald A. Warren
, Ph.D., developed the LMAP 360 assessment used by top education institutions, corporations, and healthcare systems worldwide. Ron has worked in clinical and organizational psychology and has been published in American Journal of Psychiatry, Adolescence, and Measures of Leadership.