High Velocity Hiring
: How to Hire Top Talent in an Instant
Scott Wintrip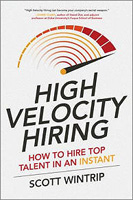 Format:
Hardcover, 288pp.
ISBN:
9781259859472
Publisher:
McGraw-Hill Education
Pub. Date:
April 6, 2017
Average Customer Review:

For Bulk Orders Call: 626-441-2024

Description and Reviews
From
The Publisher:
Win the war for talent by building an army of ready-to-deploy candidates
An employee leaves and you post the open position. Resumes trickle in. You interview a few candidates. No one fits the bill. The next thing you know, three months have passed and that desk is still empty . . .
Nothing drives business success like a staff of talented, productive employees. So why accept a hiring process that fails you time and time again?
Well, there's one person who doesn't: Scott Wintrip. And in
High-Velocity Hiring
, he provides the tools and systems for creating a hiring process designed for today's fast-paced, talent-deficient landscape. Using the proven methods Wintrip has applied at some of today's more forward-thinking companies, you'll hire top employees faster—and smarter.
High-Velocity Hiring
replaces the old, worn-out way of hiring with the simple but revolutionary approach of actively cultivating top talent before positions open. The old way is slow and inefficient. Wintrip's way is dynamic and proven-effective. You'll enrich and maintain a flow of high-quality candidates, harness this flow by identifying the most talented people, and channel it into a pool of ready-to-hire prospective employees.
More than ever, hiring the best people requires foresight, planning, alertness, and decisive action. With
High-Velocity Hiring
, you have everything you need to seize the high-ground in the war for talent and maintain it for long-term growth and profitability.

Reviews
"Your company's future depends on hiring the right talent. Scott Wintrip's new book is an invaluable resource to help you land top performers - even in crowded and competitive markets. High Velocity Hiring can become your company's secret weapon."
—Dorie Clark, author of Reinventing You and Stand Out, and adjunct professor at Duke University's Fuqua School of Business
"Scott Wintrip's book is exactly on point for today's economy, especially in a tight labor market that is only going to get tighter. Chapter 2 on the Talent Accelerator Process and Chapter 11 on Durable Diversity are two items every organization needs to be paying attention to as these are especially critical issues. Labor issues could easily determine your success and growth in the years to come."
—Dr. Alan Beaulieu, Principal and Senior Economist, ITR Economics
"There's a big difference between speed and haste. Rather than make hasty hiring decisions, at IBM we have baked speed into our process for talent acquisition. That's why High Velocity Hiring is so important. Fast and accurate hiring is never an accident. It happens because leaders plan for it, implement a process to achieve it, and hold staff accountable to following the plan."
—Obed Louissaint, Vice President of People and Culture for IBM Watson
"Talent is what differentiates organizations, and the best talent will always be the hallmark of the best organizations. Quickly finding and retaining talent is a must, and High Velocity Hiring offers proven and surprisingly potent ways to radically shrink time-to-fill so you can find and keep the right talent for your organization."
—Amy Dufrane, CEO, HR Certification Institute
"Scott Wintrip's innovative text, High Velocity Hiring, is an essential read (and frequent reference) for any organization striving to be best-in-class."
—Neil Goldenberg, MD, PhD, Associate Professor of Pediatrics, Johns Hopkins University School of Medicine, Director of Research, Johns Hopkins All Children's Hospital
"Successful leadership hinges upon surrounding yourself with talented people. You can't afford to wade through a long, drawn-out hiring process, nor can you risk making a bad hire. High Velocity Hiring shows you how to engage in fast and accurate hiring."
—Lisa Earle McLeod, author of Leading with Noble Purpose and Selling with Noble Purpose
"High Velocity Hiring helps you look past the obvious, and often unseen, problems in your hiring process and focuses on the solutions that will work for your business. Scott Wintrip shapes a new way of managing the hiring process – a better, faster way – by identifying the barriers to fast, effective hiring and outlining specific ways to overcome them. The outcome for your organization will be a hiring process your hiring managers and your candidates can trust. I especially like the '7 Principles of an on demand system' and how that awareness will help you prepare today for what you need tomorrow. That is, after all, the expectation of leaders everywhere. No one has a more clear view of how to improve your talent acquisition needs than Scott Wintrip."
—Amy Ruth, Senior Vice President, Human Services Group and Chief Human Resources Officer, Florida Blue
"High Velocity Hiring is a magnificent reminder of the power of hiring only the best talent. It illuminates wonderfully the principles of technique, process, and inventory-building to help you make successful hires."
—Angeles Valenciano, Chief Executive Officer, National Diversity Council
"Understanding Hiring Styles, a key feature of High Velocity Hiring, is a game-changer when it comes to identifying top talent. Having worked with thousands of hiring managers across the country, I have been amazed when really smart leaders couldn't see or hear what I do. Over time I've realized that it's simply practice and a structured approach that helps avoid mismatches, and the fact we do this all day long has helped! Anyone who is unaware of Hiring Blindness and how their Hiring Style affects this issue will continue to make the same hiring mistakes."
—Sharon Strauss, Vice President of Client Services at Vitamin T
"We live in a new economy, what I call the Membership Economy. More than ever, buyers want to feel as though they are a part of something meaningful, while receiving great value for their investment. Turning ordinary customers into members for life requires companies to hire good people who do great work. High Velocity Hiring ensures companies always have enough talented people to get the job done. I'm already recommending Scott's book to my clients."
—Robbie Kellman Baxter, author of The Membership Economy: Find Your Superusers, Master the Forever Transaction & Build Recurring Revenue
"Change is hard, and innovation doesn't always come easy. This seems especially true in hiring, as the leaders I work with tell me it seems harder than ever to find and retain good employees. Scott Wintrip's process in High Velocity Hiring is revolutionary. He clearly understands how empty seats undermine organizational effectiveness and has a proven process that eliminates this issue forever."
—Seth Kahan, author of Getting Innovation Right and Getting Change Right
"Never before has a book made fast and accurate hiring so simple. High Velocity Hiring will permanently change how organizations find and select talented people worldwide."
—Mark Levy, author of Accidental Genius: Using Writing to Generate Your Best Ideas, Insight, and Content

About the Author
Scott Wintrip
is the founder of Wintrip Consulting Group. For five consecutive years, Staffing Industry Analysts (a Crain Communications company) placed him on its "Staffing 100" ranking, a list of the world's 100 most influential staffing leaders, and he made Recruiter Magazine's "Top 40 Under 40" list. Wintrip has been a speaker at Staffing World (American Staffing Association), ERE Recruiting Conference, Staffing Industry Executive Forum, APSCo Member Conference (UK), Global Recruiter (Singapore and Middle East), RCSA International Conference (Australia and New Zealand), and many other events.