Speed
: How Leaders Accelerate Successful Execution
Jack Zenger and Joseph Folkman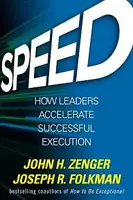 Format:
Hardcover, 224pp.
ISBN:
9781259837388
Publisher:
McGraw-Hill Education
Publication Date:
December 1, 2016
Average Customer Review:

For Bulk Orders Call: 626-441-2024

Description and Reviews
From
The Publisher:
Seize the competitive advantage by building speed into your leadership DNA
The rapid pace at which change occurs in business today is unprecedented. Speed has become a major source of competitive advantage. Leaders who act quickly and inspire others to do the same are the ones who ultimately win the day. But achieving increased levels of speed is not always easy.
Culled from the data of one million 360-degree feedback assessments, Speed provides valuable insights into the qualities that make a leader successful and productive. Jack Zenger and Joe Folkman reveal eight essential leadership behaviors shown to improve performance and ultimately drive organizational effectiveness.
The authors will help you assess the pace at which you work and determine how you stack up against others in their firm's database. You'll discover tactics for speeding up critical elements of your day and learn how you can use the eight companion behaviors—including innovation, develop courage, initiate action, and set stretch goals— to help you increase your speed.

Reviews
With the relentlessly increasing pace of change, speed and agility have become organizational survival skills. Speed is a terrific book with a wealth of practical advice on how to "lead with speed" without diluting executional excellence.
—Michael A. Peel, Chief Human Resources Officer, Yale University
Zenger and Folkman have done it again. In Speed, they acknowledge the benefit of leading at a faster pace—but they make it clear that fast is not the same as frantic. Speed must be accompanied by accuracy or all bets are off. Backed by extensive research, the book shows how the most successful leaders achieve an optimum balance of both fast pace and effective execution. A great read!
—Ken Blanchard, coauthor of The New One Minute Manager and Collaboration Begins with You
Making decisions quickly is one thing, making the right decisions is another—only Speed shows you how to do both. Remarkable new tools from the acclaimed Zenger-Folkman team!"
—Marshall Goldsmith – Author of the #1 New York Times bestseller—Triggers.
For an organization to succeed in today's world it needs to move quickly. However, organizations cannot be fast with leaders who move slowly. For those who aspire to increase their leadership speed, this book provides simple, powerful solutions.
—Frances R. Hesselbein, President & CEO, The Frances Hesselbein Leadership Institute, and former CEO of Girl Scouts of America

About the Authors
John H. (Jack) Zenger
is a speaker, consultant, executive coach, and CEO of Zenger Folkman, a firm providing leadership development programs to organizations worldwide. A recognized expert on leadership development, he has been inducted into the Human Resources Development Hall of Fame and was the recipient of ATD's Lifetime Achievement Award. Zenger is the co-author of How to Be Exceptional and the bestseller The Extraordinary Leader. He lives in Midway , Utah.
Joe Folkman
is a respected authority on assessment and change, an acclaimed keynote speaker, and cofounder and president of Zenger Folkman. One the nation's renowned psychometricians, he has worked with some of the most prestigious and successful organizations, including AT& T, General Mills, Nortel, Fidelity, Thomson Reuters, the U.S. Navy, and Wells Fargo. He is the co-author of How to Be Exceptional and the bestseller The Extraordinary Leader. Folkman lives in Orem, Utah.