The Leadership Mind Switch
: Rethinking How We Lead in the New World of Work
D. A. Benton and Kylie Wright-Ford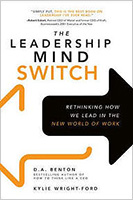 Format:
Hardcover, 288pp.
ISBN:
9781259836046
Publisher:
McGraw-Hill Education
Pub. Date:
June 23, 2017
Average Customer Review:

For Bulk Orders Call: 626-441-2024

Description and Reviews
From
The Publisher:
Lead your company to success in the New Industrial Revolution!
The world of business has completely transformed in recent years—and the pace of change will only increase in coming years. But one thing remains the same: Quality leadership is the hinge on which the fate of every organization swings.
The Leadership Mind Switch
provides the critical lessons you need to lead your company in a fully globalized business world where radical technologies reign supreme.
Debra Benton and Kylie Wright-Ford have helped some of today's most top executives successfully position themselves and their companies for the future. Now, in this groundbreaking leadership guide, they share their insight with you. Learn how to effectively lead a workforce that:
• Is rich in demographic texture—representing as many as four different generations
• Has varying—and sometimes conflicting—expectations of the company
• Operates with different ideas about what success looks like
• Uses, approaches, and even understands technology in different ways
The answers to these questions and many others are all here. You'll learn how to be the kind of leader who is both firm in his or her decisions but maintains an air of approachability. You'll learn how to drive high productivity while keeping your workers happy and satisfied in their jobs. And you'll learn how to embrace new technologies without sacrificing the human touch—which is the hallmark of great leadership.
It will take unprecedented levels of agility, confidence, and fearlessness to lead into the future. Make the leadership mind switch to seize the competitive edge now in order to drive profits and growth tomorrow.

Reviews
"I've read scores of books on leadership. Fortunately, you don't have to. Just read The Leadership Mind Switch. This book is a must read for all leadership practitioners - from newly promoted supervisors to CEOs. It's chock full of insights and practical tips to improve your and your team's performance."
—Robert Eckert, Retired CEO, of Mattel and former CEO of Kraft, Businessweek's 2001 Executive of the Year
"How we work is going through a great transformation, and needs a new form of leadership. Success is no longer measured by the size of your office, as much as how well you understand and bring together the disparate resources you need to reach any goal. The Leadership Mind Switch by D.A. Benton and Kylie Wright-Ford is the perfect guide to understanding this new form of leadership. As entertaining to read as it is informative."
—Keith Ferrazzi #1 New York Times bestselling author of Who's Got Your Back and Never Eat Alone
"The Leadership Mind Switch was a really insightful book on how to make my leadership future-ready. It takes a 2016-onwards look at the challenges a leader will face, and offers some great advice! Different from the usual leadership tomes that get published and is definitely worth the time."
—Udai Kunzru, President, Dyson, Asia Pacific
"The Leadership Mind Switch offers a powerful roadmap for a new and enlightened generation of business leaders. Its authors - D.A. Benton and Kylie Wright-Ford - are full of insight, foresight, wisdom and practicality. Together, they map out a set of frameworks and strategies that enable leaders not only to survive, but to thrive in this new industrial era."
—Pauline Brown, Senior Lecturer at the Harvard Business School, Former Chairman of North America at LVMH Inc.
"It's high time someone redefined the word "leadership" in a world that's so radically different than it was just yesterday. The Leadership Mind Switch is required reading for anyone who aspires to lead in this Age of Innovation."
—Ken Segall, Bestselling author of Think Simple
"Benton and Wright-Ford's work on leadership surpasses all expectations. They have an uncanny eye for the highly effective habits of great leaders and convincingly make the case that those who are willing to study them carefully, can reach their dreams. Reading their book is a pleasure and a top notch management education."
—Jeff Cunningham, Professor of Global Leadership, Thunderbird School of ASU, Former Publisher, Forbes Magazine
"The Leadership Mind Switch pushed me to forge my own thoughts on leading across generations - and to act now."
—Amy Carney President, Research and Advertiser Sales, Sony Picture Television
"The Leadership Mind Switch is not another book about leadership. It tells the story of how technology combined with cultural and generational demographics are changing the work environment more rapidly than society has ever seen. The fourth revolution is quickly becoming our business reality. The Leadership Mind Shift will help you understand the dynamics of the changes and how to evolve as a leader."
—Clare Hart, CEO, Sterling Talent Solutions
"The Leadership Mind Switch is the most comprehensive manual I have seen in preparing leaders of yesterday to be the leaders of tomorrow. Truly a MUST READ for any executive in any industry!"
—Rulon F. Stacey, Ph.D., FACHE, Chair, Board of Overseers, Malcolm Baldrige National Quality Award and Managing Director, Navigant Consulting
"This is simply an outstanding book on Leadership! It is conceptually deep, yet is highly pragmatic in its approach. This book is going to be a steady North Star for leaders as they navigate the fast changing landscape of virtually everything they need to manage and manage through."
—Raja Rajamannar, Global Chief Marketing & Communications Officer and President, Healthcare Division, Mastercard
"The Leadership Mind Switch provides the tools and insights for aspiring leaders."
—Kazu Gomi CEO & President, NTT America, Inc.
"This book is a perfect toolbox for both aspiring and existing Leaders. Debra Benton and Kylie Wright-Ford suggest a fact and real-life experience-based, concrete, practical approach to revisiting one's skill set – based facts and real-life experiences. They gradually bring the reader into a new and more complex Leadership environment, while taking away any anxiety and replacing it with the idea that all these new 'issues' are in reality 'opportunities' for a more effective and rewarding Leadership style."
—Andrea Ragnetti Member of Board, TEKA GROUP Former CEO Alitalia
"What's keeping you from reading The Leadership Mind Switch right now? We all know leadership is at the heart of great movements in science, business, technology, and politics. The thoughtful and provocative ideas raised in this book will switch you on."
—Scott Goodson, CEO, StrawberryFrog, Bestselling author of Uprising
"Last year's technological frontier already looks small in the rear view mirror, and demographics are rapidly changing as well. Both bring fantastic opportunities and daunting challenges. Benton and Wright-Ford show us how to realize the first and overcome the second with the kind of wisdom that can't be found using search engines."
—Dino Falaschetti, PhD, MBA, Chief Economist, U.S. House Committee on Financial Services
"The Leadership Mind Switch offers leaders a fresh and practical approach to navigate the evolving complexities of the fourth industrial revolution. After reading the experienced perspective and wisdom of Benton and Wright-Ford, rising and seasoned leaders will be able to go to work with the critical skills they need to be ready for the future."
—Rick Ambrose, Executive Vice President, Lockheed Martin Corporation, President, Space Systems Company
"As the CEO of a disruptive industrial 3D printing company, I couldn't agree more that technology and demographics have changed everything for us -- and our leadership needs to catch up! A must-read for both aspirational and practical guidelines to the new world of work"
—Rick Smith, CEO, Fast Radius, Founder and former CEO of World50 and of G100 Next Leadership
"The world is changing fast, but many of our leadership models are stuck in the past. Based on years of experience, Debra and Kylie have written a book that addresses the leadership needs challenges of today and tomorrow. It not only recognizes that warp speed changes in technology, but also very deep emotional needs that people still have."
—Daryl Brewster, CEO, Committee Encouraging Corporate Philanthropy (CECP)
"I could feel the energy literally jumping off the pages Of The Leadership Mind Switch. This book clearly presents the future landscape of how people and technology will intersect with opportunities. Benton and Wright-Ford show us how to navigate successfully through this challenging new crossroads of people, work, technology, and leadership."
—Paul Schlossberg, President, DFW Consulting
"In a recent address to a group of employees, I said, 'Our customer of the future is someone like my 21 year old daughter. They think, work, and communicate on a whole different realm and we need to adapt our service to their needs in a differentiated way.' Debra and Kylie's book strikes at the heart of this exact issue. Everyone on my leadership team will receive a copy to read."
—Barbara Smith, President, Commercial Metals Company
"For both 'rising leaders' and 'nimble masters,' this is a great practical guide for successfully meeting the complex challenges presented by globalization, unimaginable technological change, and generational diversity in the workplace"
—M. Carl Johnson, III, Chairman of the Board, Nautilus, Inc., 2017 Fellow, Distinguished Careers Institute, Stanford University
"A must read for the experienced as well as the aspiring leader during this time of unprecedented pace of change."
—Uta Werner, Chief Strategy Officer, Signet
"The world has changed. Successful business management requires leadership innovation at all levels from the front line manager to the CEO. Applying the principles outlined in this book will enable leaders to make the mind switch necessary to be successful. A great read!"
—Mike Dennison, President, Flex Inc.
The Leadership Mind Switch is a refreshingly modern, in-your-face view of leadership that explains how technology is erasing the generation gap and crystalizes the mindsets and behaviors key to becoming a "fourth revolution leader".
—Joe Spagnoletti , Former CIO, Campbell Soup Company, Founder, Spagnoletti Net.
"In a world syncopated by split-seconds and nanotechnology, we all need a mind shift to lead. Rather than top-down commands, Benton and Wright-Ford show us that the best leadership tools are continuous learning, constant engagement, and the ability to inspire."
—Mike Fernandez, CEO-U.S., Burson-Marsteller
"The next 10 years will bring technological and demographic changes that will continue to revolutionize the workplace. As leaders, we need to change our mindset in order to seize new opportunities. In The Leadership Mind Switch, Debra Benton and Kylie Wright-Ford, provide practical advice on how to lead and succeed in this environment."
—Deanna Mulligan, President & CEO, The Guardian Life Insurance Company of America

About the Authors
D.A. (Debra) Benton
has been an executive coach helping leaders and organizations develop for more than 30 years. She is the president of Benton Management Resources, Inc. and the author of ten award-winning and best-selling business books, including CEO Material, The Virtual Executive, and Executive Charisma. She is ranked as one of the World's Top 10 CEO coaches by TopCEOCoaches.com and counts among her clients Microsoft, Dow Jones, J. Crew, Lockheed Martin, NASA, and the U.S. Border Patrol. Benton has made appearances on the Today Show, Good Morning America, CNN, and CBS with Diane Sawyer.
Kylie Wright-Ford
is an operating executive, sits on multiple boards and is a three-time entrepreneur. An Australian native, she completed her MBA at Oxford in 2005 and has since led hundreds of talented professionals, driven hundreds of millions in revenue and experienced several successful M&A transactions. Her global leadership positions include strategic and sales roles at prestigious services firms like Goldman Sachs JBWere, GLG and most recently as Chief Operating & Strategy Officer of World 50. Kylie is also a popular guest lecturer at Emory University and experienced moderator of conversations with world leaders, celebrities and disruptors.