No Ego
: How Leaders Can Cut the Cost of Workplace Drama, End Entitlement, and Drive Big Results
Cy Wakeman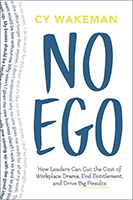 Format:
Hardcover, 224pp.
ISBN:
9781250144065
Publisher:
St. Martin's Press
Pub. Date:
September 19, 2017
Average Customer Review:

For Bulk Orders Call: 626-441-2024

Description and Reviews
From
The Publisher:
The
New York Times
bestselling author of
Reality-Based Leadership
rejects the current fad of "engaging" employees and the emotional drama of "meeting their needs"—returning leadership to leaders and productivity to businesses.
For years now, leaders in almost every industry have accepted two completely false assumptions—that change is hard, and that engagement drives results. Those beliefs have inspired expensive attempts to shield employees from change, involve them in high-level decision-making, and keep them happy with endless "satisfaction surveys" and workplace perks. But what these engagement programs actually do, Cy Wakeman says, is inflate expectations and sow unhappiness, leaving employees unprepared to adapt to even minor changes necessary to the organization's survival. Rather than driving performance and creating efficiencies, these programs fuel entitlement and drama, costing millions in time and profit.
It is high time to reinvent leadership thinking. Stop worrying about your employees' happiness, and start worrying about their accountability. Cy Wakeman teaches you how to hire "emotionally inexpensive" people, solicit only the opinions you need, and promote self-awareness in your whole team.
No Ego
disposes with unproven HR maxims, and instead offers a complete plan to turn your office from a den of discontent to a happy, productive place.

Reviews
"Cy's philosophy is important for business leaders to understand - if you don't invest in the right tools to empower your people, you're going to lose."
—Gary Vaynerchuk, CEO of VaynerMedia and New York Times bestselling author of Jab, Jab, Jab, Right Hook and Crush It!
"Cy Wakeman does a great job in illustrating how leaders can build a workplace free of drama and full of accountability - the true amplifier of one's strengths."
—Marcus Buckingham, New York Times bestselling author of First, Break All the Rules; Now, Discover Your Strengths; and The One Thing You Need to Know
"This is the most effective, productive, and practical solution any business leader would want. I cannot tell you how much money, time, and emotional waste we have saved because of Cy's philosophy."
—Frank Calderoni, CEO Anaplan, Former CFO Red Hat and Cisco
"Using her expertise in psychology, Cy shows leaders simple tools they can use - instantly - to diffuse drama, cultivate accountability, and deliver game-changing business results. Leaders looking to remain relevant in the future can't miss this modern leadership approach."
—Lolly Daskal, author of The Leadership Gap: What Gets Between You and Your Greatness
"If you're tired of all the drama and B.S. in your workplace, then this book is for you. Read it and reap ... great results!"
—BJ Gallagher, author of A Peacock in theLand of Penguins: A Fable About Creativity and Courage
"Cy Wakeman dismantles conventional HR and Leadership wisdom and provides thought-provoking new ways of viewing the role of the leader and the possibility of creating a drama-free workplace!"
—Jeff Hyman, Chief Talent Officer, Strong Suit & Adjunct Professor, Kellogg School of Management
"Cy's No Ego approach simply works."
—Andy Thomas, CEO, Craft Brew Alliance
"The right book at the right time! In her brilliant new book, Cy Wakeman describes a leadership philosophy that puts an end to ego-driven leadership."
—Jesse Lyn Stoner, coauthor Full Steam Ahead! Unleash the Power of Vision and Leading at a Higher Level
"Cy's No Ego philosophies supply the actionable leadership tools and techniques that are empowering organizational accountability and transforming our cultural mindset from 'why we can't' into 'how we can.'"
—Frank Venuto, CHRO, Nebraska Medicine

About the Author
Cy Wakeman
is a public speaker and trainer. In 2001, she founded Reality-Based Leadership. She is the author of Reality-Based Leadership: Ditch the Drama, Restore Sanity to the Workplace & Turn Excuses Into Results (2010) and the New York Times bestseller The Reality-Based Rules of the Workplace: Know What Boosts Your Value, Kills Your Chances, and Will Make You Happier (2013). She lives in Elkhorn, Nebraska.