Radical Candor
: Be a Kick-Ass Boss Without Losing Your Humanity
Kim Scott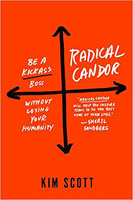 Format:
Hardcover, 272pp.
ISBN:
9781250103505
Publisher:
St. Martin's Press
Pub. Date:
March 14, 2017
Average Customer Review:


For Bulk Orders Call: 626-441-2024

Description and Reviews
From
The Publisher:
From the time we learn to speak, we're told that if you don't have anything nice to say, don't say anything at all. While this advice may work for everyday life, it is, as Kim Scott has seen, a disaster when adopted by managers.
Scott earned her stripes as a highly successful manager at Google and then decamped to Apple, where she developed a class on optimal management. She has earned growing fame in recent years with her vital new approach to effective management, the "radical candor" method.
Radical candor is the sweet spot between managers who are obnoxiously aggressive on one side and ruinously empathetic on the other. It's about providing guidance, which involves a mix of praise as well as criticism—delivered to produce better results and help employees achieve.
Great bosses have strong relationships with their employees, and Scott has identified three simple principles for building better relationships with your employees: make it personal, get (sh)it done, and understand why it matters.
Radical Candor
offers a guide to those bewildered or exhausted by management, written for bosses and those who manage bosses. Taken from years of the author's experience, and distilled clearly giving actionable lessons to the reader; it shows managers how to be successful while retaining their humanity, finding meaning in their job, and creating an environment where people both love their work and their colleagues.

Reviews
"I raced through
Radical Candor
--It's thrilling to learn a framework that shows how to be both a better boss and a better colleague.
Radical Candor
is packed with illuminating truths, insightful advice, and practical suggestions, all illustrated with engaging (and often funny) stories from Kim Scott's own experiences at places like Apple, Google, and various start-ups. Indispensable."
—Gretchen Rubin author of NYT bestseller THE HAPPINESS PROJECT
"Reading
Radical Candor
will help you build, lead, and inspire teams to do the best work of their lives. Kim Scott's insights--based on her experience, keen observational intelligence and analysis--will help you be a better leader and create a more effective organization."
—Sheryl Sandberg author of the NYT bestseller Lean In
"Kim Scott has a well-earned reputation as a kick-ass boss and a voice that CEOs take seriously. In this remarkable book, she draws on her extensive experience to provide clear and honest guidance on the fundamentals of leading others: how to give (and receive) feedback, how to make smart decisions, how to keep moving forward, and much more. If you manage people?whether it be 1 person or a 1,000--you need
Radical Candor
. Now."
—Daniel Pink author of NYT bestseller Drive

About the Author
Kim Scott
is the co-founder and CEO of Candor, Inc. Kim has been an advisor at Dropbox, Kurbo, Qualtrics, Shyp, Twitter, and several other tech companies. She was a member of the faculty at Apple University and before that led AdSense, YouTube, and Doubleclick Online Sales and Operations at Google. Previously, Kim was the co-founder and CEO of Juice Software, a collaboration start-up, and led business development at Delta Three and Capital Thinking. Earlier in her career, Kim worked as a senior policy advisor at the FCC, managed a pediatric clinic in Kosovo, started a diamond cutting factory in Moscow, and was an analyst on the Soviet Companies Fund. She is the author of three novels Virtual Love, The Househusband, and The Measurement Problem; she and her husband Andy Scott are parents of twins and live in the San Francisco Bay Area.