The Code of Trust
: An American Counterintelligence Expert's Five Rules to Lead and Succeed
Robin Dreeke and Cameron Stauth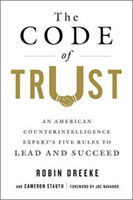 Format:
Paperback, 384pp.
ISBN:
9781250190444
Publisher:
Griffin
Pub. Date:
October 1, 2019
Average Customer Review:

For Bulk Orders Call: 626-441-2024

Description and Reviews
From
The Publisher:
A counterintelligence expert shows readers how to use trust to achieve anything in business and in life.
Robin Dreeke is a 28-year veteran of federal service, including the United States Naval Academy, United States Marine Corps. He served most recently as a senior agent in the FBI, with 20 years of experience. He was, until recently, the head of the Counterintelligence Behavioral Analysis Program, where his primary mission was to thwart the efforts of foreign spies, and to recruit American spies. His core approach in this mission was to inspire reasonable, well-founded trust among people who could provide valuable information.
The Code of Trust
is based on the system Dreeke devised, tested, and implemented during years of field work at the highest levels of national security. Applying his system first to himself, he rose up through federal law enforcement, and then taught his system to law enforcement and military officials throughout the country, and later to private sector clients.
The Code of Trust
has since elevated executives to leadership, and changed the culture of entire companies, making them happier and more productive, as morale soared.
Inspiring trust is not a trick, nor is it an arcane art. It's an important, character-building endeavor that requires only a sincere desire to be helpful and sensitive, and the ambition to be more successful at work and at home.
The Code of Trust
is based on 5 simple principles:
1) Suspend Your Ego
2) Be Nonjudgmental
3) Honor Reason
4) Validate Others
5) Be Generous
To be successful with this system, a reader needs only the willingness to spend eight to ten hours learning a method of trust-building that took Robin Dreeke almost a lifetime to create.

Reviews
"Smart, empowering, and easy to follow, Dreeke's manual should become a classic business—and personal primer—on the art of building trust."
—Publishers Weekly
"Dreeke delivers a pragmatic, patriotic recipe for the key ingredient of leadership: trust. . . . A book of broad application with useful lessons for everyone from Girl Scouts to corporate masters to world leaders—and aspiring spies, too."
—Kirkus Reviews
"As someone who has spent my career in the public and private intelligence fields, I feel this work provides great insights into the social psychological aspects of interpersonal dynamics from someone who has spent a lot of time in analyzing the criminal mind. A great insight for anyone with an interest in social psychology and how it impacts interpersonal relationships."
—Phil Houston, CEO QVerity, 26 year veteran of CIA and co-author of the New York Times bestsellers Spy The Lie and Get The Truth
"To paraphrase Charles Dickens, it is the best of times, the worst of times, the age of wisdom, the age of foolishness, the spring of hope, the winter of despair. The Code of Trust is an antidote to the cynicism and fear of today. Robin Dreeke, my friend and colleague from the FBI, will take you on a delightful journey—his journey—to more effective leadership at a time when we ache for such genuine skills in others."
—Reid Meloy Ph.D., forensic psychologist, author, and consultant to The FBI
"The foundation of leadership is trust. Robin shares his successful and, sometimes, unsuccessful experiences as a United States Marine Corps officer and as a FBI behavioral analyst that allowed him to crack the code to build trusting relationships. This book is a must read for leaders and those who aspire to lead."
—Jack Schafer, author of The Like Switch

About the Authors
Robin Dreeke
entered federal law enforcement in 1997, after graduating from the US Naval Academy and serving in the US Marine Corps. He received advanced training and operational experience in social psychology and in the practical application of the science of relationship development. Eventually he rose to direct the behavioral analysis program in a federal law enforcement agency. Dreeke is currently an agent of the FBI and lives in Fredericksburg, Virginia. He is the author of It's Not All About Me.
Cameron Stauth
is the author or co-author of more than twenty books, including several national and international bestsellers. Stauth is one of America's leading nonfiction authors, best known for his narrative nonfiction and medical books.