Talk Like TED
: The 9 Public-Speaking Secrets of the World's Top Minds
Carmine Gallo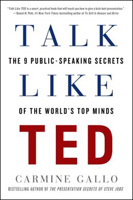 Format:
Hardcover, 288pp.
ISBN:
9781250041128
Publisher:
St. Martin's Press
Pub. Date:
March 4, 2014
Average Customer Review:

For Bulk Orders Call: 626-441-2024

Description and Reviews
From
The Publisher:
Ideas are the true currency of the twenty-first century. So, in order to succeed you need to be able to sell yourself and your ideas persuasively. The ability to sell yourself and your ideas is the single greatest skill that will help you accomplish your dreams. TED Talks have redefined the elements of a successful presentation and become the gold standard for public speaking. TED—which stands for technology, entertainment, and design—brings together the world's leading innovators and thinkers. Their online presentations have been viewed more than a billion times. These are the presentations that set the world on fire, and the techniques that top TED speakers use are the same ones that will make any presentation more dynamic, fire up any team, and give anyone the confidence to overcome their fear of public speaking.
Public speaking coach and bestselling author of
The Presentation Secrets of Steve Jobs
, Carmine Gallo has broken down hundreds of TED talks and interviewed the most popular TED presenters as well as the top researchers in the fields of psychology, communications, and neuroscience to get their cutting-edge insights and to reveal the nine secrets of all successful TED presentations. From "Unleash the Master Within" and "Deliver Jaw-Dropping Moments" to "Stick to the 18-minute Rule," Gallo provides a step-by-step method that makes it possible for anyone to create, design, and deliver a TED-style presentation that is engaging, persuasive, and memorable.
Many people have a fear of public speaking or they're insecure about their ability to give a TED-worthy presentation. Talk Like TED will give you the tools to create presentations around the ideas that matter most to you, the skill to win over hearts and minds, and the confidence to deliver the talk of your life. You have ideas that were meant to be heard. Use your voice to inspire any audience and achieve your most audacious goals.

Reviews
"Talk Like TED is a smart, practical book that will teach you how to give a kick-butt presentation. But Gallo goes deeper than mere instruction. This book is ultimately about discovering what moves you and then creating the means of moving others with your vision."
—Daniel H. Pink, #1 New York Times Bestselling Author of To Sell Is Human and Drive
"Communications guru Gallo (The Presentation Secrets of Steve Jobs) draws on the power of these [TED Talks] to reveal the secrets of effective public speaking… The result is a dynamic work focused on storytelling, filled with examples from TED Talks, including those given by notables like Bill Gates… The book is sure to be a hit with anyone who wants to be more a successful communicator."
—Publishers Weekly (Pick of the Week, Starred Review)
"The premise of this book, that TED talks provide great examples and lessons, is a magnificent insight. Then Carmine's execution of this premise is even better. This book will make you a much better speaker."
—Guy Kawasaki, former chief evangelist of Apple and author of APE: Author, Publisher, Entrepreneur
"Dramatic composition and vigorous presentation make this a powerful tool to improve mastery of speaking skills."
—Kirkus
"Fascinating… This is sound advice and encouragement for those who need to make presentations and an enjoyable resource for fans of TED Talks.
—Booklist
"Read this book to understand the secrets to delivering presentations that sell yourself and your cause by adopting techniques from some of the most notable speakers on the planet."
—Dan Schawbel, New York Times Bestselling author of Promote Yourself and Me 2.0
"Inspire, motivate and persuade any audience! That's what Carmine Gallo helped me do and now he can help you, too, in Talk Like TED. Your success depends on your ability to pitch and present your vision, ideas, and proposals. Learn to deliver like a pro."
—Darren Hardy, publisher and founding editor of SUCCESS magazine
"In this book, Gallo performs magic: he shows us exactly what makes the world's greatest talks so great. Through story, detail, insight, and passion, Gallo gives us secrets we can apply to our own presentations so that people actually want to hear us talk."
—Dan Roam, author of The Back of the Napkin and Show and Tell
"Gallo's book is crammed with valuable insights as well as practical do's and don'ts. Read it and you, too, can stand and deliver a compelling, convincing and memorable talk, speech or presentation."
—Success Magazine

About the Author
Carmine Gallo
, bestselling author of
The Presentation Secrets of Steve Jobs
, is the communications coach for the world's most admired brands. A former anchor and correspondent for CNN and CBS, Gallo is a popular keynote speaker who has worked with executives at Intel, Cisco, Chevron, Hewlett-Packard, Coca-Cola, Pfizer, and many others and writes the Forbes.com column "My Communications Coach." He lives in Pleasanton, California, with his wife and two daughters.

Table of Contents
| | | |
| --- | --- | --- |
| | | |
| | Introduction: Ideas Are the Currency of the 21st Century | |
| | | |
| | Part I: Emotional | |
| 1 | Unleash the Master Within | |
| 2 | Master the Art of Storytelling | |
| 3 | Have a Conversation | |
| | | |
| | Part II: Novel | |
| 4 | Teach Me Something New | |
| 5 | Deliver Jaw Dropping Moments | |
| 6 | Lighten Up | |
| | | |
| | Part III: Memorable | |
| 7 | Stick to the 18-Minute Rule | |
| 8 | Paint a Mental Picture with Multisensory Experiences | |
| 9 | Stay in Your Lane | |
| | | |
| | Author's Note | |

Find Items On Similar Subjects

The Presentation Secrets of Steve Jobs
: How to Be Insanely Great in Front of Any Audience