Smart Decisions
: The Art of Strategic Thinking for the Decision-Making Process
Thomas N. Martin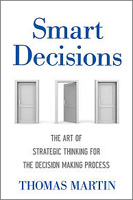 Format:
Hardcover, 208pp.
ISBN:
9781137536983
Publisher:
Palgrave Macmillan
Publication Date:
January 5, 2016
Average Customer Review:

For Bulk Orders Call: 626-441-2024

Description and Reviews
From
The Publisher:
Today's world is complex and getting more so each day. Huge multinational corporations, international crisis and fast breaking events require most people to make decisions on a daily basis without the tools to understand the long term impact that today's decision might create. Because most people have never really been trained in how to make important complex decisions most people rely on experience, and 'gut reaction' which is okay for many decisions, but not okay for decision that will have meaningful impact on organizations and individual. Decision makers need to develop the art and science of strategic decision making. Here, Professor Thomas Martin explains the need for decision makers to modify their thinking about how they deal with acquiring and analyzing information in each of the decision-making process steps. This approach requiring thinking modification will lengthen the process, make it more complex, and to some more arduous, but the comprehensiveness of the new thinking approach should lead to improved and more effective decision making.
In this book, Dr. Martin presents a thinking modification framework that asserts that in the decision-making process, there are three situational states — a current state, future state, and a transitional state that one must deliberate in finding a solution. For each of these situational states, Martin develops an identical five-step process to determine the best decision to make. The steps of this process include:
• Change-Needing Situational Analysis
• Challenge Framing & Causal Analysis
• Generating Solution Ideas
• Choosing a Solution Set
• Implementation and Aftermath Planning
This book will appeal to decision makers, leaders, and students of management who want a specific framework that details the process behind making strategic, well-informed decisions.

About the Author
Thomas N. Martin
, PhD is a Professor of Marketing and Management at the University of Nebraska at Omaha. His research interests include decision making, turnover and retention, and organizational management. He has been published in several publications, including Academy of Management Review, Journal of Vocational Behavior, Personnel Psychology, Human Relations, Organizational Dynamics, Business Process Management Journal, and Journal of Change Management.