The Curve Ahead
: Discovering the Path to Unlimited Growth
Dave Power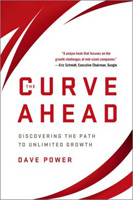 Format:
Hardcover, 224pp.
ISBN:
9781137279224
Publisher:
Palgrave Macmillan
Pub. Date:
July 29, 2014
Average Customer Review:

For Bulk Orders Call: 626-441-2024

Description and Reviews
From
The Publisher:
Why do most growth companies stop growing? These fast-growing businesses are the engines of economic growth and wealth creation, but most fall behind the curve before reaching their potential. Executives are surprised when their business models mature sooner than expected, victims of the familiar S-Curve. Tragically, once-promising companies are often sold by investors too ready to throw in the towel. So what can leaders do to keep moving forward?
To sustain growth, companies need to discover their next S-Curve. But few have a repeatable process for uncovering new opportunities before their core business stalls.
The Curve Ahead
offers a practical approach to sustaining long-term growth. It describes how growth companies can build innovation into the rhythm of their business operations and culture using design thinking, prototyping, business model design and other Innovation Power Tools.
The Curve Ahead
utilizes the power of storytelling to illustrate its messages. Power describes how LoJack and Groupon fell behind the curve, while Amazon, Jawbone, Darn Tough Socks and many others have fueled growth with a series of new S-Curves.
This book will help thousands of mid-sized companies stay ahead of the curve and discover the path to unlimited revenue growth.

Reviews
"Successful growth companies never stop searching for the next innovation. Entrepreneurs who want to build more than a one-product company need to read The Curve Ahead."
—Vinod Khosla, Khosla Ventures
"It is a Have Lunch or Be Lunch world out there. The Curve Ahead reveals what the most successful CEOs have learned: you need to find your next S-Curve if you want to keep growing."
—Scott McNealy, Chairman of Wayin and Former CEO of Sun Microsystems
"The Curve Ahead is a thoughtful and excellent guide to keeping new companies on their growth path as well as helping re-invigorate companies that have stumbled on the way. Dave reminds us all that continued growth always involves anticipating what will make you successful in the future and then doing the work—across the organization-- to make that future actually happen."
—Joe Lassiter, Faculty Chair of the Harvard innovation Lab and Heinz Professor of Management Practice at the Harvard Business School.
"The best companies of our generation aren't one hit wonders; they are constantly innovating on behalf of their customers. The Curve Ahead identifies tangible ways executives can leverage data and customer engagement to see around corners and achieve the entrepreneur's holy grail: ongoing and sustained growth for the long haul."
—Brian Halligan, CEO Hubspot
"In The Curve Ahead, Dave Power does what he's always done best – help executives to ask themselves the right questions about their growth strategy."
—Mike Stankey, President & Chief Operating Officer, Workday, Inc.
"Essential reading for anyone who wants to take their business to the next level. Two giant likeable thumbs up for this must-read!"
—Dave Kerpen, NY Times Bestselling Author, Likeable Business You rule!
"There is so much written about how to turn a startup into a thriving business, but what happens when you have succeeded and are challenged with sustaining your wild success? Dave Power lays it all out clearly in The Curve Ahead, a compelling book, that will enlighten and inspire any growth company executive."
—Diane Hessan, Chairman, Communispace
"The Curve Ahead is required reading for every growth company executive!"
—Tom Bogan, Chairman, Citrix
"Business model maturity is a huge challenge in the sports industry. Winning franchises need to find the next S-Curve to continue to grow."
—Wyc Grousbeck, CEO, The Boston Celtics

About the Author
Dave Power
, president of Power Strategy, has guided growth companies as an operating executive, board member, and advisor for over 25 years. Dave was CEO of Novera Software, SVP Marketing of RSA Security, and a venture capital investor with Fidelity Ventures. A Certified Gazelles International Coach, he earned his MBA at Stanford Business School and teaches Strategic Management and Innovation at the Harvard Extension School.