The Leadership Habit
: Transforming Behaviors to Drive Results
Tammy R. Berberick, Peter Lindsay and Katie Fritchen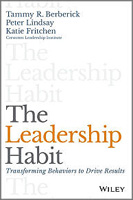 Format:
Hardcover, 208pp.
ISBN:
9781119363200
Publisher:
Wiley
Pub. Date:
April 17, 2017
Average Customer Review:

For Bulk Orders Call: 626-441-2024

Description and Reviews
From
The Publisher:
The 10 essential skills every effective leader must have
The Leadership Habit
, Achieving Business Results is the handbook for leaders—both current and aspiring—seeking to develop and improve their own performance and empower those they lead to excel. By articulating a clear, well-defined standard of what it means to be a leader, this book condenses volumes of advice and opinion into a systematic framework of 10 core competencies. Through expert discussion and deep dissection of these critical areas, you'll understand the skills required to lead people effectively; productivity and growth are products of leadership, and by developing these essential skills, you'll bring long-term goals closer and start achieving more. This invaluable guidebook highlights the value of measured training and quantifiable goals, and shows you when and where your skills are best applied; by internalizing both concept and application, you'll develop an innate sense leadership that motivates, inspires, empowers, and delivers results.
Leadership is more than a title—it's a tremendous responsibility. Poor leadership can sink an organization; great leadership can take it to great heights—it's all in the skills and execution. This book is your guide to being one of the greats, with expert advice and a concrete framework for leading well.
• Understand the universal standard for leadership
• Acquire the skills that true leadership demands
• Recognize opportunities to apply leadership skills in the workplace
• Accelerate productivity and maintain competitive advantage
As a leader, your team's performance and your organization's outlook are direct reflections of you. You cannot fake great leadership. True leaders attract true talent, and the resulting synergy is what gets results.
The Leadership Habit
, Achieving Business Results shows you how to become the catalyst for high performance, and it all starts with you.

About the Author
Tammy R. Berberick
is the CEO for Crestcom International, the leading organization in results-based interactive leadership development. Tammy holds an MBA and has held numerous executive level positions leading transformational change within organizations. Tammy has coached over 100 CEOs and key executives on leadership, change management, organization design, and strategy.
Peter Lindsay
is the Director of Operations for Crestcom International. He is a former officer in the United States Air Force, holds a MS in Strategic Intelligence, and is a global facilitator in leadership development. Recognized as a thought leader, he is a trainer, instructional designer, and author in leadership and social change.
Katie Fritchen
is a writer and strategist for Crestcom International. A graduate of the University of Oregon's Lundquist School of Business and specialist in business development, she is an author and editor in areas including business management and leadership.