Do Big Things
: The Simple Steps Teams Can Take to Mobilize Hearts and Minds, and Make an Epic Impact
Craig Ross, Angela V. Paccione and Victoria L. Roberts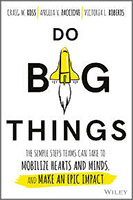 Format:
Hardcover, 256pp.
ISBN:
9781119361152
Publisher:
Wiley
Pub. Date:
August 28, 2017
Average Customer Review:

For Bulk Orders Call: 626-441-2024

Description and Reviews
From
The Publisher:
An inspiring, practical and progress-oriented blueprint for energetic achievement.
Amid constant swirl, uncertainty, and complexity is your team capable of doing big things? Too often people are pulled together, labeled a "team," given a directive, and expected to deliver results quickly. Soon, however, due to lack of focus, increasing pressures and competing priorities the team suffers from DSD: distracted, hopelessly stressed and disconnected from one another. Predictably, the team flatlines and the energy needed to succeed is lost.
Based upon research of what successful teams do to overcome severe odds,
Do Big Things
presents an intuitive, seven-step process that equips teams with how to quickly and consistently operate in a manner necessary for success.
Team members develop the self-awareness and ability to:
• Bring their best to every situation
• Bring out the best in others in every interaction
• Partner across the business to deliver common objectives
Filled with practical tools and engaging stories of teams today,
Do Big Things
equips leaders with "the how" to quickly identify and activate the behaviors needed to achieve more than you or your team ever thought possible. Idea and information exchanges interlock the hand, head and heart of each team member to get everyone moving toward a common goal. Increasingly, individually and collectively, the team becomes emotionally stronger and more productive as they do their work.
Do Big Things
provides your team with the common language necessary to be authentic, empathetic and transparent, so that potential barriers to success come to light – faster. This empowers the team to be more accountable with an enterprise mindset, because they can have the profound discussions needed to adapt quicker to unforeseen challenges and demonstrate an innovative reflex.
By applying the concepts in this book, the team's daily interactions are transformed, focus is sustained, and energetic progress toward your goals is triggered. Every member of your team wants to succeed.
Do Big Things
provides a straightforward method to bring greater meaning to the work everyone does so the team delivers extraordinary performance together.
You know what your team can achieve—now use the proven method to enable them to do it.

About the Author
CRAIG W. ROSS is CEO at Verus Global. He is coauthor of ONE Team, Degrees of Strength, and Stomp the Elephant in the Office. ANGELA V. PACCIONE is senior director of client partnerships at Verus Global. She is coauthor of ONE Team. VICTORIA L. ROBERTS is president at Verus Global, responsible for the execution and scaling of growth strategy.