The Power of Positive Leadership
: How and Why Positive Leaders Transform Teams and Organizations and Change the World
Jon Gordon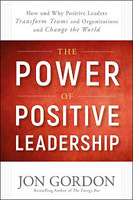 Format:
Hardcover, 208pp.
ISBN:
9781119351979
Publisher:
Wiley
Pub. Date:
April 24, 2017
Average Customer Review:

For Bulk Orders Call: 626-441-2024

Description and Reviews
From
The Publisher:
Lift your organization from the top with a powerful new leadership approach
The Positive Leader
is your personal coach for becoming the leader your people deserve. Storyteller Jon Gordon crafts the fables that inspire great leadership:
The Energy Bus, The No Complaining Rule, Training Camp
, and others have helped hundreds of thousands of people around the world achieve their true leadership potential. In this book, he gathers the insights from all of his bestselling fables to bring you the definitive guide to positive leadership. Great leaders understand that people drive the numbers, not the other way around; to win, you must win with people—and this book shows you how. It all begins with your decision to become a positive leader, and the understanding that leadership is not just about what you can do, but what you can inspire, encourage, and empower others to do. You'll learn to bring out the best in each of your employees by sharing the best within you; instead of running over people to achieve your goals, invite them on board—together, you can achieve more than you ever thought possible.
Difficult times call for leaders who are up for the challenge. Results are the byproduct of your culture, teamwork, vision, talent, innovation, execution, and commitment; this book shows you how to bring it all together to become a powerfully positive leader.
• Discover the true drivers of short- and long-term success
• Learn what leadership is really about
• Cultivate the habits and outlook of successful leaders
• Strengthen your people and let the results speak for themselves
Find the right people, invest in them, nurture them, and develop them; as they grow, so do you.
The Positive Leader
helps you become the person you want to be, and the leader your people need.

About the Author
Jon Gordon
's bestselling books and talks have inspired readers and audiences around the world. His principles have been put to the test by numerous NFL, NBA, and college coaches and teams, Fortune 500 companies, school districts, hospitals, and nonprofits. He is the author of the
Wall Street Journal
bestseller
The Energy Bus, The No Complaining Rule, Training Camp
,
The Shark and the Goldfish, Soup
, and
The Seed
. Jon invites you to visit and connect with him at www.JonGordon.com. Follow him on Twitter @JonGordon11.