Move
: How Decisive Leaders Execute Strategy--Despite Obstacles, Setbacks, and Stalls
Patty Azzarello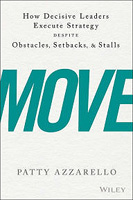 Format:
Hardcover, 304pp.
ISBN:
9781119348375
Publisher:
Wiley
Pub. Date:
February 28, 2017
Average Customer Review:

For Bulk Orders Call: 626-441-2024

Description and Reviews
From
The Publisher:
Too many new initiatives lose drive and direction before they finish. At the beginning, when a team first commits to implementing a new strategy, there is great energy and enthusiasm — driven by the allure of the end goal. But then comes the long, dangerous part in "The Middle" where everything needs to get done, obstacles inevitably spring up, and people feel a strong temptation to revert to the old ways. MOVE explains how to keep your team focused, motivated, and resilient enough to push through the unavoidable, chronic challenges that derail most change initiatives.
Some of the most recognizable brands in the world use the MOVE methodology to ensure their change strategies don't stall. Business transformation expert Patty Azzarello explains the four components of a prosperous business transformation, and exactly what it takes to keep everyone moving the new strategy forward, including:
• The key elements in an execution plan that guarantee accountability and momentum
• Empowering tools for transforming the team you have into the team you need
• A powerful new way to think about leading and communicating, to genuinely engage people throughout the implementation
Your company has a lot riding on the strategic changes it needs to make. The MOVE model will help you make sure that everyone stays engaged, maintains momentum, and that your initiatives succeed.

Reviews
"Any organization that isn't adapting to the trends reshaping business today is going to find itself left behind by more nimble and forward-thinking competitors. You need this book, not to tell you what transformations you need to make, but to ensure the transformations you initiate actually work."
—Rich Sanzi, Vice President of Engineering, Google
"In any kind of transformation, keeping the energy high, and the skepticism low is critical to success—and difficult to do! Patty Azzarello has a unique way of understanding how to drive transformational change because she has done it herself, and guided many leaders and teams through the process.
MOVE
is a great read for any leader who wants to get and keep their organization invested in implementing a bold new strategy."
—Andy Burtis, SVP, Corporate Marketing & Communications, McKesson
"
MOVE
is a must read for any organization and leader that needs to make the transition from talking about high level goals to making faster decisions and putting specific, concrete actions into motion. It is the difference between activity and results. The MOVE model will allow you to get your whole organization engaged and focused on delivering the results of your strategic plan."
—Don Joos, CEO, ShoreTel Inc.
"One of the hardest things to make happen when you are driving a transformation is to get people to change their behaviors. In
MOVE
, Patty Azzarello explains exactly what makes people choose to embrace the new strategy or resist it. Any leader trying to motivate their organization to implement a new strategy needs to read this book."
—Iram Shaw, Senior Vice President Customer Transformation, Schneider Electric

About the Author
Patty Azzarello
is the CEO and founder of Azzarello Group, Inc. Sought after for her practical, experienced-based style and approach, she has more than twenty-five years of experience uncovering what makes organizations tick and enabling them to create more value. She is the bestselling author of Rise: 3 Practical Steps for Advancing Your Career, Standing Out as a Leader, and Liking Your Life.