The Joy of Leadership
: How Positive Psychology Can Maximize Your Impact (and Make You Happier) in a Challenging World
Tal Ben-Shahar and Angus Ridgway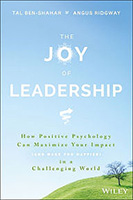 Format:
Hardcover, 240pp.
ISBN:
9781119313007
Publisher:
Wiley
Pub. Date:
August 7, 2017
Average Customer Review:

For Bulk Orders Call: 626-441-2024

Description and Reviews
From
The Publisher:
The difference between flourishing and floundering is 10
X
. The difference between quantity and quality is a factor of 10. The difference in levels of engagement is exponential. People functioning at the highest level are what the authors call 10X leaders. Research on these leaders consistently brought up five major strengths. This book teaches readers to become a 10x leader using these five key areas, the SHARP framework.
•
Strengths: 10X
leaders stop trying to eliminate weaknesses and learn to focus on their strengths
•
Health: 10X
leaders stop trying to eliminate stress and learn how to integrate periods of restoration
•
Absorption: 10X
leaders stop waiting for the lightning of focus and creativity to strike and learn how to achieve consistent engagement and presence
•
Relationships: 10X
leaders stop trying to exert power and control and learn to cultivate healthy relationships through positivity and authenticity
•
Purpose: 10X
leaders stop grinding out tasks and learn how to find meaning and commitment in everything they do
The 10
X
elixir of peak performance comes not from focusing on just one of these areas, but from learning to light the fire of all five aspects of SHARP and functioning naturally with them on a daily basis. If you just cultivate one or two aspects of leadership skills you are unlikely to succeed. If one of the five isn't taken care of it affects the performance of the whole. But if you focus on all five areas, you will not only be more likely to find what helps you most, you have the best chance of enjoying the synergy of performance multiplication.

About the Author
Tal Ben-Shahar
(www.potentialife.com; Israel) is a speaker and author of the international best sellers Happier and Being Happy. He taught two of the largest classes in Harvard University's history, Positive Psychology and The Psychology of Leadership. Today, Tal consults and lectures around the world to executives in multi-national corporations, the general public, and at-risk populations. The topics he lectures on include leadership, happiness, education, innovation, ethics, self-esteem, resilience, goal setting, and mindfulness. His books have been translated into more than twenty-five languages, and have appeared on best-sellers lists around the world. He obtained his PhD in Organizational Behavior and BA in Philosophy and Psychology from Harvard . He is Co-Founder and Chief Learning Officer at Potentiallife, a leadership development organization.
Angus Ridgway
(London, UK) is Co-Founder and CEO of Potentiallife. Previously he was with McKinsey, and led the Strategy Practice in Europe, Middle East and Africa, overseeing the work of over 1,000 colleagues. In addition, for over 10 years he led Leadership Development functions at McKinsey, most recently for the global group of 1,500 Partners. His interest in leadership came from his astonishment at the diversity of leadership profiles he saw in his clients over the years.