Impromptu
: Leading in the Moment
Judith Humphrey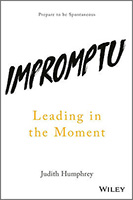 Format:
Hardcover, 272pp.
ISBN:
9781119286752
Publisher:
Wiley
Pub. Date:
December 11, 2017
Average Customer Review:

For Bulk Orders Call: 626-441-2024

Description and Reviews
From
The Publisher:
Be Prepared to Lead in the Moment: Assess, think, and respond on-the-spot
Impromptu
shows leaders how to think on their feet and respond eloquently in every situation. Never have there been so many opportunities to inspire and influence in everyday situations — elevator chats, corridor conversations, networking gatherings, meetings, and ceremonial events. Indeed, today the most iconic leadership moments are spontaneous, spur-of-the-moment events that reveal the inner workings of the leader's mind. When these impromptu opportunities arise, leaders must be able to listen, think, and respond within seconds. They don't read a script from a page, they convey the narrative that is already in their mind. They can tailor a message—in a meeting, in the corridor, or in a tweet—to influence and inspire any audience. Those who shine in that moment are remembered for their leadership. Those who stumble are remembered for their gaffes, mixed messages, or insensitivity. Nobody remembers the leaders who retreat to their office, formulate a strategic plan, and distribute a memo the following week.
Guided by her entrepreneurial success as founder of The Humphrey Group and her firm's work with tens of thousands of leaders over the past 30 years, Judith Humphrey makes clear the importance of
preparing to be spontaneous
— as counterintuitive as that may sound! Drawing upon the best impromptu moments from the Greeks to the present, the book looks at every aspect of impromptu speaking. You will learn how to:
• Think like an impromptu leader
• Quickly read an audience of one or a thousand
• Collect your thoughts and craft a persuasive message
• 'Script' yourself within seconds for any occasion
• Avoid 'um's' and 'ah's' and use the right words at the right time
• Discover improv techniques that will enable you to shine
• Deliver your message with clarity, confidence, and conviction.
The ability to speak on the spot is often seen as an innate gift, a talent of 'natural-born' leaders. The truth is, it's a skill that can be learned—a skill that is quickly becoming a must-have for anyone in a leadership position.
Impromptu
provides clear, actionable guidance to help you reach your full leadership potential. It will enable you to influence and inspire followers on the many 'small stages' that define our daily lives.

Reviews
"I have always relished impromptu speaking—and in my role as Canadian Ambassador to the United Nations, I have many occasions to speak spontaneously. My work with Judith Humphrey has made my speaking more on point, meaningful, and impactful. Readers of Impromptu will benefit tremendously from this book, which lays out everything necessary to be eloquent off the cuff."
—Marc-André Blanchard, Canada's Ambassador and Permanent Representative to the United Nations
"Short, spontaneous remarks can have a huge impact and Impromptu will help you organize your thoughts and capture the minds of your audience. Judith Humphrey is an authority on the subject and this is a must-read book for anyone, especially for those in leadership roles!"
—Tony Arrell, Chairman and CEO, Burgundy Asset Management Ltd.
"If you are meticulous about preparation, as I am, the idea of speaking off the cuff can send shivers down your spine. This book is made for us: read this insightful work to prepare for those high-consequence moments when your response has to be just right."
—Paul Vallée, Chairman and CEO, The Pythian Group, Inc.
"I love the premise and promise of this book. Impromptu will enable you to deliver what matters in the moment."
—Joe McCormack, Author of Brief: Make a Bigger Impact by Saying Less

About the Author
Judith Humphrey
is founder of The Humphrey Group Inc., one of North America's premier leadership communications firms. Over the past 30 years The Humphrey Group has coached tens of thousands of leaders who wish to influence and inspire when they speak. The firm's pathbreaking program for women has reached over a half million individuals around the world. Humphrey is a keynote speaker and author of three books (
Speaking as a Leader, Taking the Stage
, and
Impromptu
). She is also a regular columnist for Fast Company. She lives with her family in Toronto. For more on the author and her books, see www.judithhumphrey.com and follow her on twitter @judith_humphrey.