You Win in the Locker Room First
: The 7 C's to Build a Winning Team in Business, Sports, and Life
Jon Gordon and Mike Smith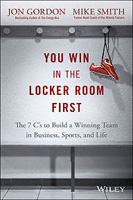 Format:
Hardcover, 176pp.
ISBN:
9781119157854
Publisher:
Wiley
Pub. Date:
September 21, 2015
Average Customer Review:


For Bulk Orders Call: 626-441-2024

Description and Reviews
From
The Publisher:
NFL head coach Mike Smith lead one of the most remarkable turnarounds in NFL history. In the season prior to his arrival in 2008, the Atlanta Falcons had a 4–12 record and the franchise had never before achieved back-to-back winning seasons. Under Smith's leadership, the Falcons earned an 11–5 record in his first season and would go on to become perennial playoff and Super Bowl contenders earning Smith AP Coach of year in 2008 and voted Coach of Year by his peers in 2008, 2010 and 2012.
You Win in the Locker Room First
draws on the extraordinary experiences of Coach Mike Smith and Jon Gordon—consultant to numerous college and professional teams—to explore the seven powerful principles that any business, school, organization, or sports team can adopt to revitalize their organization.
Step by step, the authors outline a strategy for building a thriving organization and provide a practical framework that give leaders the tools they need to create a great culture, lead with the right mindset, create strong relationships, improve teamwork, execute at a higher level, and avoid the pitfalls that sabotage far too many leaders and organizations.
In addition to sharing what went right with the Falcons, Smith also transparently shares what went wrong his last two seasons and provides invaluable lessons leaders can take away from his victories, success, failures and mistakes.
Whether it's an executive leadership team, sports team, emergency room, military or school team, successful leaders coach, develop, mentor, and encourage the people on their team. This not only improves the team; it improves the leaders and their relationships, connections, and organization.
You Win in the Locker Room First
offers a rare behind-the-scenes look at one of the most pressure packed leadership jobs on the planet and what leaders can learn from these experiences in order to build their own winning team.

Reviews
"This book is a must read for anyone who wants to build a great culture and winning team!"
—Brian Billick, Super Bowl XXXV winning coach of the Baltimore Ravens
"As a practicing 'student of the game' regardless of the sport or industry, I'm always looking to give me and my team an edge. This book nails the fundamentals and advanced coaching concepts of leadership for any team. Great cultures begin with trust, and trust begins by establishing relationships that are forged upon a great foundation of character, compassion, competence, and courage. You Win in the Locker Room First should be required reading for parents, coaches, and leaders at all levels."
—Carl Liebert, Chief Operating Officer, USAA
"Jon and Mike have written a must-have handbook on team unity. The most successful teams I have been a part of were the most connected. Before we even dive into our playbook or any X's-&-O's, we make every effort to make sure we are 100% connected and committed as a team first. Read this book and learn valuable strategies on how to build a rock solid locker room and team."
—Erik Spoelstra, Head Coach, The Miami Heat
"I love that Mike and Jon talk about the importance of caring. A leader who cares builds a team that cares. Caring makes all the difference."
—Clint Hurdle, Manager of the Pittsburgh Pirates
"Long before you take the court, you start your path of winning through your locker room. Jon and Mike have captured the essence of winning by utilizing the 7 C's to build your team. This is a must read if you are serious about building a championship team."
—Doc Rivers, Head Coach, LA Clippers

About the Authors
Jon Gordon
is the author of numerous bestselling books and his inspirational talks have inspired audiences around the world. His principles have been put to the test by countless Fortune 500 companies, school districts, hospitals, sports teams, and nonprofits. Jon invites you to visit and connect with him at JonGordon.com or on Twitter @JonGordon11.
Mike Smith
is the former head coach for the National Football League's Atlanta Falcons, a position he held from 2008 to 2014. He is the all-time winningest coach in franchise history. In his first season as Falcons head coach, Smith was recipient of the NFL Coach of the Year Award by the Associated Press. He was also named NFL Coach of the Year 3 times by Pro Football Weekly (2008, 2010 and 2012).