Peter Drucker's Five Most Important Questions
: Enduring Wisdom for Today's Leaders
Peter F. Drucker, Joan Snyder Kuhl and Frances Hesselbein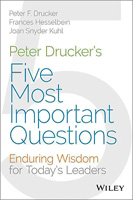 Format:
Hardcover, 144pp.
ISBN:
9781118979594
Publisher:
Jossey-Bass
Pub. Date:
March 23, 2015
Average Customer Review:

For Bulk Orders Call: 626-441-2024

Description and Reviews
From
The Publisher:
Peter Drucker's Five Most Important Questions
provides insightful guidance and stirring inspiration for today's leaders and entrepreneurs. By applying Drucker's leadership framework in the present context of today's leaders and those who lead with them, this book is an essential resource for people leading, managing and working in all three sectors—public, private and social. Readers will gain new perspectives and develop a solid foundation upon which to build a successful and bright future. They will learn how to focus on why they are doing what they're doing, how to do it better, and how to develop a realistic, motivational plan for achieving their goals.
This brief, clear, and accessible guide—peppered with commentary from distinguished management gurus, contemporary entrepreneurs and dynamic millennial leaders—will challenge readers and stimulate spirited discussion and action within any organization, inspiring positive change and new levels of excellence. In addition to contributions from Jim Collins, Marshall Goldsmith, and Judith Rodin, the book features new insights from some of today's most influential leaders in business (GE and Salesforce.com), academia (Harvard Business School and Northwestern University), social enterprise (LevoLeague, Pencils of Promise and Why Millennials Matter) and the military (United States Military Academy), who have been directly influenced by Drucker's theory of management.

About the Authors
Peter F. Drucker
is known as the "father of modern management," and is a best-selling author of thirty-two books including the best-seller The Effective Executive. He is world-renowned thinker on leadership and management and his work has been featured in every major business periodical. A consultant to senior executives for more than fifty years Drucker passed away in 2005. Since Drucker's death, interest in him, his concepts and his books has only grown. His ideas continue to be as relevant today as they were when he first voiced them.
Frances Hesselbein
is the President and CEO of The Frances Hesselbein Leadership Institute, founded as The Peter F. Drucker Foundation for Nonprofit Management and renamed to honor Hesselbein's legacy and ongoing contributions. Hesselbein was awarded the Presidential Medal of Freedom, the United States of America's highest civilian honor, by President Clinton in 1998 for her leadership as CEO of Girl Scouts of the U.S.A. from 1976–1990, as well as her service as "a pioneer for women, volunteerism, diversity and opportunity." In 2009, the University of Pittsburgh introduced The Hesselbein Global Academy for Student Leadership and Civic Engagement to produce experienced and ethical leaders who will address critical national and international issues and advance positive social and economic initiatives throughout the world. Hesselbein is the recipient of twenty-one honorary doctoral degrees. She is editor-in-chief of the award-winning quarterly journal Leader to Leader and is the coeditor of twenty-seven books in twenty-nine languages. Hesselbein has traveled to sixty-eight countries representing the United States. She is the author of Hesselbein on Leadership, My Life in Leadership and More Hesselbein on Leadership.
Joan Snyder Kuhl
has over 13 years of corporate management experience working in the roles of sales, marketing, organizational effectiveness, training and development at Eli Lilly, Forest Laboratories and Actavis, Inc. After a decade as a campus speaker, mentor and coach to thousands of Millennials from around the world, Joan Snyder Kuhl launched Why Millennials Matter. Why Millennials Matter is a Gen-Y speaking, research, training and consulting company based in New York City that focuses on raising awareness to employers about the value of investing in their younger workforce and the Millennial consumer segment. She is an international speaker and author of The First Globals: Understanding, Managing and Unleashing the Potential of our Millennial Generation. She is a board member of The Frances Hesselbein Leadership Institute and Cosmopolitan Magazine's Millennial Advisory Board. Her global research focuses on the career ambitions, motivators and brand preferences of students and young professionals around the world. She earned her BSBA from the University of Pittsburgh and MBA from Rutgers University.