A Beautiful Constraint
: How To Transform Your Limitations Into Advantages, and Why It's Everyone's Business
Adam Morgan and Mark Barden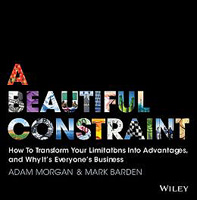 Format:
Hardcover, 288pp.
ISBN:
9781118899014
Publisher:
Wiley
Pub. Date:
January 20, 2015
Average Customer Review:


For Bulk Orders Call: 626-441-2024

Description and Reviews
From
The Publisher:
An inspiring yet practical guide for transforming limitations into opportunities
A Beautiful Constraint: How to Transform Your Limitations Into Advantages And Why It's Everyone's Business Now
is a book about everyday, practical inventiveness, designed for the constrained times in which we live. It describes how to take the kinds of issues that all of us face today—lack of time, money, resources, attention, know-how—and see in them the opportunity for transformation of oneself and one's organization's fortunes. The ideas in the book are based on the authors' extensive work as business consultants, and are brought to life in 35 personal interviews from such varied sources as Nike, IKEA, Unilever, the U.S. Navy, Formula One racecar engineers, public school teachers in California, and barley farmers in South Africa. Underpinned by scientific research into the psychology of breakthrough, the book is a practical handbook full of tools and tips for how to make more from less. Beautifully designed and accessible,
A Beautiful Constraint
will appeal beyond its core business audience to anyone who needs to find the opportunity in constraint.
The book takes the reader on a journey through the mindset, method and motivation required to move from the initial "victim" stage into the transformation stage. It challenges us to:
Examine how we've become path dependent—stuck with routines that blind us from seeing opportunity along new paths
Ask Propelling Questions to help us break free of those paths and put the most pressing and valuable constraints at the heart of our process
Adopt a Can If mentality to answer these questions—focused on "how," not "if"
Access the abundance to be found all around us to help transform constraints
Activate the high-octane mix of emotions necessary to fuel the tenacity required for success
We live in a world of seemingly ever-increasing constraints, driven as much by an overabundance of choices and connections as by a scarcity of time and resources. How we respond to these constraints is one of the most important issues of our time and will be a large determinant of our progress as people, businesses and planet, in the future.
A Beautiful Constraint
calls for a more widespread capability for constraint-driven problem solving and provides the framework to achieve that.

About the Authors
Adam Morgan
is the author of "Eating The Big Fish: How Challenger Brands Can Compete Against Brand Leaders," the international best seller that introduced the concept of challenger brands to the world of marketing. His ideas have been widely cited as a key influence by a new generation of successful entrepreneurs and business leaders around the world. He is founder of eatbigfish, a renowned marketing consultancy that works with clients to develop their own breakthrough strategies, from Helsinki to Hanoi.
Mark Barden
runs the west coast business for eatbigfish in the US. Over his career he's won the Platinum Award for direct response marketing, taken a dot com public, warmed up a crowd for Ellen De Generes, and played a Buddhist monk in a Kleenex commercial. His advice on how to create breakthrough thinking with outsize results is much sought after. He is a popular speaker, world class facilitator and occasional coach.

Table of Contents
| | | |
| --- | --- | --- |
| | Introduction | 1 |
| | | |
| 1 | Victim, Neutralizer, & Transformer | 16 |
| 2 | Break Path Dependence | 34 |
| 3 | Ask Propelling Questions | 56 |
| 4 | Can-If | 78 |
| 5 | Creating Abundance | 102 |
| 6 | Activating Emotions | 124 |
| 7 | The Fertile Zero | 146 |
| 8 | Constraint-Driven Cultures | 172 |
| 9 | Scarcity and Abundance | 194 |
| 10 | Making Constraints Beautiful | 208 |
| 11 | Leadership & The Future of Constraints | 224 |
| | | |
| | Notes and Sources | 235 |
| | Bibliography and Further Reading | 249 |
| | Image Credits | 251 |
| | Appendix | 253 |
| | Thanks and Acknowledgments | 263 |
| | Index | 267 |