Revolutionize Learning & Development
: Performance and Innovation Strategy for the Information Age
Clark N. Quinn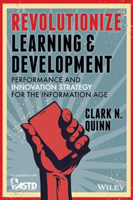 Format:
Paperback, 256pp.
ISBN:
9781118863619
Publisher:
Pfeiffer
Pub. Date:
May 5, 2014
Average Customer Review:

For Bulk Orders Call: 626-441-2024

Description and Reviews
From
The Publisher:
Transform learning and development practices to make your programs relevant and meaningful
Existing training and development practices need a major overhaul. Learning and development practitioners and managers must increasingly face the fact that old methods are no longer relevant in today's tech-savvy world and, in many cases, they simply don't work. In
Revolutionize Learning and Development
, you'll get a straightforward look at how people really learn and get introduced to practical steps for rethinking, redesigning, and reestablishing learning delivery. This book shows you how to take advantage of new understandings and new technologies so you can make a meaningful impact on your organization.
In four sections, the book lays out crucial background knowledge, conceptual frameworks, and practical steps for transforming learning and development so that it has the greatest return for businesses. Managers, practitioners, and executives will benefit from the illustrations, vignettes, and sidebars that highlight the author's advice and expertise.
Learn to avoid the pitfalls of outdated and irrelevant learning solutions, including those that ignore the importance of clear objectives, proper execution, and thorough evaluation
Discover the practical steps for implementing the best and most effective strategies for making the most of training programs
Benefit from a thorough examination of what happens when managers and practitioners make major changes in strategy, leadership, and technology
Get familiar with the roles of research-based frameworks, performance support, and informal learning
Don't let learning and development myths derail you. Find out how to breathe new life into your programs with practical guidance designed to inspire today's best learning technology solutions.

Reviews
"'This is a spark, not the whole fire,' Clark Quinn states in the opening pages of this manifesto on the future of the L&D profession. I am grateful to Clark for his courage, insight, and willingness to write this important book and to challenge the profession to strive for the next level of impact it can achieve."
—Tony Bingham, President and CEO, ASTD
"Clark has written the book I have been waiting for. He succinctly explains why current practices fail to deliver results and outlines the path forward. Just what the 21st century CLO needs to know."
—Kevin Wheeler, Founder and President, Global Learning Resources
"I love this book. Clark Quinn says what needs to be said to L&D leaders—and he says it with the perfect blend of respect, frustration, irreverence, and hope. It's time!"
—Marcia Conner, Executive Advisor, and best-selling author of The New Social Learning
"This book raises fundamental questions for us all. Everyone involved in workplace learning who wants to play a part in the future—or even to have a job—should read it."
—Donald H Taylor, Chairman, Learning and Performance Institute
"Clark Quinn has succinctly and adeptly drawn together all the evidence to make an undeniable case for fundamental change within Learning & Development. After reading this book, you will be ready to join the revolution, and begin the process of shifting from a focus on learning to a focus on performance."
—Jane Hart, Centre for Learning & Performance Technologies
"Work is learning and learning is the work. Clark Quinn gives a clear path forward for today's L&D profession on the cusp of revolution or extinction."
—Harold Jarche, International Speaker and Principal, Jarche Consulting
"In this book, Clark Quinn pulls no punches in addressing many of the factors that are handcuffing organizational learning, and provides tangible solutions learning professionals can implement to make things better."
—David Kelly, Program Director, The eLearning Guild

About the Author
Clark Quinn
, Ph.D., integrates creativity, cognitive science, and technology to deliver engaging and effective strategies and solutions to learning, knowledge and performance needs for business, education, government, and the not-for-profit sectors. Dr. Quinn has led the design of award-winning online content, educational computer games, and websites, as well as adaptive, mobile, and performance support systems. A recognized scholar, he also has an international reputation as a speaker. Clark works for clients in organizational learning strategy as a founding member of the Internet Time Alliance and in learning experience design via Quinnovation.