Low-Hanging Fruit
: 77 Eye-Opening Ways to Improve Productivity and Profits
Jeremy Eden and Terri Long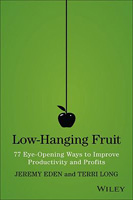 Format:
Hardcover, 224pp.
ISBN:
9781118857922
Publisher:
Wiley
Pub. Date:
March 3, 2014
Average Customer Review:

For Bulk Orders Call: 626-441-2024

Description and Reviews
From
The Publisher:
In just about every area of life, we tend to think there are only two possibilities: accept things the way they are, or put in a lot of effort, time, and money to make things better. Low-Hanging Fruit is about a third possibility. What most people don't realize is that there are dozens of easy, affordable, and quick ways to make things better. We can pluck this "low-hanging fruit" every day to save time and money right away.
Step inside any organization, even a very successful one, and chances are good that you'll find a lot of waste if you know where to look. From providing a feature that consumers don't care about to doing an outstanding job on daily tasks that only require "good enough" performance, there are countless areas where resources simply go down the drain. In this book, Jeremy Eden and Terri Long have distilled 77 of their most effective techniques for generating real performance improvements drawn from their success working with major companies.
Too many business books are written in a dry tone and offer little practical advice. Low-Hanging Fruit is a breath of fresh air, thanks to the entertaining chapters that get right to the point.
If you think you don't have the resources to be faster, better, and more profitable, think again. Whether you are a member of a small team or an executive of a multinational company, you will learn from
Low-Hanging Fruit
how to identify and solve hidden problems.

About the Authors
Jeremy Eden
and
Terri Long
have worked with the CEOs of a wide range of companies in both size and industry to guide their teams through a galvanizing earnings growth process. They have worked with companies such as PNC Financial, H.J. Heinz, Manpower, The Schwan Food Company, Energy East, Webster Financial, and Standard Register, among many others.
Jeremy attended Yale College and Yale School of Management where he is on the Advisory Board. As a McKinsey & Co. consultant, Jeremy served clients such as Goldman Sachs, Hilton Hotels and Travelers Insurance. Jeremy then left to develop what is now the Harvest Earnings innovative Idea Harvest™ process. Terri received her degree in Finance from the University of Illinois at Urbana-Champaign. She was in the corporate banking world for nearly two decades in a number of customer-facing senior roles, including at U.S. Bancorp, one of the most efficient banks in the country. Terri was a client of Jeremy's and was so impressed with the principles of his approach that she joined him over a decade ago.
They are the Co-CEOs of Harvest Earnings Group headquartered in Chicago.