Courage to Execute
: What Elite U.S. Military Units Can Teach Business About Leadership and Team Performance
James D. Murphy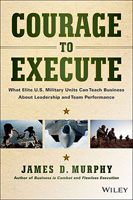 Format:
Hardcover, 208pp.
ISBN:
9781118790090
Publisher:
Wiley
Pub. Date:
February 3, 2014
Average Customer Review:

For Bulk Orders Call: 626-441-2024

Description and Reviews
From
The Publisher:
How can elite U.S. military units consistently perform at such high levels, even in the midst of combat? What secrets do Navy SEALs, Army Rangers, and Blue Angels hold that give them the skills, ability, and confidence to execute their missions with such success? And what can these military professionals teach American business about teamwork, continuous improvement, and leadership?
Courage to Execute
unpacks the lessons of high-performing units and provides organizations of all types with a simple yet effective model distilled from these warriors. Author James D. Murphy, who leads a training and consulting firm of former military aviators and Special Operations officers, shares a multitude of personal leadership stories, along with examples from the battlefield and business. Together, they demonstrate how organizations, teams, and individuals can use a simple process based on military principles and tactics to develop the ability and confidence to achieve their goals.
You'll learn:
The value of effective execution
How to develop common values and skills in your people
How to align your troops with their leader's intent and the organization's goals
How to move from organizational strategy toward accountable team and individual actions
How to maintain your team's battle rhythm and your ability to execute, even in rapidly changing environments
The importance of regular debriefing and continuous improvement
How to develop teams and leaders from Day One
Through stories of missions and exercises conducted by U.S. military units, Murphy demonstrates why simplicity combats complexity, how mutual accountability yields trust, and how adaptability and continuous improvement are cornerstones of successful battle plans.
Have the courage to dig in and transform your organization into a high-performance unit that has the skills, preparation, mindset, and, ultimately, the courage to execute.

Reviews
"I've worked with Jim; he knows his stuff, and this book is proof of that. Courage to Execute is full of proven tactics and techniques to drive business success by applying military principles, some of which we've deployed at The Home Depot. What I admire most about Jim's work is that he understands that at the heart of every strategy...at the core of every successful campaign...are people."
—Carol Tomé, Chief Financial Officer and Executive Vice President, Corporate Services, The Home Depot
"Our PepsiCo leadership team has leveraged Jim Murphy's Afterburner frameworks and lessons learned to enhance our executional excellence; from how we plan to our execution at the point of purchase."
—Brian C. Cornell, CEO, PepsiCo Americas Foods
"In Courage to Execute, ex-fighter pilot Jim Murphy explains the proven frameworks and techniques used by our military's highest performing units to drive Flawless Execution while performing at the highest levels. He clearly and simply adapts those tools for business leaders who want to improve their teams' execution at any level. It is a great read full of practical insights and tools to drive executional excellence."
—Mike White, Chairman and CEO, DirecTV
"A true disrupter, Jim Murphy teaches organizations how to accelerate their performance. His work with us and his latest book, Courage to Execute, provides businesses with a framework for success."
—Ryan Kavanaugh, CEO, Relativity Media, LLC

About the Author
James D. Murphy
is Founder & CEO of Afterburner, Inc., one of the most dynamic training and consulting firms in the United States. A former Air Force F-15 pilot, he and his team of fighter pilots and Special Operations officers have used lessons distilled from the military's elite units to help thousands of major clients focus their strategy and adapt to change, improve team performance and business process, and develop leaders at all levels of their organization.

Table of Contents
| | | |
| --- | --- | --- |
| | | |
| | Preface | vii |
| | Acknowledgments | xi |
| | | |
| 1 | The Military Response to a ComplexWorld: The New Value of Effective Execution | 1 |
| 2 | Basic Training: Indoctrinating Your People with Values and Skills | 13 |
| 3 | Team Alignment: Connecting the Troops with the Leader's Intent | 37 |
| 4 | Mission Preparation: Moving from Strategy toward Accountable Actions | 63 |
| 5 | Battle Rhythm: On Track, On Target, and On Time | 89 |
| 6 | Continuous Improvement: The Debrief Imperative | 119 |
| 7 | Leadership on Purpose: Developing Teams and Leaders from Day One | 143 |
| 8 | The Courage to Execute: A Smart Bias toward the Right Action | 163 |
| | | |
| | Appendix: Mission Checklists | 171 |
| | Bibliography | 179 |
| | Index | 183 |

Find Items On Similar Subjects

The Way of the SEAL
: Think Like an Elite Warrior to Lead and Succeed