Lead & Influence
: Get More Ownership, Commitment, and Achievement From Your Team
Mark Fritz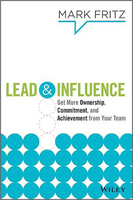 Format:
Hardcover, 208pp.
ISBN:
9781118732885
Publisher:
Wiley
Pub. Date:
December 4, 2013
Average Customer Review:

For Bulk Orders Call: 626-441-2024

Description and Reviews
From
The Publisher:
A leader's performance and quality of life can be measured in direct proportion to the level of ownership his or her people take in delivering results. The more ownership your people feel, the more success you and your organization will enjoy. Lead & Influence shows you how to empower your employees to take ownership of achievement—no matter the distance between you and them.
Based on thirty years of leading and influencing across distances and cultures, author Mark Fritz has identified key leadership mind-sets and habits that create a culture of ownership. Lead & Influence begins with a leader's personal ownership, because leadership success begins with leading yourself. Second, it's about enabling personal ownership in others. Third, it's about enabling team and organizational ownership. Why? Because you want your people to not only do their job, but also to take ownership in accomplishing an outcome.
This step-by-step guide to instilling an ownership mind-set teaches executives and managers how to change the paradigm. Through real-life examples and empowering exercises, this ownership framework will allow you to:
Create an environment that yields effective collaboration
Strengthen your own character and focus
Maintain your perspective and manage stress
Invest in and delegate to your key people
Get others to feel a responsibility to act on behalf of your company
Create positive peer pressure within teams
People who own their job will always feel challenged to solve problems before bringing them back to the boss. Lead & Influence will help you understand why ownership is the key to your leadership success. It offers the tools you need to achieve a united and collaborative organization that gets results.

Reviews
"Lead and Influence marks the achievement of Mark Fritz's international career focused on leadership. It is the perfect toolkit for leaders working in cross-cultural environments. I personally use it as a quick reference guide when I am facing difficult situations in leading my businesses."
—Emmanuel Carcassonne, serial entrepreneur, CEO of FC2 Asia, Shanghai, China
"Having enjoyed Mark's enthusiasm as a professor at university as well as being an entrepreneur myself, this jewel was a must-read for me. Lead and Influence is the direct way for any manager to be recognized as a true leader. A must-read for anyone who has realized that no individual is as strong as the whole."
—Anders Osterballe, CEO, ScanTech Group, Hong Kong
"Mark Fritz comprehensively shares elements of commitment, required by successful leaders towards themselves and their teams on their journey to success."
—Fahim Siddiqui, Chief Product Officer, Intralinks, USA
"Open Mark's book and start your own personal coaching session! As leaders, Mark invites us to focus on creating the conditions that enable our team members to achieve success . . . and, in the process, own their job vs. rent it."
—Pierre Schaeffer, founder, Marketect LLC, USA
"Mark's ability to communicate topped with a clear and focused structure and enlightening examples makes the book easy to comprehend and it will incite you to take action. Mark's ideas about 'ownership' are quite simply brilliant. This is a must-read for all of us."
—Kasper Ljungkvist, entrepreneur and investor, Sweden

About the Author
Mark Fritz
is an international leadership speaker & consultant focused on helping international business leaders to achieve even greater success in leading across distances & cultures. He has lived & worked across the world and speaks regularly on the Power of Ownership in leading today's organizations. Mark is the author of The Truth About Getting Things Done, and teaches extensively on leadership at the international IE Business School in Madrid, Spain.