Leadership Blindspots
: How Successful Leaders Identify and Overcome the Weaknesses That Matter
Robert Bruce Shaw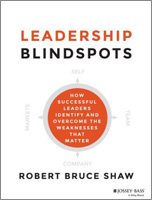 Format:
Hardcover, 240pp.
ISBN:
9781118646298
Publisher:
Jossey-Bass
Pub. Date:
April 21, 2014
Average Customer Review:


For Bulk Orders Call: 626-441-2024

Description and Reviews
From
The Publisher:
Are You Getting in the Way of Your Own Success?
Leadership Blindspots
is packed with detailed case studies examining how blindspots operate, using examples from firms like Apple, Amazon, Hewlett-Packard, JC Penney and JPMorgan Chase. These cases show how a leader's blindspots can lead to devastating mistakes if they aren't recognized and acted on. Author Robert Bruce Shaw examines the most common types of blindspots and provides worksheets and assessment tools to help individuals at all levels of a company avoid being blindsided by weaknesses and threats that they don't see or fully understand.

Reviews
"The best leaders are brutally honest with themselves and their team members, seeing reality for what it is and then taking action to address any weaknesses. Robert Shaw, who has extensive experience working with successful leaders, provides insight into how to avoid fooling yourself about what is really going on in your company and markets."
—Michael J. Thomson, president and chief operating officer, SunCoke Energy
"Robert Shaw's book Leadership Blindspots underscores the need to be both confident in your leadership capabilities and, at the same time, open to hearing contrary points of view, including feedback about your leadership impact. Individuals at all levels of a company will benefit from Robert's clear advice on how to lead effectively."
—Sylvia Montero, author, Make It Your Business
"Optimism is both necessary and problematic for those leading a company. This book is particularly useful for entrepreneurial leaders who need to be careful that their drive and passion does not blind them to the challenges they face in growing their business. Leadership Blindspots helps you surface what you need to know to be successful."
—Michael J. Kelly, chief executive officer, On Call International
"Leaders are sometimes blinded to the opportunities to grow their firms because they can't see beyond their current business model. Robert Shaw highlights the need to test one's core beliefs and assumptions. In particular, he offers pragmatic advice on building a leadership team that can look at a firm's vulnerabilities and think beyond the status quo."
—Mark Ronald, former president and chief executive officer, BAE Systems, Inc.

About the Author
Robert B. Shaw
is a management consultant specializing in organization and leadership performance. He has worked closely with leaders and their teams in a wide range of industries and is the author of several books, including Trust in the Balance: Building Successful Organizations on Results, Integrity, and Concern.

Table of Contents
| | | |
| --- | --- | --- |
| | | |
| | Introduction | |
| | | |
| | Section One Why Blindspots Matter | |
| 1 | The Dangers and Rewards of Being Blind | |
| 2 | How to Spot Blindspots in Yourself and Others | |
| 3 | The Common Blindspots Holding Leaders Back | |
| 4 | Why Blindspots Are an Ever-Present Challenge | |
| | | |
| | Section Two How to Surface and Overcome Blindspots | |
| 5 | See It for Yourself: Customers, Colleagues, and Outsiders | |
| 6 | Seek Out That Which Disconfirms What You Believe | |
| 7 | Develop Peripheral Vision and See What Others Miss | |
| 8 | Build a Network of Trusted Advisors in Critical Areas | |
| 9 | Promote Productive Team Fights on the Vital Few Priorities | |
| | | |
| | Conclusion | |
| | Section Three Additional Resources | |
| | Resource A: Blindspot Q&A | |
| | Resource B: Leadership Blindspot Survey: Self-Assessment | |