What Is Your WHAT?
Discover The One Amazing Thing You Were Born To Do
Steve Olsher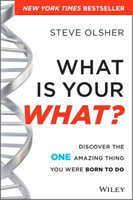 Format:
Hardcover, 240pp.
ISBN:
9781118644041
Publisher:
Wiley
Pub. Date:
September 30, 2013
Average Customer Review:

For Bulk Orders Call: 626-441-2024

Description and Reviews
From
The Publisher:
One person has the power to change the world, impact millions of lives, and leave a legacy for lifetimes to come. That person is . . . YOU!
In
What Is Your WHAT?
, Steve Olsher, award-winning author and founder of The Reinvention Workshop, reveals his proven process for cultivating a life of purpose, conviction, and contribution by identifying and creating a plan of action for bringing the ONE thing you were born to do to fruition. It is a timely step-by-step guide that will propel you towards achieving both peace and prosperity by sharing your unique gift with the world.
Featuring inspirational stories of trial, tribulation, and triumph, as well as examples of public figures such as Guy Kawasaki, Chris Brogan, Mari Smith, and Jack Canfield who sat down with Steve to discuss how they made their critical shift from pursuing commodity-driven opportunities to honoring their singular blueprint, What Is Your WHAT? will help you identify what puts fire in your soul.
With Steve's inspiring direction, you'll learn how to:
Become aware of your strengths and self-imposed limitations
Journey through the Four Stages of Learning and shift from Unconscious Incompetence to Unconscious Competence
Retrain your brain to experience life without the filter of preconceived notions
Identify your WHAT—that is, the ONE thing you were born to do
Forge your path and create your legacy
Become who you were born to be
Olsher's singular approach to realizing permanent, positive change blends his own proprietary methods with ancient wisdom and revolutionary lessons from modern thought leaders. Leverage this powerful system to discover your WHAT and realize ultimate achievement in business and life. The world is waiting for you!

Reviews
"Every once in awhile a book comes along that stands out in its ability to really help people. If you are one of those people who feels unsatisfied with your work or still haven't figured out what you want to do when you grow up, read this book, do the brilliantly constructed exercises and watch your life transform."
—Jack Canfield, Co-creator of the Chicken Soup for the Soul series and Co-author of The Success Principles
"We are told the biggest regret shared by people in the last days of life is that they did not live an authentic life. Busy living out the expectations of others, they tried to be 'responsible' and 'practical,' but missed the one thing that would have made them great. In this timely book, Steve draws from the examples of people living their WHAT to give each of us a step-by-step process for living authentically. Prepare to become who you were born to be."
—Dan Miller, New York Times bestselling author of 48 Days to the Work You Love
"I believe we are all created by God with a unique set of passions, talents, skills, abilities, personality and presence that make us unique. That means you are the only one that can bring your unique value to the world! In What Is Your WHAT?, Steve Olsher helps you identify and move forward into what you were born to do. That fire burning inside you? It's calling you to impact the world. Do it!"
—Joel Comm, New York Times Best-Selling Author - www.JoelComm.com
"If you're ready to learn a blueprint for discovering your true talents, skills and abilities, then read and absorb the strategies in this book by Steve Olsher!"
—James Malinchak - Featured on ABCs Hit TV Show, "Secret Millionaire"; Co-Author, Chicken Soup for the College Soul; Founder, www.BigMoneySpeaker.com
"What is Your WHAT? will make a positive difference in your life. If you've ever wondered, 'Why am I here and how can I turn my joy into my job?' — this book shows you how. Read it and reap."
—Sam Horn, author of POP! and SerenDestiny® www.SamHorn.com
"In a world full of fuzziness and confusion, this book is like a tiny grenade of clarity. Sharp, smart and to the point, it's a perfect way to figure out your WHAT."
—Jon Acuff, New York Times Bestselling author of Start www.JonAcuff.com
"Steve Olsher has done a stellar job in reminding us of the key to really engaging with our life and work. A direct, engaging, and useful manual for connecting with our own unique signatures, and why that matters."
—David Allen - international bestselling author - Getting Things Done: The Art of Stress-Free Productivity www.DavidCo.com
"Identifying the ONE thing you were born to do and sharing this gift with the world is both your obligation and your birthright. What Is Your WHAT? not only teaches you precisely how to tap into your inherent blueprint but also to understand how you're uniquely wired to excel. I highly recommend reading it."
—David Riklan - Founder – www.SelfGrowth.com, # 1 Self Improvement Website on the Internet

About the Author
Steve Olsher
is an entrepreneur; creator/founder of The Reinvention Workshop; award-winning author of Internet Prophets: The World's Leading Experts Reveal How to Profit Online; creator/cohost of one of the industry's leading Internet, mobile, and marketing live events, Internet Prophets LIVE!; keynote speaker; co-star of the film, The Keeper of the Keys; and media veteran who has appeared on ABC TV, Fox TV, NBC TV, CNBC.com and more than 300 radio shows, including national programs hosted by Lou Dobbs, Jim Bohannon, and "Mancow" Muller.

Table of Contents
| | | |
| --- | --- | --- |
| | | |
| | Acknowledgments | |
| | Introduction | |
| | | |
| | PART I Establish the Foundation | |
| 1 | Introduction to the Four Stages of Learning | |
| 2 | The Vortex of Vulnerability | |
| 3 | The Vortex of Invincibility | |
| 4 | The Next Stages of Learning | |
| 5 | The Pinnacle | |
| | | |
| | PART II Realize Permanent, Positive Change | |
| 6 | The Seven Life-Altering Principles (The S.L.A.P.) | |
| 7 | Life-Altering Principle #1: YaNo | |
| 8 | Life-Altering Principle #2: Reclaim the Canyon | |
| 9 | Life-Altering Principle #3: The Sufficiency Theory | |
| 10 | Life-Altering Principle #4: Retrain Your Brain | |
| 11 | Life-Altering Principle #5: The Altar of Jack's Cathedral | |
| 12 | Life-Altering Principle #6: The Not-So-Golden Rule | |
| 13 | Life-Altering Principle #7: The Slow Death of Not Being the Star | |
| | | |
| | PART III Become Who You Were Born to Be | |
| 14 | What Is Your WHAT?—An Introduction | |
| 15 | Identifying Your WHAT: Step One | |
| 16 | Identifying Your WHAT: Steps Two and Three | |
| 17 | You've Found Your WHAT. . .Now What?! | |
| 18 | Forge Your Path, Create Your Legacy | |
| | | |
| | About the Author | |