The Leadership Contract
: The Fine Print to Becoming a Great Leader
Vince Molinaro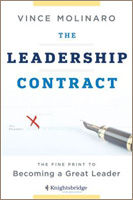 Format:
Hardcover, 272pp.
ISBN:
9781119440536
Publisher:
Wiley
Pub. Date:
3rd Edition November 20, 2017
Average Customer Review:

For Bulk Orders Call: 626-441-2024

Description and Reviews
From
The Publisher:
Is leadership worth dying for? That's the question Dr. Vince Molinaro had to ask himself early in his career after a mentor died of cancer—a disease she believed was brought on by working in an organization with a toxic leadership culture. The stakes in leadership have always been high, but they are getting even higher. Leaders today must execute strategy, drive innovation, and build talent for the future. They are under more pressure and more scrutiny than ever before.
But at the very moment that we need our leaders to be their best—to be truly great—many leaders disappoint and fail us. Recent studies have shown that only 7 percent of employees trust and have confidence in their senior leaders to look out for their best interests. This is a damning statistic and strikes at the heart of the problem with leadership today.
The Leadership Contract
tackles this problem head on and explores why leaders must commit to do a lot better. It also provides an inspiring vision of why leadership, and, more specifically, leadership culture, is the only real differentiator between organizations that thrive and those that fall behind.
Designed for top-level executives, mid-level managers, frontline leaders, and emerging leaders, The Leadership Contract asks compelling questions that all leaders must confront at a personal level. The book brings a fresh perspective, proposing a "Leadership Contract" that must be fully understood and agreed upon by business leaders, while laying out the four terms of the leadership contract:
Leadership is a decision. Make it.
Leadership is an obligation. Step up.
Leadership is hard. Get tough.
Leadership is a community. Connect.
The Leadership Contract
is filled with practical and powerful insights that will immediately show you how to become a great leader.

Reviews
"Vince Molinaro's new book throws the gauntlet down for leaders today. He asks them to make the commitment to principled leadership, and to step up to the responsibilities. This is a timely and important book!"
—Chester Elton, Motivation Expert and Bestselling Author of All In
"Molinaro has written an insightful book on the competitive advantage of resilient leadership. His practical approach and realistic advice on the personal accountability required by leaders are intriguing and challenge all of us to step up to do the tough work required to increase trust and confidence in leaders today. Sign me up!!"
—Barbara Meens Thistle, Chief Human Resources Officer, Emera Inc.
"The Leadership Contract is a fresh and unique book that confronts some uncomfortable truths about leadership today. Molinaro demands that leaders step up to their obligations as he delivers original and powerful, yet practical, insights for them. Read this book if you aspire to be a great leader!"
—Robert Potter, Group Strategic Human Resources Director, London, Jardine Lloyd Thompson Group
"Molinaro's important book challenges leaders to become more deliberate and conscious in how they lead. This approach is desperately needed in our world today. It's time for all leaders to decide to make their organizations truly great in a way that has a strong and positive impact on society."
—Raj Sisodia, Cofounder and Co-Chairman, Conscious Capitalism, Inc. and coauthor of Conscious Capitalism
"Great leaders are not born, they are made. And that is precisely why you must read The Leadership Contract. This book is both a tool and a stiff dose of reality that will wake you up to what it really takes to lead people and help make you into the leader your people deserve."
—Jeb Blount, Author of People Follow You
"As a leadership speaker, trainer and author, I'm always looking for practical, commonsense leadership ideas that work. I was taken by the idea that we all have individual leadership stories. The better we understand them, the better able we are to write the final chapter in our personal leadership history. It's a thought—and a book—worthy of your time and attention."
—Phillip Van Hooser, Author of Leaders Ought to Know

About the Author
Vince Molinaro
is the Global Managing Director of the Leadership Practice within Knightsbridge Human Capital Solutions, a firm dedicated to helping organizations seamlessly execute their business strategies through their people. Vince advises senior executives and boards on how to make leadership culture their ultimate business differentiator. He has worked with organizations in the energy, financial services, technology, professional services, and public sectors. An engaging speaker, he conducts keynote presentations for corporations and conferences. He is the author of
Leadership Solutions
and
The Leadership Gap
.

Find Items On Similar Subjects

Leadership Solutions
: The Pathway to Bridge the Leadership Gap