The Real Deal
: The Proven Path to Influence & Executive Presence
Connie Dieken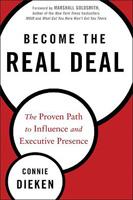 Format:
Hardcover, 240pp.
ISBN:
9781118633786
Publisher:
Wiley
Pub. Date:
July 10, 2013
Average Customer Review:

For Bulk Orders Call: 626-441-2024

Description and Reviews
From
The Publisher:
Become the real deal and you'll become the leader you're meant to be.
If you want to make change in your organization and in your world, and advance your own career, you need to become a person who can effectively influence others to take action. When looking to bring about organizational change of any kind, the main skill required is influence. Nothing will help your cause more than being able to effectively influence others to take action. Become the Real Deal presents a modern and practical approach to leadership that yields unlimited dividends for leaders at all levels. Author Connie Dieken calls these dividends your Return on Influence® (ROI).
You'll discover your own Centers of Influence through a series of visual dashboards and learn how to capitalize on these Centers of Influence to become the powerful, purposeful authority you're meant to be.
Readers will learn how to override personal influence-killing tendencies, such as narcissism, anxiety, long-windedness, silence, social façades, and invisibility.
Connie Diekenis the country's foremost Fortune 500 communication coachan executive coach to the world's top brands, an Emmy award winning former TV news anchor, reporter, and inductee of the Radio/Television Broadcasters Hall of Fame.
For anyone seeking to be the "real deal," this book uncovers the strengths and skills you need to gain influence and lead your organization to success.

Reviews
"Become the Real Deal strikes a chord with me. Connie's "Three Layers of Presence" are a wonderful leadership model that will help you as a leader succeed and lead at the highest levels. Thank you, Connie, for providing us with a model of leadership that will help us discover our true selves, our authenticity, and giving us a solution to staying centered and "real" in the fast-paced world of business today!"
—Marshall Goldsmith, New York Times and Wall Street Journal Bestselling Author of What Got You Here Won't Get You There and Mojo
"From a master in the field, learn how to tap into your sense of authenticity and communicate it much more effectively. The result will be more self-confidence, more effectiveness, and a true connection with those you wish to connect. Make a study of these teachings and enjoy the accelerated growth you'll experience both personally and professionally. Great job, Connie. Terrific!!"
—Bob Burg, Wall Street Journal and BusinessWeek Bestselling Co-Author of The Go-Giver
"If you are looking to earn trust and build influence with others, realness is a must. Read Become the Real Deal to learn how to make that a part of your professional fabric."
—Tim Sanders, New York Times Bestselling Author of Love Is the Killer App: How To Win Business and Influence Friends
"Become the Real Deal is a masterful guide to harnessing your natural abilities to influence others, radiate executive presence, and build the lifelong relationships you need to succeed."
—Andrew Sobel, Wall Street Journal Bestselling Author of Power Questions and Clients for Life
"All leaders need to be the real deal and in this insightful and useful new book you get field-tested strategies – and important warnings – to make sure you Become the Real Deal. Whether you want to advance your career or move your team to take action, executive coach Connie Dieken reveals the layers that will help you master your presence and influence."
—Mark Sanborn New York Times & Wall Street Journal Bestselling Author of The Fred Factor and Fred 2.0
A fascinating read, Connie Dieken's insightful research and strategies will help you center yourself, engage others, and boost your leadership gravitas.
—Sally Hogshead, Hall of Fame Speaker, CEO and Founder of The Fascination Advantage
"Authenticity is the foundation of great leadership, so, as leaders, we need to be ourselves every day, in everything we do. Connie Dieken artfully identifies the situations and relationships that push us off center, and then she pulls us right back to the core of who we really are. Become The Real Deal is...well...the real deal."
—Steve Farber, New York Times Bestselling Author of The Radical Leap Re-Energized and Greater Than Yourself
"Connie Dieken is a master of influence and communication. Her book Become the Real Deal is the real deal. Get it. Devour it."
—Randy Gage, New York Times Bestselling author of Risky Is the New Safe
"Today's leaders are called to be authentic and perfect at the same time. It's an impossible standard, but Connie Dieken's new book will show you how to thread this new leadership needle to achieve both inner and outer presence. It's a must read."
—Nick Morgan Author of Trust Me and Former editor of the Harvard Communication Letter
"Authenticity is today's must-have leadership trait. Connie Dieken's three-layered approach will help you balance being with doing to increase your influence and become the Real Deal."
—Carol Roth, WGN Radio Host, New York Times Bestselling Author of The Entrepreneur Equation
"If you're looking to influence boldly, earn trust and become a leadership powerhouse, Become the Real Deal is for you. Connie Dieken is a powerful, fresh voice in leadership presence. "
—Michael Port New York Times bestselling author of Book Yourself Solid and The Think Big Manifesto
"I've been an ardent fan and follower of Connie Dieken's brilliance for years. I listen to what Connie says and read what Connie writes and try as hard as possible to apply her insight and output to my activities and my life. Connie has changed the way I look at myself and the way I present myself to the world. What she tells me simply makes sense. Better yet — it works."
—Bruce Turkel Author of Building Brand Value
"I place a premium on amazing experiences. As you dive into Connie's Become the Real Deal, you'll discover compelling stories and remarkable guidance on how to transform your leadership approach. You may not want to come up for air until you finish."
—Shep Hyken New York Times and Wall Street Journal bestselling author of The Amazement Revolution

About the Author
Connie Dieken
is an executive coach to senior leaders at the world's top brands. Before launching her coaching firm in 2000, Connie was a multiple Emmy® Award–winning television journalist who was inducted into the Radio/Television Broadcasters Hall of Fame. She is also the author of the bestseller Talk Less, Say More: 3 Habits to Influence Others and Make Things Happen (Wiley).

Table of Contents
| | | |
| --- | --- | --- |
| | | |
| 1 | Introduction: What is the Real Deal? | |
| | | |
| | PILLAR ONE: Inner Presence: How You Experience Yourself | |
| 2 | Transforming Yourself on Purpose | |
| 3 | The Centered Inner Presence | |
| 4 | The Worrier | |
| 5 | The Egotist | |
| | | |
| | PILLAR TWO: Outer Presence: How Others Experience You | |
| 6 | Transforming How Others Respond to You | |
| 7 | Centered Outer Presence | |
| 8 | The Ghost | |
| 9 | The Pretender | |
| | | |
| | PILLAR THREE: Verbal Presence: How the World Interprets Your Words | |
| 10 | Transforming Rhetoric into Results | |
| 11 | Centered Verbal Presence | |
| 12 | The Mouse | |
| 13 | The Motor Mouth | |
| 14 | Bringing it All Together | |
| | | |
| | Acknowledgements | |