Make Change Work
: Staying Nimble, Relevant, and Engaged in a World of Constant Change
Randy Pennington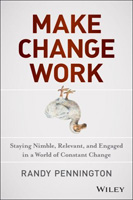 Format:
Hardcover, 192pp.
ISBN:
9781118617465
Publisher:
Wiley
Pub. Date:
July 15, 2013
Average Customer Review:

For Bulk Orders Call: 626-441-2024

Description and Reviews
From
The Publisher:
What would happen if you, your team, and your entire organization were constantly focused on adapting, changing, and improving your business? Imagine the results that a nimble and engaged organization could achieve—and how that will help you stay relevant in a competitive marketplace.
Make Change Work
presents real ideas for thriving in a world of constant change. This isn't just another book that tells you change is coming, so get ready. It is a field guide to help you design and implement a strategy for leading change and delivering meaningful business results. You will learn:
How to rate your organization on a scale of Dodos to Coyotes
Why change fails and what good change looks like in today's organizations
How to be bold in the face of change
How to make your company faster, better, cheaper, and friendlier—by simply listening to your customers
How to take the uncertainty out of the change process for your employees
Six leadership strategies for creating urgency, building support, and ensuring successful change
The specific challenges that occur when change isn't a choice (such as a downsizing or merger)
How to lead by example and not by decree
The future of change
Your employees want you to lead them through change and not just shuffle them around on a chessboard. They want to make change work, but in order for them to do that, you need to show your own adaptability, resolve, and resilience. This book will help you establish a clear and purposeful goal, inspire a culture relentlessly focused on customers, and create an environment where your talented team wants to
Make Change Work
.

Reviews
"I could rename this book, How Tulips, Dodo Birds and Coyotes Changed the Way I Think About Change. Interested now? You should be. This is the most fascinating, practical book about dealing with change I've ever read."
—LARRY WINGET, television personality and bestselling author of Grow a Pair: How to Stop Being a Victim and Take Back Your Life, Your Business, and Your Sanity
"Make Change Work is the best book I have read on the real inner-workings of change. It could have easily been called The Future Belongs to the Coyote. Pennington does a great job of equating the emotional side of change with the pragmatic, 'let's get it done' side."
—GARY NELON, Chairman and CEO, First Texas Bancorp, Inc.
"Randy Pennington has written an extraordinary book about change (and leadership, culture, execution, and more). You will use the ideas in it the second you put it down. Randy is the best business writer I know. This book will significantly impact and improve the way you do business."
—JOE CALLOWAY, author of Be the Best at What Matters Most
"Make Change Work lays a simple path from the strategy to the tactics of change. Randy teaches leaders to attack change not as a process to be managed but as a way of operating that delivers results."
—SUSAN KELLIHER, SVP, Human Resources, Albemarle Corporation
"To make change work, we have to change the way we work. Period. Pennington takes you on a journey through not only change but also how to lead transformation."
—BRIAN SOLIS, Principal Analyst, Altimeter Group and author of What's the Future of Business?
"For organizations to change, the people in those organizations must change. Make Change Work provides real-world, practical strategies you can use immediately."
—Chris Korst, Executive Vice President of Operations, Rent-A-Center®

About the Author
Randy Pennington
is a business performance veteran, author, and expert in helping organizations build a culture focused on results. His client list includes leading organizations in business, nonprofits, and government. His ideas and comments have appeared in the New York Times, Entrepreneur, Executive Excellence, and numerous professional and trade journals, and on CNN, Fox News, the BBC, and ABC radio. He is the author of Results Rule!

Table of Contents
| | | |
| --- | --- | --- |
| | | |
| | Preface | |
| | | |
| | Part I: The Realities of Change | |
| 1 | The New Normal | |
| 2 | Faster – Better – Cheaper - Friendlier | |
| 3 | Good Change – Bad Change | |
| 4 | Dodos and Coyotes | |
| | Only the Nimble Survive | |
| | | |
| | Part II: Becoming a Change Leader | |
| | The Tactical Side of Change | |
| 5 | What Change Leaders Do | |
| 6 | Buy-In: Where Change Legends Are Made | |
| 7 | Go First | |
| 8 | Change Change | |
| 9 | Generate Creative Tension | |
| 10 | Connect With People Where They Are | |
| 11 | Involve Early and Often | |
| 12 | Use Resistance as Your Friend | |
| | | |
| | Part III: Change Challenges | |
| 13 | When Change Isn't a Choice | |
| 14 | Change Your Culture and Change Your Results | |
| | | |
| | Part IV: The Wrap Up | |
| 15 | The Future & Change | |