The People Manager's Tool Kit
: A Practical Guide to Getting the Best From People
Karen Gately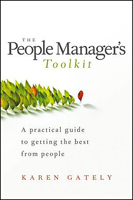 Format:
Paperback, 280pp.
ISBN:
9781118590898
Publisher:
Jossey-Bass
Pub. Date:
July 29, 2013
Average Customer Review:

For Bulk Orders Call: 626-441-2024

Description and Reviews
From
The Publisher:
Essential tools busy managers need to get the best out of their teams and people
People who manage people face a number of challenges, from keeping workers engaged and performing at a high level to dealing with absenteeism and bad behaviour in the workplace. In The People Manager's Toolkit, leadership and people management specialist Karen Gately offers a suite of practical tools for optimising staff performance and dealing with a wide variety of "people issues."
Avoiding all human resources jargon and complicated management theory, this straightforward how-to guide shows you practical everyday solutions to common problems. You'll learn to effectively leverage the tools to improve business results, whether your issue is getting people to do more than just the bare minimum, deciding on appropriate financial incentives, or any other issue that involves people and those who lead them.
Written by the highly regarded founder of Ryan Gately, the specialist consulting practice on human capital management based in Melbourne, Australia
Features practical, effective advice for dealing with and solving almost any people problem at work
Includes real-world case studies that showcase the book's tools and tips in action
Whether you just need a little help keeping your people motivated or you've got so many problems that you don't even know where to start,
The People Manager's Toolkit
gives you the strategies and solutions you need to solve virtually any issue.

About the Author
Karen Gately
is a passionate optimist with unwavering belief in the power of the human spirit. A highly regarded thought leader in the fields of human performance and leadership, Karen brings a fresh perspective to what it takes to lead people and teams to reach the peaks of their potential. Over the span of her corporate career Karen worked in client service, strategy, planning and quality management leadership roles. In 2006, after eight years as head of human resources for The Vanguard Group in the Asia Pacific, Karen established Ryan Gately an HR consultancy focused on enabling organisations to thrive through people. Karen is the author of two books. The Corporate Dojo: driving extraordinary results through spirited people and The People Manager's Toolkit: a practical guide to getting the best from people. At the heart of both is this message: great results happen when talented people invest energy and behave successfully. Karen believes nurturing the human spirit to optimise business performance is not only commercially smart but also the right thing to do. She calls on every leader to realise the opportunity they have to achieve the best possible outcomes for their organisation and while doing so positively impact the health and happiness of people. Drawing on her martial arts and business experience Karen delivers compelling keynotes and workshops aimed at influencing the thinking, actions and ultimately success of people in business. A human performance expert Karen inspires leaders and team members alike to take ownership and strive to achieve the peaks of their potential.