Power Relationships
: 26 Irrefutable Laws for Building Extraordinary Relationships
Andrew Sobel and Jerold Panas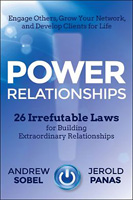 Format:
Hardcover, 208pp.
ISBN:
9781118585689
Publisher:
Wiley
Pub. Date:
January 21, 2014
Average Customer Review:

For Bulk Orders Call: 626-441-2024

Description and Reviews
From
The Publisher:
The Relationship Laws that Drive Success
There are powerful but invisible laws that determine whether your relationships —with your clients, colleagues, and friends—will thrive or wither. These relationship laws are ever-present. When you align with them, the results are dramatic. Your network will grow rapidly. You'll be seen by clients as a trusted partner rather than an expense to be managed. And you'll find the people around you eager to help you succeed.
When you ignore the laws, however, your efforts will falter. Relationship building will seem like very hard work.
Power Relationships gives readers a unique, entertaining guide to relationship success at work and in life. Each of the 26 laws is illustrated and explained using a compelling, real-life story that shows how to implement it. The second section of the book presents 16 common relationship challenges with specific solutions. You'll read about:
The top Citigroup executive whose relationship with a CEO was changed forever on a business trip that exploded into chaos, and how you can use the same principle to deepen your own relationships.
The philanthropist who, on the verge of being mugged in a dark parking lot, learns how his actions have had an unimaginable ripple effect across several generations
How one of the authors flew halfway around the world and used Law 18—"Make them curious"—to turn a make-or-break, five-minute meeting with a top executive into a long-term relationship.
The chance encounter on an airplane with a famous actor that revealed a simple but profound truth. It's Law 25: "Build your network before you need it."
Sobel (author of Clients for Life, All for One, and Power Questions (with Panas)) and Panas (author of Asking and Supremely Successful Selling) have sold over half a million books and are the leading authorities in their field. Power Relationships is a unique, road-tested guide to relationship success.

Reviews
"Relationships come about in different ways: adversity, kindness, luck, planning, and humility can all play their part. Andrew and Jerry- in their inimitable style and with the credibility of experts in the field-illustrate practically and amusingly how relationships are created that are lasting and mutually beneficial."
—Sir Win Bischoff, Chairman, Lloyds Banking Group
"Power Relationships provides the perfect advice and examples on how to build relationships that truly work. It's an enjoyable read that will produce real results. I hope every person in Grant Thornton throughout the world reads the book, and that our competitors do not."
—Ed Nusbaum, Global CEO, Grant Thornton International
"Jerry and Andrew have written a book that unlocks the secret of relationship building. Relationships govern our personal world and everything we do. It is the zest in our life – with our family, colleagues, and clients. Power Relationships is the best-written book on the subject. I want all of our staff and employees to have a copy."
—Mark Cummings, President and CEO, ScotiaLife Financial
"I wish everyone could read Power Relationships. It would be a better world. This book leads the way. It proves to me that if business is based only on monetary gain, you will not solve an issue without a fight. Read Power Relationships for the answer."
—Alan Hassenfeld, Former CEO and Chairman of the Board, Hasbro, Inc.
"Sobel and Panas have added real substance to the basic truth that success in life depends on relationships between people. One cannot hope to excel in sales, supervision, service, or personal growth without sensitivity to the twenty-six tenets that the authors identify and explain persuasively. The many short stories that illustrate the main points in this volume are a delight to read."
—Richard Ekman, PhD, President, Council of Independent Colleges
"If you believe your business should be all about the client, you'll find Power Relationships a truly powerful book. It clearly shows how to create wins-wins with your most important clients and prospects."
—Francesco Vanni d'Archirafi, CEO, Citi Holdings, Citigroup

About the Author
Andrew Sobel
(www.andrewsobel.com) helps companies and individuals build clients for life. He is the most widely published author in the world on the topic of business relationships, and his bestselling books include Power Questions, All for One, Making Rain, and Clients for life. All for One was recently voted one of the top 10 sales and marketing books of the decade by a major marketing publication. His clients include many of the world's leading companies such as Citigroup, Hess, Cognizant, Ernst & Young, Booz Allen Hamilton, Deloitte, Experian, Lloyds Banking Group, and many others. Andrew's articles and work have appeared in publications such as the New York Times, USA Today, strategy+business, and the Harvard Business Review. He spent 15 years at Gemini Consulting where he was a Senior Vice President and country Chief Executive Officer, and for the last 15 years he has led his own consulting firm, Andrew Sobel Advisors. Andrew has been married for 30 years and has three children.

Table of Contents
| | | |
| --- | --- | --- |
| | | |
| | Download the free Power Relationships Planning Guide | |
| | | |
| 1 | The Missing Ingredient | |
| 2 | Be Audacious | |
| 3 | Where Were You? | |
| 4 | The Greatest Gift | |
| 5 | What's the Agenda? | |
| 6 | The Billionaire and the Minister | |
| 7 | Beware of a Cart Pulling a Horse | |
| 8 | Found guilty | |
| 9 | Never Steal a Bacon Sandwich | |
| 10 | Oops! | |
| 11 | Don't Forget Your Wallet | |
| 12 | A Night in the Garbage Bin | |
| 13 | Don't Wait | |
| 14 | A Little Help for Your Friends | |
| 15 | Make it so | |
| 16 | A Puppy Tale | |
| 17 | The Carrot and the Stick | |
| 18 | Draw Them In | |
| 19 | Color Me Pink | |
| 20 | Are You Clever or Wise? | |
| 21 | For the Sheer Joy of it | |
| 22 | A Tale of Two Cities | |
| 23 | To Die For | |
| 24 | Start an Epidemic | |
| 25 | Build it First | |
| | A Pebble in a Pond | |
| | | |
| | Applying the Laws | |
| | About the Authors | |