The "I" of Leadership
: Strategies for Seeing, Being and Doing
Nigel Nicholson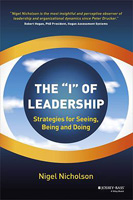 Format:
Hardcover, 322pp.
ISBN:
9781118567432
Publisher:
Jossey-Bass
Pub. Date:
May 13, 2013
Average Customer Review:

For Bulk Orders Call: 626-441-2024

Description and Reviews
From
The Publisher:
This is the leadership book you have to read: a barn-storming new take on what makes the inner leader.
Using stories and examples from the lives of leaders,(from the sports stadium to the White House to the office of the CEO), Nicholson shows vividly how the capacity of leaders to see what others do not see frames their actions and allows them to transform, build, destroy, or stabilize. Leaders fail through lack of insight – into themselves and into the worlds they inhabit.
The strategic challenge of leadership is to find the right balance between impact and versatility and the successful crafting of an identity that merges the leader and the surrounding culture or 'zeitgeist'.
This book resonates with insights and searching questions on the nature of human leadership. It will be an invaluable guide to managers, consultants and people everywhere.

Reviews
"Nigel Nicholson is the most insightful and perceptive observer of leadership and organizational dynamics since Peter Drucker, and this is his best work so far. The book weaves together evolutionary psychology, modern cognitive theory, and real life examples in a lively and creative synthesis that is essential reading for anyone interested in answering the question, 'Who shall rule?'."
—Robert Hogan, PhD, President, Hogan Assessment Systems
"I read lots of leadership books, and this is one of the best – it's intelligent, wide-ranging, and eminently practical. If you're a leader, or want to be one, read it!"
—Gary Hamel, Visiting Professor of Strategy and Entrepreneurship, London Business School and Director of the Management Innovation eXchange
"Leaders infect many through their emotional contagion – positively or negatively. But they are human. Nigel Nicholson will captivate you with charming and at times disturbing stories of leaders with whom he has worked and those that have affected all of us. In a rare feat, Nigel has done on paper what he does in his classes – reached out and given us hope that we can be better, using touching stories to show the path to new possibilities."
—Distinguished University Professor Richard Boyatzis, Department of Psychology, Cognitive Science and Organizational Behavior, Case Western Reserve University; Adjunct Professor of Human Resources, ESADE and co-author of the international best seller, Primal Leadership
"The world has many books on leadership and many teachers on leadership. Having had the real pleasure of teaching alongside Nigel Nicholson, it is no surprise to find a bold and iconoclastic teacher producing a quirky, funny and insightful book, daring, for instance, to begin it with George W. Bush. I am usually a sceptic about leadership manuals but this is the exception, original and highly readable."
—Sir Ian Blair, Baron Blair of Boughton, Former Commissioner of the Metropolitan Police
"The 'I'of Leadership gives a critical message and a compelling business case for the leader to understand themselves: who you are matters in everything you do as a leader. Whether you are a developing leader or an experienced leader, Nicholson's brilliantly written book will give you a cutting edge advantage in the face of paradoxes and dilemmas. The stories of well-known leaders who succeeded or failed make the case for understanding and not necessarily imitating. Every leader is unique: this book goes back to Socrates' profound advice to 'know thyself'."
—George Kohlrieser, Professor of Leadership and Organizational Behaviour, IMD and award winning author of Hostage at the Table and Care to Dare
"Each leader has a story but it is a story in progress, a story that probably could be written in different ways. Behind the story is what Nigel calls the 'I' of Leadership: the consciousness of the leaders, their self management and strategy. The book is not about global leaders and celebrities, it is about all of us because we all experience that 'Moment', the Leadership Moment when we have to act.
—Mo Ibrahim, founder, Celtel and Chairman of the Mo Ibrahim Foundation
"Three comments on this wonderful book: #1. Beware. If you pick up it, you will not put it down. #2. Pick it up. You will learn a lot. Who you are as leader will change (because you will know more about leadership) and 'Who you are matters. What you do with who you are matters even more.' (from Chapter 1). #3. Don't wait. Our world is never going to slow down but you can get ahead of the curve with what you learn here."
—J. Keith Murnighan, Harold H. Hines Jr. Distinguished Professor of Risk Management, Kellogg School of Management, Northwestern University and author of Do Nothing! How to Stop Overmanaging and Become a Great Leader

About the Author
Nigel Nicholson
is a renowned educator, thinker, writer, and commentator on business. He is Professor of Organizational Behaviour at the London Business School, where he directs executive leadership programmes including High Performance People Skills, and the unique Proteus Programme.

Table of Contents
| | | |
| --- | --- | --- |
| | | |
| 1 | It goes with the territory – Leadership moments | 3 |
| 2 | Leadership in the wild – The evolution of power | 22 |
| 3 | A very short history of leadership | 40 |
| 4 | Leadership as Strategy: Situations, Processes and Qualities (SPQ) | 63 |
| 5 | Who Am I? Leadership Qualities and the Compass Question | 74 |
| 6 | The "Eye" of Leadership…..The Law of the Situation | 92 |
| 7 | The Adaptive Leader – Leadership Processes | 115 |
| 8 | Dynamic Leadership – Shaping and discovery | 130 |
| 9 | Reading the World – A leadership conundrum | 143 |
| 10 | Born to Lead? – Leaders lost and found | 155 |
| 11 | Who's Your Buddy? Critical Leader Relationships | 168 |
| 12 | Destiny, Drama and Deliberation – the lives of leaders | 187 |
| 13 | The 'I' of Leadership – Inside the Mind of the Leader | 203 |
| 14 | Games Leaders Play – Finding the narrative | 232 |
| 15 | The Self-Management of Leadership – You, others & organization | 248 |
| 16 | Can Leaders Save the World? Vision, Identity and Passion | 267 |
| | | |
| | Endnotes | 278 |
| | Index | 299 |