Leaders Ought to Know
: 11 Ground Rules for Common Sense Leadership
Phillip Van Hooser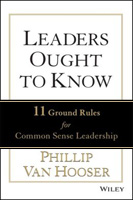 Format:
Hardcover, 265pp.
ISBN:
9781118529263
Publisher:
Wiley
Pub. Date:
April 15, 2013
Average Customer Review:

For Bulk Orders Call: 626-441-2024

Description and Reviews
From
The Publisher:
Too many organizations hold the common, shortsighted assumption that promoting an employee into a leadership position will, by osmosis, result in this person becoming a competent leader. People fail to define what is expected of their organizational leaders, and then claim to be surprised when these newly tapped leaders don't deliver. However, there are some things every leader ought to know before they take the reins, and fortunately, these key leadership principles can be learned.
From Phillip Van Hooser, leadership development advisor to hundreds of top U.S. companies, Leaders Ought To Know teaches all leaders--newly promoted, mid-level, or executives--eleven common sense, universal ground rules that "leaders ought to know" if they intend to lead with purpose, confidence, and effectiveness. By examining real world examples of the dos and don'ts of leadership, executives and managers will gain practical strategies to transform the way they lead their employees.
This comprehensive leadership development guide explains proven leadership concepts, including how to earn an employee's respect, the critical importance of truth telling, a practical strategy for making impactful decisions, and ultimately, how to be taken seriously as a leader. Learn how to do more of the right things while avoiding the common leadership mistakes that trip up so many.
Instill in yourself, and your managers and executives, the principles of great leadership, including how to:
Take responsibility for your choice to lead
Know your followers' expectations of you and the appropriate actions to exceed them
Discover the wants and needs that motivate your followers
Gain respect by exhibiting consistent behaviors, quality decision-making, and a willingness to interact with others
Communicate difficult truths in an appropriate manner
And much more practical, timely information for leaders!
Growth-oriented businesses require leaders who generate profits while improving employee performance and retention. Make sure you build a sustainable leadership approach to ensure success for your individual leaders--and your organization.

Reviews
"There are lots of books on leadership, but there are precious few true leaders who have the depth of leadership experience and wisdom of Phillip Van Hooser. In "Leaders Ought To Know," Phillip shares lessons born of his experience both as a leader and as a trusted advisor to leaders for over twenty-five years. I don't recommend books lightly, and I absolutely recommend "Leaders Ought To Know" as a must-read for any leader or those who aspire to be leaders."
—Joe Calloway - author - Be the Best at What Matters Most
Leaders Ought To Know is the perfect book about leadership skills written by a guy who knows leadership inside and out. Forget about theory - this is all stuff that can be used today, tomorrow and forever. Phillip looks at issues that may seem complex and breaks it all down into manageable steps that lead to success. You will learn how to ratchet up your performance and in tandem build the skills of the folks on your team.
—Joe Scarlett -Retired Chairman of Tractor Supply Company - Founder - Scarlett Leadership Institute
Phillip Van Hooser lays out a "flight plan" that will navigate and guide you to your destination.....in leadership terms. Leaders Ought to Know is well worth the read and validates and expands on my experiences in leadership roles over many years.
—Howard Putnam - Former CEO Southwest Airlines - Author - The Winds of Turbulence
This is the book that every follower wants every leader to read and apply. Leaders Ought to Know is filled with Phillip Van Hooser's practical, common sense wisdom. Don't just read this book, pull out your highlighter and study it. You and those you lead will be more successful and satisfied because you did.
—Randy G. Pennington - Author - Results Rule! Build a Culture that Blows the Competition Away
Like Abraham Lincoln, Phillip Van Hooser has an easy ability to come up with simple but powerful stories from life to make his messages both clear and memorable. He is also remarkable in the way he brings out common sense solutions to issues that his readers may already know deep down but somehow have overlooked as the best approach to their challenges. Leaders Ought to Know brings together Phil's lifetime studies in leadership along with his expertise as a master teacher.
—Dr. John Paling Former lecturer - Oxford University - Emmy awarded National Geographic wildlife photographer

About the Author
Phillip Van Hooser helps organizations build trust, inspire their leaders and get results. A leadership development advisor, keynote speaker and management training expert to an array of top U.S. companies, his clients run the gamut from Alliance Coal and Blue Bell Creameries to REEBOK, Wells Fargo and Westar Energy. Phil has written several popular books on leadership-related issues including We Need to Talk: Building Trust When Communicating Gets Critical and Willie's Way: 6 Secrets for Wooing, Wowing and Winning Customers and Their Loyalty. A Speaker Hall of Fame inductee, Phil shares his unique brand of "uncommon" common sense leadership through captivating stories from his life and career. He leads people to discover proven leadership skills grounded in real-world experience to give them practical steps for being a leader every day, regardless of their position. Most recently, Phil has been the mastermind behind a comprehensive leadership development initiative called Leaders Ought to Know. This initiative incorporates online and onsite training to achieve each client's leadership development goals.

Table of Contents
| | | |
| --- | --- | --- |
| | | |
| | Acknowledgements | |
| | Introduction | |
| | | |
| 1 | Choosing To Lead | |
| 2 | Offer Service, Take Action | |
| 3 | The Essential Element | |
| 4 | A Recipe For Respect | |
| 5 | Honesty And Other Truths | |
| 6 | Two Motivational Truths | |
| 7 | Why People Do What They Do | |
| 8 | Preventative Leadership | |
| 9 | The Fearsome Facts | |
| 10 | Leadership Pitfalls | |
| 11 | Common Sense Success | |
| | | |
| | Conclusion | |