Risky is the New Safe
Randy Gage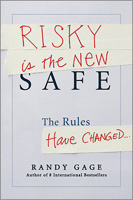 Format:
Hardcover, 143pp.
ISBN:
9781118481479
Publisher:
Wiley
Pub. Date:
October 23, 2012
Average Customer Review:

For Bulk Orders Call: 626-441-2024

Description and Reviews
From
The Publisher:
The financial system is in shambles, disruptive technology is eliminating millions of jobs, and entire economies are failing. Things have changed and they're never going back. This calamitous transformation is creating new and more daunting challenges—and great opportunities.
Risky is the New Safe
lays out thought leader Randy Gage's bold vision for how to prosper in the new economy. Gage reveals the tumultuous changes taking place in business, technology, and the economy—and the extraordinary challenges they are creating. More importantly, he shows how to turn those challenges into lucrative opportunities.
You'll learn which jobs and business models will disappear forever, and how to position yourself to thrive in the emerging business cycles. You'll discover how to think differently and develop the same mindset the world's highest achievers harness for success.
From monkeys replacing human laborers to cloning, ocean-floor real estate development to asteroid mining, virtual-reality sex to holosuites, Gage provides fascinating insights into what the future holds and how people and companies can best prepare for it. You'll discover why following conventional thinking will lead to failure, and how becoming a contrarian and critical thinker will allow you to create wealth.

Reviews
"Risky is the New Safe is eye opening, mind blowing, and gut real. It gives you a step-by-step blueprint for succeeding in today's new world. If you are an entrepreneur, a businessperson, or want to create wealth in your life, you HAVE to read this book!"
—T. HARV EKER, author of New York Times #1 bestseller Secrets of the Millionaire Mind
"Holy crap, I love this book! It's smart, entertaining and best of all, made me re-think my life and my business. That's a winning combination I find irresistible."
—LARRY WINGET, five-time New York Times / Wall Street Journal bestselling author, including the #1 bestseller, Shut Up, Stop Whining, and Get a Life!
"Couldn't take my eyes off this great freaking book! Risky is the New Safe is a combination of Buffett, Springsteen, Rand, and Patton. Randy Gage is the ranking intellect of prosperity in our time, and only Luddites will ignore him. He has, yet again, written of the promise of abundance, the appeal of change, and the vast value of new and emerging relationships. There's nothing risky about buying this book except forgetting to do anything else while you're engrossed in it."
—ALAN WEISS, PhD, author of The Consulting Bible and Thrive!: Stop Wishing Your Life Away

About the Author
Randy Gage
is a classic American rags-to-riches story. A high school dropout, Randy rose from a jail cell as a teen, faced down addictions, getting shot, and near bankruptcy before becoming a multi-millionaire. Today, Randy is considered one of the preeminent experts on prosperity and success in the world. He shares the lessons learned from his own adversity to help people and companies all over the world create wealth and success. Where others see only challenges, Randy reveals how to discover hidden opportunity. He's bold, brash, sometimes controversial, but never boring. His tough-love approach will show you how to overcome limiting beliefs, develop critical thinking skills, and defy conventional wisdom to become successful. Randy has spoken to more than two million people in fifty countries, and his books have been translated into twenty-five languages. When he's not prowling the podium or locked in his lonely writer's garret, you'll find him playing third base on a softball field somewhere.

Table of Contents
| | | |
| --- | --- | --- |
| | | |
| | Acknowledgments | xxi |
| | Synopsis: Safe Is the New Risky | xxiii |
| | | |
| | Overture Training Monkeys and Cloning Puppies | 1 |
| | Act I It's Not About the Tech | 13 |
| | Act II The Only Free Cheese Is in the Mousetrap | 29 |
| | Tenor Aria The New Religion of Ideas | 49 |
| | Act III Move Fast and Break Things | 63 |
| | Act IV Harnessing the Ego for Success | 95 |
| | Soprano Aria Selfishness Is the New Altruism | 119 |
| | The After Party Sameness Creates Comfort; Difference Creates Opportunity | 133 |
| | Required Reading for Risk Takers | 141 |
| | Connect with Randy! | 143 |