The Manager and the Monk
: A Discourse on Prayer, Profit, and Principles
Jochen Zeitz by Anselm Grün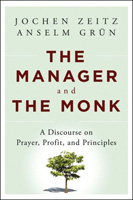 Format:
Hardcover, 208pp.
ISBN:
9781118479414
Publisher:
Jossey-Bass
Pub. Date:
April 8, 2013
Average Customer Review:

For Bulk Orders Call: 626-441-2024

Description and Reviews
From
The Publisher:
An exploration of spirituality, values, and sustainability in business
When Jochen Zeitz and Anselm Grün first met onstage as "the manager and the monk," Zeitz was CEO and Chairman of Puma, and Father Grün was a monk serving as cellarer, the business manager of his Benedictine abbey. They came together to discuss their shared goal: what it means to lead and manage responsibly and sustainably in today's shifting world.
Available for the first time in English,
The Manager and the Monk
features these topical essays and dialogues, drawing on sources as diverse as the Bible, contemporary religious thought, psychological theory, and the innovative "environmental profit & loss account" Zeitz developed for Puma. Together, Zeitz and Grün explore their intersecting definitions of prosperity, values, sustainability, among a host of other topics.
Jochen Zeitz was CEO of Puma for 18 years and is founder, with Sir Richard Branson, of the B Team, a global initiative aimed at transforming the future of business
Anselm Grün is cellarer (business manager) of Münsterschwarzach Abbey in Germany, overseeing a staff of 300 in crafts such as beekeeping and brewing; and an internationally best-selling author of more than 300 books available in 35 languages
Translated from an award-winning German book, Gott, Geld, und Gewissen, which has been translated into 11 languages
The Manager and the Monk
is a thoughtful, impassioned plea for how to manage responsibly in the modern world.

Reviews
"[The Manager and the Monk] reassures and awakens readers to life and business choices that celebrate generosity, honesty, and authenticity."
—SUCCESS Magazine
"The Manager and The Monk is a book for leaders who aspire to evolve their way of thinking and acting by keeping an open mind, to make for a better world."
—Sir Richard Branson, founder, Virgin Group
"The Manager and the Monk is a great example of the new partnership between matter and Spirit, business and spirituality, effectiveness and meaning. This is where we must go!"
—Richard Rohr, O.F.M., Center for Action and Contemplation and author, Falling Upward and Immortal Diamond
"The Manager and the Monk, scaling very different pyramids of success, meet at a single summit in the same world—a world of competition, but also of heightened awareness, hope, and wonder."
—John Elkington, cofounder, SustainAbility and Volans; coauthor,The Power of Unreasonable People
"The Manager and the Monk is a vibrant, beautifully articulated, and stunningly fresh narrative that takes you on a unique literary adventure that can't but help to leave you inspired. Not only does it allow for an intimate insight into the world of two extraordinary characters, but it also masterfully articulates the processes we will all require, if we are to learn to sculpt a more positive outcome towards our collective future."
—David de Rothschild, founder, Sculpt the Future Foundation, and author,The Live Earth Global Warming Survival Handbook and Plastiki

About the Authors
Jochen Zeitz
is director of PPR and chairman of its board's sustainable development committee, after having been CEO of the Sport and Lifestyle division and chief sustainability officer of PPR since 2010. Prior to this, Zeitz served 18 years as chairman and CEO of PUMA. He founded the non-profit Zeitz Foundation of Intercultural Ecosphere Safety, and with Sir Richard Branson is founder and cochair of The B Team. He has been a member of the board of directors of Harley-Davidson since 2007 and is on the advisory board of TEEB (The Economics of Ecosystems and Biodiversity).
Father Anselm Grün
, OSB, Th.D, is the cellarer, or financial manager, of the Mnsterschwarzach Abbey, near Wrzburg, Germany. At age 19 he became a Benedictine monk at Mnsterschwarzach Abbey, learning the art of leading others based on the Rule of St. Benedict of Nursia. He also studied philosophy, theology, and business administration, and is an internationally best-selling author whose books are available in 35 languages.

Table of Contents
| | | |
| --- | --- | --- |
| | | |
| | Preface | ix |
| | | |
| 1 | SUCCESS | 1 |
| 2 | PROSPERITY | 19 |
| 3 | CULTURE | 31 |
| 4 | VALUES | 49 |
| 5 | ACTING ETHICALLY | 65 |
| 6 | THE ENVIRONMENT | 79 |
| 7 | COMMERCE | 95 |
| 8 | SUSTAINABILITY | 117 |
| 9 | STRENGTHS AND WEAKNESSES | 133 |
| 10 | RESPONSIBILITY | 147 |
| 11 | AWARENESS | 159 |
| | | |
| | Notes | 177 |
| | Acknowledgments | 179 |
| | About the Authors | 183 |
| | Index | 187 |