Never Mind the Bosses
: Hastening the Death of Deference for Business Success
Robin Ryde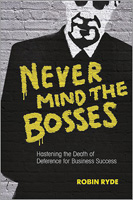 Format:
Hardcover, 204pp.
ISBN:
9781118474402
Publisher:
Jossey-Bass
Pub. Date:
December 11, 2012
Average Customer Review:

For Bulk Orders Call: 626-441-2024

Description and Reviews
From
The Publisher:
Over the last few decades, power, information and resources have moved from being concentrated in the hands of a few, to being disbursed across many. We need look no further than events on the world stage to see the heat signature of this – from the arrival of Wikileaks, the Arab Spring of 2011 and the Occupy movements, to the social media revolution and flashpoints such as the British Members of Parliament expenses scandal. All are examples of deep change occurring.
This book is about what this means for the workplace and for management. The proposition offered here is that our organisations need to catch up, and that the "death of deference" that we are seeing elsewhere in society needs to be accelerated in the workplace.
Systems of deference slow down organisational performance. Deference prevents organisations from learning. It stops them from being agile, innovative and ethical. Deference is the enemy of organisational success and it needs to be dismantled so that in its place we can build modern organisations with a new breed of managers and leaders. This book offers a solution to a problem that belongs in the last century, and a game plan for nothing short of a workplace revolution.

Reviews
"Never Mind the Bosses is a refreshing type of management book, it advocates that deference to authority figures needs to go if we are to have engaged workforces."
—Cary L. Cooper, CBE, Distinguished Professor of Organizational Psychology and Health at Lancaster University Management School
"An engaging and entertaining romp through the post punk world. By going beyond the boundaries of most business books, Ryde gives us all food for thought about how organisations are, or are not, dealing with a rapidly changing society and workforce."
—Jo Owen, bestselling author of How to Manage and How to Lead
"If you are looking for a book that will shake up your thinking about how to improve your organisation's performance – or worried that your competitors will find it first! – try this one."
—Professor Dutch Leonard, Harvard Business School & Harvard University's John F. Kennedy School of Government
"I love this book! It turns the traditional leadership concepts upside down. A must read for anybody who wants to capture the power of their whole organisation."
—Sally Martin, Vice President Commercial Service, Shell International Petroleum Company
"Never Mind the Bosses makes a compelling and absorbing case for replacing unquestioning deference in organisations with the need for everyone to take up not only their rights, but critically, their responsibilities for the greater good."
—Kai Peters, CEO, Ashridge Business School
"A powerful reminder that deference has no place in an accelerating world, where only the most innovative organisations will thrive and prosper."
—Ben Page, Chief Executive, Ipsos MORI
"A riveting read – unexpected quotes from the Damned and Donald Rumsfeld grabbed my attention and held it – bags of leadership insights in here, entertainingly and memorably presented."
—Iain Lobban, Director GCHQ

About the Author
Robin Ryde
is a business author, inspiring speaker and an original thinker in the world of organisation and leadership development. As a former CEO, HR Director and Board-level executive, Robin has worked broadly across the commercial and public sector. Robin currently supports organisations big and small through his roles as the Head of Leadership with the Oxford Group, Academic Director with the Australia and New Zealand School of Government (ANZSOG), Visiting Fellow of Ashridge Business School and Director of Robin Ryde Consulting Ltd. For more information about Robin Ryde Consulting visit www.robinrydeconsulting.com