The Athena Doctrine
: How Women (and the Men Who Think Like Them) Will Rule the Future
John Gerzema and Michael D Antonio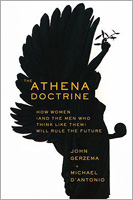 Format:
Hardcover, 304pp.
ISBN:
9781118452950
Publisher:
Jossey-Bass
Pub. Date:
April 16, 2013
Average Customer Review:

For Bulk Orders Call: 626-441-2024

Description and Reviews
From
The Publisher:
Women don't yet rule the world, but people around the globe sure wish they had more influence on business, government, and every other aspect of modern life. Among 64,000 people surveyed in thirteen nations, two-thirds said the world would be a better place if men thought more like women. The sentiment was the same across the planet: we've had enough of the winner-takes-all, masculine approach to getting things done. It's time for something better.
Inspired by their data, John Gerzema and Michael D'Antonio traveled the world to uncover stories of women and men who lead innovative organizations with the skills and values commonly associated with women. By emphasizing cooperation, communication, and sharing, these pioneers succeed in a super-connected world. In
The Athena Doctrine
, the authors show why femininity is the operating system of twenty- first-century prosperity:
Leadership: values traditionally associated with women create more effective leaders and organizational strategies in today's society.
Career management and self-improvement: traits associated with women—flexibility, empathy, and honesty—underpin career mobility and personal fulfillment.
Change management: feminine traits help us adapt seamlessly and effectively to today's changes.
Brought to life through fresh stories from around the world and backed by rigorous data,
The Athena Doctrine
shows how feminine values are ascending. By nurturing, listening, and collaborating, men and women alike are resolving conflicts, finding profits, and redefining success in every realm. Rich with implications for leadership, change management, and even career management, these stories will inspire you to find the same success.

Reviews
"We are in a new world with many old minds, and the task is to adapt yourself. A modern leader is here to serve."
—Interview with Shimon Peres, president of the State of Israel, Jerusalem, 2012
"With a wealth of data and even richer stories from around the world, The Athena Doctrine offers convincing proof that the future requires us to embrace traits and values traditionally linked to women. Leave it to two fathers of daughters to show us how men and women alike are using empathy and collaboration to solve problems big and small. If you care about leadership, creativity, and the world of tomorrow, you must read this book."
—Arianna Huffington, president and editor-in-chief, The Huffington Post
"The Athena Doctrine is a powerful book. Extraordinary research. Great story telling. A message both timely and of monumental importance."
—Tom Peters, leadership guru and bestselling author, In Search of Excellence
"Goddess of both craft and wisdom, patron of Odysseus, and inspiration for legions of smart girls, Athena is an icon for our times. The Athena Doctrine offers a gender-neutral approach to embracing a set of values that underpin a new generation of innovation based on connection and creativity. It is an optimistic and energizing book."
—Anne-Marie Slaughter, professor of politics and international affairs, Princeton University; former director of policy planning, U.S. Department of State
"The Athena Doctrine offers more than ample evidence of the rebalance needed in global leadership. Painstakingly researched and documented, with interviews of amazing people all over the world, the ideas in this book will influence the leaders of tomorrow and, more importantly, make the case for more women leaders."
—Pat Mitchell, president and CEO, the Paley Center for Media; curator, TEDxWomen

About the Authors
John Gerzema
is a pioneer in using data to identify social change and help companies adapt to new trends and demands. He is a bestselling author, speaker, and consultant. His books The Brand Bubble and Spend Shift have appeared on numerous "best of" lists, and his TED talks have been seen by hundreds of thousands of people.
Michael D'Antonio
is the author and coauthor of many books, including Spend Shift. He won the Pulitzer Prize with writers at Newsday and the Alicia Patterson Fellowship.

Table of Contents
| | | |
| --- | --- | --- |
| | | |
| | Introduction: The Athena Doctrine | |
| | | |
| 1 | Great Britain | |
| 2 | Iceland | |
| 3 | Israel | |
| 4 | Japan | |
| 5 | Colombia and Peru | |
| 6 | Kenya | |
| 7 | India | |
| 8 | China | |
| 9 | Belgium, Germany and Sweden | |
| 10 | Bhutan | |
| | | |
| | Conclusion: The Age of Athena | |
| | | |
| | Notes | |
| | Acknowledgments | |
| | About the Authors | |
| | Index | |