Where Winners Live
: Sell More, Earn More, Achieve More Through Personal Accountability
Dave Porter and Linda Galindo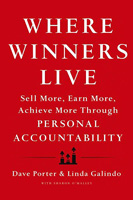 Format:
Hardcover, 240pp.
ISBN:
9781118436264
Publisher:
Jossey-Bass
Pub. Date:
February 26, 2013
Average Customer Review:

For Bulk Orders Call: 626-441-2024

Description and Reviews
From
The Publisher:
A mindset of 100 percent accountability means acknowledging, believing, and acting on the fact that you, and you alone, are 100 percent responsible for your own successes, opportunities, and happiness. It means you blame nobody for anything. You point fingers at no one. You find no fault. You feel no guilt. You simply own your choices and every outcome of those choices—good and bad.
Personal accountability is the secret weapon of every successful sales professional. It is the secret weapon of
Where Winners Live
coauthor Dave Porter, who became the owner and CEO of Baystate Financial Services at age 35 and grew it into a $100 million-a-year business over the next 15 years. It is the secret weapon of
Where Winners Live
coauthor Linda Galindo, who transformed herself from the self-proclaimed Queen of Victims into an entrepreneur, business coach, consultant, and speaker whose typical audience numbers 500 or more.
Written in a no-excuses tone and filled with illustrative personal stories and practical exercises,
Where Winners Live
outlines the non-negotiable behaviors of high-performing salespeople: responsibility, self-empowerment, and ownership of results.
Embrace a mindset of 100 percent personal accountability and you will:
Sell more and earn more money
Save time and alleviate stress
Keep your clients happier
Work better with colleagues and bosses
Be more satisfied with your job and with your own performance
Achieve even your highest-reaching goals
Live Where Winners Live.
Where Winners Live
can help you tap into the power of personal accountability, the secret weapon of successful people at every level, from newcomers to the sales field, to rising young stars, to high-earning professionals, to aspiring leaders, to CEOs.

Reviews
"Galindo and Porter's direct, no-nonsense approach brings to life the practical success strategies we have heard or seen before but often fail to execute. Using examples of accountable leaders at varying levels in their organizations, Where Winners Live motivates and instructs readers on how to maximize their full potential by being accountable. This is a good read for both experienced leaders and young professionals looking to grow in their careers."
—Alfonzo D. Alexander, president of the Center for the Public Trust, National Association of State Boards of Accountancy
"Linda Galindo and Dave Porter clearly explain that the secret weapon for success in business and in life is personal accountability. Where Winners Live is a must-read for leaders and managers who are responsible for results in today's uncertain economy. If you are willing to open your mind to 100 percent personal accountability and start living Where Winners Live, this book is for you."
—W. David Rook, CPA, partner in charge of firm assurance and advisory services, Weaver and Tidwell, LLP
"Linda Galindo's first book, The 85% Solution, transformed our management team at CALSTAR to be honest and more effective. Her new book with Dave Porter, Where Winners Live, defines personal accountability for financial service professionals so they can decide how and where they want to 'live.'"
—Lynn D. Malmstrom, president and CEO, California Shock Trauma Air Rescue (CALSTAR)
"People starting their careers, all salespeople, and the rest of us who are not getting the results we want should read Where Winners Live. In fact, don't just read the book. Live the life and enjoy your newfound success."
—Marc Kozin, former president, L.E.K. Consulting, LLC

About the Author
Dave Porter
is the president and CEO of Baystate Financial Services, one of New England's most prestigious financial service firms. He was named one of Boston's Most Admired CEOs in 2011 by the Boston Business Journal which also has ranked Baystate as one of Boston's Best Places to Work.
Linda Galindo
is a consultant, keynote speaker, leadership development facilitator, executive coach, and president of Galindo Consulting Inc. She has been named a Woman Business Owner of the Year by the National Association of Women Business Owners, and is author of two books as well as a training package based on her book The 85% Solution. She is regularly quoted in periodicals, including Investor's Business Daily, Forbes, and Leader to Leader.
Sharon O'Malley
is a writer, editor, consultant, and adjunct faculty member at the Philip Merrill College of Journalism, University of Maryland.

Table of Contents
| | | |
| --- | --- | --- |
| | Introduction | |
| | Part 1: Accountability and You | |
| 1 | You Are Accountable | |
| 2 | What Is Accountability? | |
| 3 | Linda's Story | |
| 4 | Where Losers Languish | |
| 5 | Where Do You Live? | |
| 6 | Choosing Your Mindset | |
| 7 | Clarity: The Core of Accountability | |
| 8 | Dave's Story | |
| 9 | Taking Action | |
| 10 | Defining Success | |
| 11 | Accountable For, Accountable To | |
| 12 | Do What You Need to Do | |
| 13 | Fine-Print Accountability | |
| 14 | I'm Sorry, But. . . | |
| | | |
| | Part 2: Accountability and Teamwork | |
| 15 | Own Your Compromises | |
| 16 | The Boss of You | |
| 17 | True Teamwork | |
| 18 | The Contradiction | |
| 19 | Five Levels of Teams | |
| 20 | 11 Behaviors | |
| 21 | Barriers to Teamwork | |
| 22 | Reasonable Expectations | |
| | | |
| | Part 3: Accountability and Leadership | |
| 23 | The Accountable Leader | |
| 24 | Pain Point: Retention | |
| 25 | Barriers to Entry | |
| 26 | Culture Clash | |
| 27 | Hiring Integrity | |
| 28 | Triangle of Victimization | |
| 29 | Understanding the Game | |
| 30 | Pain Point: Holding Others Accountable—Or Not | |
| 31 | Pain Point: Rescue Fix and Save | |
| 32 | Pain Point: Do It My Way | |
| 33 | Non-Negotiables | |
| 34 | Go Ahead: Do It Your Way | |
| 35 | Pain Point: Clarity | |
| 36 | Pain Point: I Can't Know Everything | |
| 27 | Outcome Equals Intention | |
| | | |
| | Epilogue | |
| | About the Authors | |