Midnight Lunch
: The 4 Phases of Team Collaboration Success from Thomas Edison's Lab
Sarah Miller Caldicott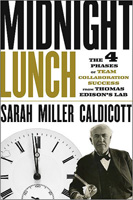 Format:
Hardcover, 304pp.
ISBN:
9781118407868
Publisher:
Wiley
Pub. Date:
December 17, 2012
Average Customer Review:

For Bulk Orders Call: 626-441-2024

Description and Reviews
From
The Publisher:
Thomas Edison created multibillion-dollar industries that still exist today. What many people don't realize is that his innovations weregenerated through the power of collaboration. Edison's collaborative approach propelled him to generate a record-breaking 1,093 US patents and 1,293 international patents over 62 consecutive years. Authored by Edison's great-grandniece, Midnight Lunch provides an intriguing look at how you can use Edison's collaboration methods to strengthen face-to-face and virtual teams today.
Leaders need to know how to design teams for maximum innovation impact, "rewire" their organizational culture to create growth, and hire collaborative employees that will thrive in an innovation-driven enviroment.Midnight Lunch outlines Edison's four phases of collaboration success, and demonstrates how different combinations of live and digital resources can deliver outstanding ROI.
Through action steps that yield high-impact results, Midnight Lunch shows how to:
Build a team from diverse disciplines, ensuring multiple perspectives, rapid problem-solving, and a foundation for collaboration to thrive
Mix specialists and generalists on the same team, preventing groupthink and discouraging a culture of "superstars"
Encourage dialogue and experimentation
Craft physical space that supportstrue collaboration
Focus your team's attention on progress and small wins
Reskill team members for collaboration success in the digital era
Footprint your team's work, generating collective intelligence others can follow
In the coming decade, organizationsmust make true collaboration a priority ifthey want to remain nimble in the face of constantly shifting economic forces. Midnight Lunch brings Edison's legacy into the twenty-first century, offering us an imperative to embrace our collaborative spirit and achieve astonishing results.

Reviews
"Caldicott powerfully updates Edison's collaboration process for use by organizations operating in today's hyper-competitive global economy. If you're looking for a way to accelerate growth through innovation, this book offers deep insights on why collaboration is the 'superskill' that will drive success."
—Verne Harnish, CEO, Gazelles; coauthor of The Greatest Business Decisions of All Time
"Sarah has added an indispensable contribution to the success formula for business. Midnight Lunch magnifies one of Thomas Edison's most treasured traits—collaboration. This incredible piece of work provides insightful, yet practical guidance for all who desire to innovate their way to success."
—D. Keith Pigues, coauthor of Winning with Customers: A Playbook for B2B;Dean, North Carolina Central University School of Business
"Innovation is not about individual heroes with a vision, it is about collaboration. Edisonunderstood this well, and Caldicott is a skilled guide to how he really got so much done.Applying Edison's four phases of collaboration will bring new power to your team efforts."
—Chris Trimble, coauthor of Reverse Innovation and The Other Side of Innovation
"Organizations today often fail to engage collaboration as a crucial part of their innovationprocess. Caldicott reminds us that Edison's world-changing success stemmed in largemeasure from his collaborative culture. Midnight Lunch updates Edison's approach for the twenty-first century, offering a practical guide for developing nimble collaborations."
—Vijay Govindarajan, Earl C. Daum Professor of International Business,Tuck School of Business at Dartmouth College; coauthor of Reverse Innovation
"As in her earlier work, Sarah digs deep into her kinsman Thomas Edison's actual practices. We hear so much talk about 'innovation.' Well, here was the ultimate innovator, straddling fields and decades in his prodigious output. How did it really happen? Edison saw it as a team game. Sarah tells us how it was played."
—Nigel Cameron, President, Center for Policy on Emerging Technologies
"Midnight Lunch inspires action to orchestrate and groom multidisciplinary rock bands in an organization, not just individual rock stars, creating extraordinary results."
—Manish Tangri, Associate Director, New Business, Intel Corporation
"In an evermore complex and rapidly changing digital world, Caldicott effectively demonstrates the importance of collaboration as a crucial 'superskill' necessary for rapid innovation today. Read Midnight Lunch. Engage your people. Build collaborative networks. And innovate!"
—Maria Thompson, Director of Innovation Strategy, Motorola Solutions

About the Author
Sarah Miller Caldicott
is a great-grandniece of Thomas Edison, and a seasoned executive with years of hands-onexperience driving growth in new and existingbusinesses. Coauthor of Innovate Like Edison, a groundbreaking book on Thomas Edison's innovation best practices, Sarah inspires audiences around the world through her keynote speeches and executive programs on how to integrate Edison's Five Competencies of Innovation in organizations today. Sarah also advises leaders on how they can use Edison's time-tested methods to create a culture of innovation, as well as accelerate the development of individual and team capabilities that propel collaboration success.