Leadership Conversations
: Challenging High Potential Managers to Become Great Leaders
Alan S. Berson and Richard G. Stieglitz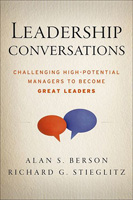 Format:
Hardcover, 320pp.
ISBN:
9781118378328
Publisher:
Jossey-Bass
Pub. Date:
February 4, 2013
Average Customer Review:

For Bulk Orders Call: 626-441-2024

Description and Reviews
From
The Publisher:
Conversation techniques and tools that can help strong managers become great leaders
Often the very same skills and traits that enable rising stars to achieve success "tenacity, aggressiveness, self-confidence" become liabilities when promoted into a leadership track. While managers' conversations are generally transactional and centered on the task at hand, leaders must focus on people, asking great questions and aligning them with the vision for the future. Leadership mindsets and skills can be developed, and
Leadership Conversations
provides practical guidance for connecting with others in ways that transform each interaction into an opportunity for organizational and personal growth.
Identifies four types of conversation every leader must master: building relationships, making decisions, taking action, and developing others
Provides an action plan for boosting your personal leadership potential, as well for developing leadership skills in others
Draws on the authors' rich experience coaching and working with leaders at a wide range of organizations, including NASA, the U.S. Navy, intelligence agencies, Boeing, Gillette, Bausch & Lomb, and Georgetown University
Leadership Conversations
is required reading for both high-potential managers looking to make it to the next level and leaders looking to develop their people.
Whether you're newly-promoted into your first management role, an established veteran of the C-suite, or somewhere between, your most powerful skill as a leader is the ability to hold effective conversations.
After a promotion to a management or leadership role, most people struggle with how to leave behind former priorities and mindsets.
Leadership Conversations
defines and distinguishes the very different mindsets of management and leadership, and how priorities must shift between them as you move up the corporate ladder. By clearly understanding a leader's need to balance execution with vision, you will learn how to create connection and alignment with direct reports and across an organization.
Leadership Conversations details the four types of conversation every leader must effectively master, conversations that:
Build Relationships
, mastering emotional intelligence, connecting with followers to align goals, and fostering a culture of transparency and honesty
Develop Others
, driving long-term growth, mentoring and recognizing people, leading high-potential managers, and ultimately celebrating their successes
Make Decisions
, integrating facts, developing solid judgment, stimulating innovation, and asking great questions that create alignment
Take Action
, developing vision, allocating resources, and measuring performance, all while eliminating assumptions and drawing followers into unified action
Leadership Conversations
includes tailored advice for leaders at every stage—from the first-time manager to the senior executive who converts vision into strategy—so that you can identify and perfect the core communication skills of your role. For managers of managers and executives in mentoring roles, the book offers concrete advice on how to hold conversations that develop leadership skills in others.
Rich with real-world examples and tactical guidance,
Leadership Conversations
is required reading for both high-achieving managers looking to make it to the next level, and leaders hoping to develop their people.

Reviews
"In their brilliant new book, Leadership Conversations, Alan Berson and Richard Stieglitz offer proven methods, instructive examples, and provocative questions that enable leaders to engage in more meaningful conversations—the kinds of conversations that produce innovative solutions, cause deep self-examination, and stimulate disciplined development. I highly recommend this book to leaders at all levels. When you apply the principles and processes in Leadership Conversations, it will transform your relationships and your business."
—James Kouzes, coauthor of the bestselling The Leadership Challenge, and Executive Fellow of Leadership, Leavey School of Business, Santa Clara University
"Leadership Conversations is a powerful tool executives can add to their arsenal to help them connect with their followers; thereby bringing their own unique philosophy into practice to meet today's critical leadership challenges."
—Jason Wingard, Ph.D., vice dean of executive education, the Wharton School of the University of Pennsylvania
"Leadership Conversations gets at the essence of leadership versus management and is a critical read for managers who must develop leadership skills. The ultimate lesson is recognizing and learning what you don't know."
—Donald E. Stone, Jr., PE, CEO, Dewberry
"Grounded in a belief that leaders need to master themselves, credibly lead work, and manage human systems, Leadership Conversations is a great resource for coaches and leaders alike. Coaches would do well to share it with the leaders they coach, as it offers thought-provoking ideas, tips, and ways to rethink and reimagine leadership, all aimed at greater well-being and success."
—Christine Wahl, M.A.Ed., MCC, founder, leadership coaching program, Georgetown University
"In our time-constrained world, full of electronic communications, it is more important than ever for an aspiring leader to be able to conduct face-to-face conversations that unite organizations and make things happen. Leadership Conversations explains how."
—Robert Wray, Rear Admiral, US Navy

About the Authors
Alan S. Berson
is an executive coach, leadership consultant, speaker, and professor. He has held leadership, strategic planning, and marketing roles at Fortune-500 firms including Gillette, Bausch & Lomb, and Marriott. He is a Learning Director at Wharton Executive Education and was an Adjunct Professor at Georgetown's McDonough School of Business. He lives in Potomac, Maryland.
Richard G. Stieglitz
is a business consultant and speaker. He started, built, and sold a company that helped government and industry executives lead change. Previously, he was a submarine officer in the US Navy and an executive in the aerospace and computer industries. He is the author of three books and publishes a monthly leadership e-letter. He lives in Potomac, Maryland.