Renegades Write the Rules
: How the Digital Royalty Use Social Media to Innovate
Amy Jo Martin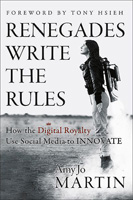 Format:
Hardcover, 224pp.
ISBN:
9781118340516
Publisher:
Jossey-Bass
Pub. Date:
October 2, 2012
Average Customer Review:

For Bulk Orders Call: 626-441-2024

Description and Reviews
From
The Publisher:
Renegades Write the Rules
Many books teach the mechanics of using Facebook, Twitter, and YouTube to compete in business. But few reveal the sometimes counterintuitive rules of creating true worth that is unique to the social space—you must continually deliver value when, where, and how people want to receive it.
In
Renegades Write the Rules
, author, founder, and CEO of Digital Royalty Amy Jo Martin shares her indispensable insight into this value-creation potential. Having pioneered how brands can be humanized and monetized, she demonstrates how social media has changed the face of how individuals and organizations innovate. Martin not only reveals the strategies behind the social media sensation of today's top celebrities, brands, and sports icons that she helped build, she also demonstrates how anyone (or any company) can build a loyal and lucrative digital influence. They can do this, she says, by bucking previous assumptions and embracing their inner renegade, and she shows them how, step by step, with the eight essential Renegade Rules:
Rule 1: Be the Media
Rule 2: Show Some Skin
Rule 3: Unmask Your Motives
Rule 4: Get Comfortable Being Uncomfortable
Rule 5: Ask Forgiveness Rather Than Permission
Rule 6: Consensus Is the True Authority
Rule 7: There's a New ROI in Town
Rule 8: The Act of Good Can Be Scaled
In addition to the eight Renegade Rules, the book is filled with behind-the-scenes success stories from noteworthy celebrities such as Shaquille O'Neal, Dwayne "The Rock" Johnson, and Dana White, as well as iconic brands including Nike, FOX Sports, and DoubleTree by Hilton. As you will see, the people and entities in these pages have amplified their following exponentially and monetized their brands beyond what they could have accomplished with traditional marketing.
People want to be heard, to be involved, to be entertained, to be adventurous, to be informed. With Renegades Write the Rules you will learn how to apply the basic law of social media success: Humans connect with humans, not logos.

Reviews
"Ever wonder what the early Western settlers were thinking? They were trailblazers willing to risk everything to explore the new world. Social media is the new frontier, and Amy Jo Martin is handing us the GPS needed to navigate this new order. If you are selling, marketing, or branding, Renegades Write the Rules is the book you'd better be reading."
—Rob Palleschi (@RobPalleschi), global head, DoubleTree by Hilton
"Renegades Write the Rules tells the story of trailblazing, of the in-the-moment sparks that drive innovation and change. At a moment when we have so much to learn from each other, Amy Jo's grounded voice and passion for social media provide a catalyst to engage, connect, and capture our collective capacity to empower—and provoke—a movement that can move us forward, together and as individual creative voices."
—Steve Nash (@SteveNash), two-time NBA MVP and president, the Steve Nash Foundation
"Social media has completely transformed the way we communicate, allowing us to reach out to people affected by cancer more effectively. Amy Jo Martin's innovative new book serves as a valuable resource for people using social media to change the world."
—Doug Ulman (@LivestrongCEO), president and CEO, Lance Armstrong Foundation
"In many ways, Amy Jo Martin has changed the game of how businesses and brands approach the incredible medium that is social media. She's a masterful social media strategist and a true trailblazer, and will continue to be an innovative presence throughout the tech industry."
—Dwayne "The Rock" Johnson (@TheRock), actor and entertainer
"Twitter is the greatest marketing tool in the history of the world and Renegades Write the Rules demonstrates how we're only limited by our imaginations when it comes to social media."
—Dana White (@DanaWhite), president of UFC

About the Author
Amy Jo Martin
is founder of the social media consultancy Digital Royalty and Digital Royalty University. She's the former director of digital media and research for the NBA's Phoenix Suns. She pioneered how professional sports integrate social media and planned the first-ever professional sports Tweet Up with Shaquille O'Neal. Martin was named one of Forbes' Best-Branded Women on Twitter with nearly 1.2 million devoted followers (@AmyJoMartin). She is a regular contributor to the Harvard Business Review, and you can visit her Web site at www.amyjomartin.com.

Table of Contents
| | | |
| --- | --- | --- |
| | | |
| | Foreword by Tony Hsieh | ix |
| | | |
| | 0 The Renegade Way | 1 |
| | Rule 1 Be the Media | 19 |
| | Rule 2 Show Some Skin | 33 |
| | Rule 3 Unmask Your Motives | 51 |
| | Rule 4 Get Comfortable Being Uncomfortable | 69 |
| | Rule 5 Ask Forgiveness Rather Than Permission | 91 |
| | Rule 6 Consensus Is the True Authority | 111 |
| | Rule 7 There's a New ROI in Town | 133 |
| | Rule 8 The Act of Good Can Be Scaled | 149 |
| | The Next Chapter | 171 |
| | | |
| | Appendix A: Digital Royalty's Core Values | 178 |
| | Appendix B: Lessons Learned | 180 |
| | Notes | 183 |
| | Acknowledgments | 185 |
| | The Author | 189 |
| | Index | 191 |